Risking their lives in a warzone: is this the next generation of reporters?
The Arab Spring offered unprecedented access to freelance journalists on a tight budget
Portia Walker
Wednesday 28 December 2011 01:00 Comments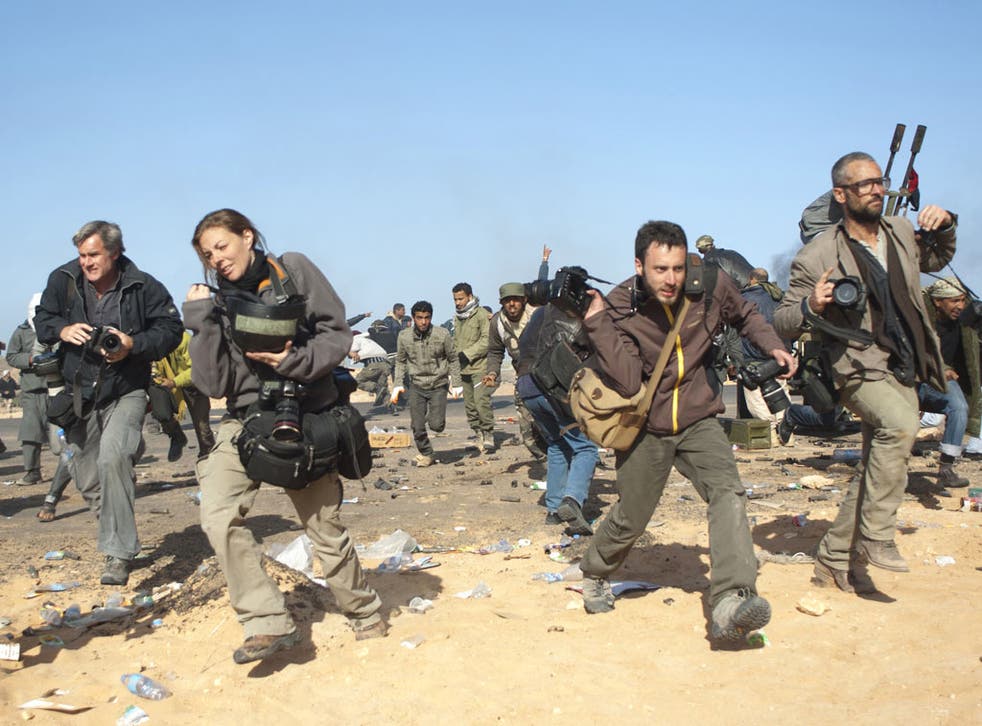 As the Arab Spring tore through countries across the Middle East this year, dozens of young people picked up cameras and laptops and, often with minimal experience, headed into the warzone as freelance journalists.
For some within the news industry, they represented the next generation of reporters, prepared to risk their lives for what was clearly an event of huge historic importance. For others, they were untrained, sometimes reckless and a potential danger to themselves and those who worked around them.
Journalists both experienced and untried were killed, injured and captured, particularly during the war in Libya. The tragic deaths of Tim Hetherington and Chris Hondros in April reminded reporters and news organizations that even seasoned veterans of conflict reporting were not immune from the dangers of war.
A recent long post by Michael Kamber in the New York Times' Lens blog expressed concerns about this new generation of unseasoned photographers included criticism by more seasoned reporters. It ignited a fierce debate about the responsibility of young journalists and those who employ them in dangerous environments.
"The Arab Spring, and Libya in particular, has created what I regard as the next generation of journalists – international news reporters and war reporters," said Jon Lee Anderson of the New Yorker. "It was a natural proving ground for a young slew of kids who found themselves witnessing an event of historic proportions", he said, "they can't be faulted for going".
Freelancing – or simply showing up and selling stories – is a time-honoured tradition in foreign news and can be a vital apprenticeship paving the way to more permanent employment. Not since Bosnia has there been a conflict so accessible to freelancers on a tight budget. Rebel forces welcomed and accommodated journalists, often providing free food, accommodation and internet access to journalists – but the potential risks were extremely high.
"The access was unprecedented," explained photographer Nicole Tung, who was 24 when she crossed the Egyptian border and headed to Benghazi in February. "We were welcomed so it was very easy to get access – that was part of the allure for freelancers."
Like many others, she said that inexperienced young photographers and journalists could not expect to be sent on assignment untried. "You're even more naïve if you think someone is going to send you somewhere".
"Sometimes you just have to take a risk," reasoned Rachel Beth Anderson, a young American videographer who covered the conflict from its earliest days. "Sometimes you have to take a loss, sometimes you break even and sometimes you come out ahead. It's more about getting that experience than the money at this point."
But it's a precarious existence – both professionally and financially. While news outlets do provide expenses for freelancers, many can be hesitant about asking.
"I know that some people were afraid to ask for a couple of hundred dollars for a driver or a hotel," explained Anderson. "They knew that the person sitting across from them sharing coffee in the morning had written for the same publication and that publication knew that they were there and could hire them instead."
Even more important is the issue of insurance in the case of death, kidnap or serious injury. "All the news organisation have a responsibility - and it's a shared responsibility - to treat freelancers in the same way that they would staff if anything happened to them," said Tina Carr, director of the Rory Peck Trust, which provides training and support for freelance journalists.
But the informal and irregular nature of freelance commissions means that the responsibility of news organizations to the individuals they have bought work from is often unclear – especially if those freelances are working without assignment. For many first-time freelances, their education comes in the field from seasoned journalists who provide guidance on everything from first aid to knowing how to read a potentially dangerous situation or structure a story.
Many are questioning the basic model of the news industry, where successful freelance assignments eventually lead to staff positions.
"I think the old model of journalism is changing and it's the exception that people wind up with staff jobs," said Canadian freelancer, Jeremy Relph. "I don't read about people being hired. I read about people being fired."
But even if the numbers of staff correspondents are shrinking, there is still a demand for coverage. As a result, people are prepared to set out for danger zones without assignments, hoping that they will pick something up on arrival.
British filmmaker Patrick Wells had been working as a cameraman in West Africa when the Arab Spring began. He showed up in Libya and soon found freelance work, later an in with a group of rebel fighters in the besieged city of Misrata led to him making a film about life on the frontline that was later acquired by Al Jazeera English.
He believes that he would not have been able to get the film commissioned from London. "It wasn't a film I could have planned months in advance. It was only because I was there and because I was freelance that I could make it".
Like many, Wells felt there were certain benefits to being freelance. "You make your own decisions and do your own thing. You do your own work and carve out your own niche." As to warzones: "I can't imagine doing anything else."
Tomorrow: Patrick Cockburn on the countries where the Arab Spring has yet to blossom
Register for free to continue reading
Registration is a free and easy way to support our truly independent journalism
By registering, you will also enjoy limited access to Premium articles, exclusive newsletters, commenting, and virtual events with our leading journalists
Already have an account? sign in
Join our new commenting forum
Join thought-provoking conversations, follow other Independent readers and see their replies