The best of the Independent on Sunday and The Sunday Review front covers
The 'IoS' has never been afraid to go its own way. From standing against the 2003 Iraq invasion to refusing to bend to Isis propaganda, its 'splashes' have always set the agenda and caught the reader's eye. 'The Sunday Review' was ground-breaking at launch and award-winning ever since (no, we can't recall why its name changed)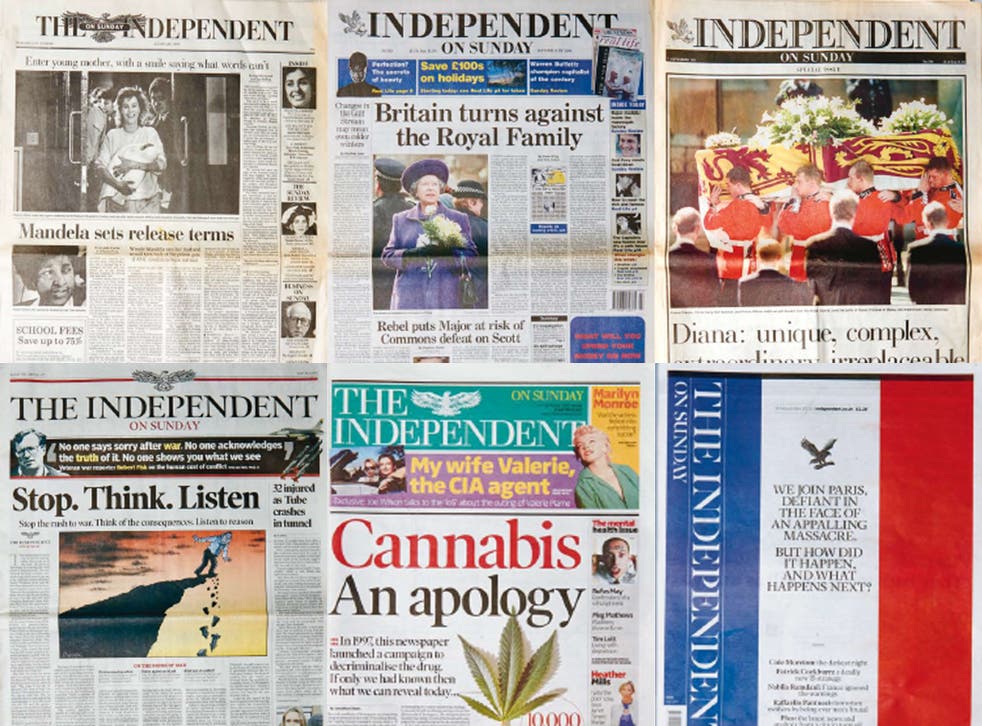 The Independent on Sunday was conceived as a 'writers' paper', but over its 26 years it developed a justified reputation for its strikingly individual front covers.
However, issue one, on 28 January might have looked very different - at 4pm on deadline day, the editor Stephen Glover was despairing at the lack of a strong image, when 'picture editor Michael Spillard came to my office with a beatific smile, bearing aloft a picture of Dawn Griffiths reunited with her baby who had been kidnapped two weeks before. We were saved.'
The best IoS and The Sunday Review front covers

Show all 21
The paper was the first quality Sunday to go 'compact' in 2004, but even before that it was at the forefront of hard-hitting, single-issue splashes – our front pages in the run-up to and during the early days of the 2003 Iraq invasion were lauded across the industry and applauded by readers. And so it continued with the paper's front page exploring new avenues in its compact format: from 'real-life' issues in a magazine-like style ('Meat: the future', 28 July 2013) to award-winning agenda-setters ('Here is the new, not the propaganda', 5 October 2014). In doing so, the paper's design team picked up countless design awards.
The New Review – the Sunday Review as was –was revolutionary too: an unashamedly highbrow supplement that eschewed the orthodoxy of the glossy-supplement. Instead, thanks to new 'hot-press' printing techniques, its mix of essays, reportage, arts and books coverage was beautifully presented on high-quality newsprint. It too underwent many redesigns, but throughout its editorial team exploited the magazine format to the fullest: the world's best photographers, illustrators and cartoonists graced its cover from the first issue to the last.
Every journalist, designer and photographer who ever worked on them has enjoyed creating these shop windows for our newspapers and magazines – after all, who doesn't want to be on page one? We hope you enjoy this selection of just a few of our favourites in the gallery above.
Register for free to continue reading
Registration is a free and easy way to support our truly independent journalism
By registering, you will also enjoy limited access to Premium articles, exclusive newsletters, commenting, and virtual events with our leading journalists
Already have an account? sign in
Register for free to continue reading
Registration is a free and easy way to support our truly independent journalism
By registering, you will also enjoy limited access to Premium articles, exclusive newsletters, commenting, and virtual events with our leading journalists
Already have an account? sign in
Join our new commenting forum
Join thought-provoking conversations, follow other Independent readers and see their replies