The mag trade: Net-a-Porter's new glossy magazine set to be a serious rival to Vogue
The luxurious 284-page Porter will launch today in 220 cities and 60 countries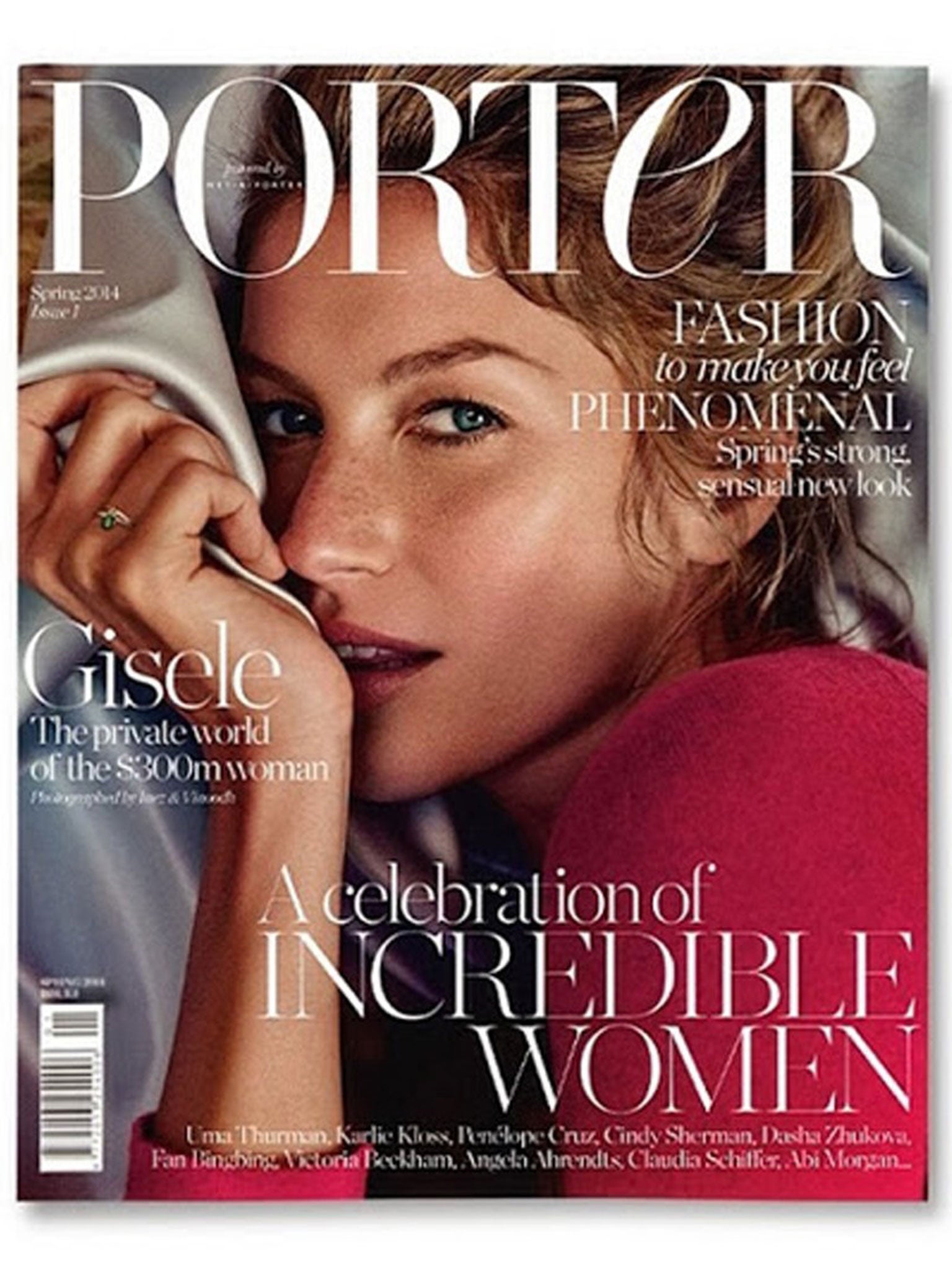 Some 122 years after the New York publisher Arthur Baldwin Turnure created Vogue, the so-called "fashion bible" is facing its most serious competition to date – a magazine produced from a shopping centre in west London.
The luxurious 284-page Porter will launch today in 220 cities and 60 countries. It will promote itself at displays in New York's Grand Central Station and at London's Victoria Station because the Porter reader is a "woman on the move". So much so that she takes 11 foreign journeys a year. The £5 cover price for a magazine with six issues a year will make little indentation on her annual household earnings, which are likely to be more than £170,000 – according to a presentation given yesterday at, appropriately enough, the Magazine Restaurant in Hyde Park.
Porter is revolutionary because it is the creation not of a typical publisher but a retailer, Net-a-Porter, which has its online shopping empire on the upper floor of the Westfield shopping centre, in Shepherd's Bush. Its founder, Natalie Massenet, insisted yesterday that her company was "also a media group and we love print", producing four written titles which all help to drive consumers towards the website.
Alexandra Shulman, the editor of British Vogue, has sniffed that the Porter project sounds like "a grand Sainsbury's magazine". In fact, it is nothing of the sort – and Vogue's publisher Condé Nast has reason to be concerned at the appearance of a rich publication designed by its own former creative director Robin Derrick.
For a start, the fashion industry has clearly embraced the concept. It's not just that Gisele Bundchen is the cover star, so much that the big names jump out of almost every page: there's Manolo Blahnik on shoes, Eva Herzigova on her tuxedo style, and Victoria Beckham on technology. Gucci, Giorgio Armani, Dolce & Gabbana and Burberry lead the high-end advertisers. Away from the cover, the models include Claudia Schiffer, Penélope Cruz and Karlie Kloss. Vogue did manage, however, to tie up Kate Moss by hiring her as its fashion editor and publishing her first shoot days before Porter's launch.
Despite the Sainsbury's comparison, there's not much of a hard-sell in Porter, save that the reminder to "Shop Porter with the Net-a-Porter app" is subtly included at the bottom of most pages. Indeed, some of the featured garments are not available on the site.
Porter editor-in-chief Lucy Yeomans and her publishing director Tess Macleod-Smith are both old adversaries of Vogue, from the days when they produced Harper's Bazaar for Hearst Magazines. Today, they have the weight of retailer cash behind them, part of an important trend in modern publishing. Earlier this week, another magazine specialist, Bauer Media, launched The Debrief, a digital title aimed at the twentysomething woman about town and, importantly, produced in collaboration with high-street store H&M and drinks brand Bacardi as its "brand partners". Not long ago, retailers merely encouraged media to use digital technology to make it easy for readers to purchase the products on the pages. Now, the big shopping companies – on and offline – are taking charge of producing content.
Porter, funded though it is by internet shopping, transcends the conventional idea of customer publishing (or content marketing as the sector is now known). Its focus on "incredible women" includes serious profiles of financial power broker Amanda Staveley, Roman Abramovich's partner Dasha Zhukova, and the Chinese businesswoman Zhang Xin.
It might be exclusive, aimed at readers of "high net worth" with "huge purchasing power" – Macleod-Smith's words – but it has global distribution and a print run of 400,000. The devil wears Prada – but may just fear Porter.
Join our commenting forum
Join thought-provoking conversations, follow other Independent readers and see their replies