Man who taught girlfriend's pet pug to perform Nazi salute dropped from BBC series after backlash
Broadcaster concludes it is 'not appropriate' to feature Mark Meechan on late-night debate programme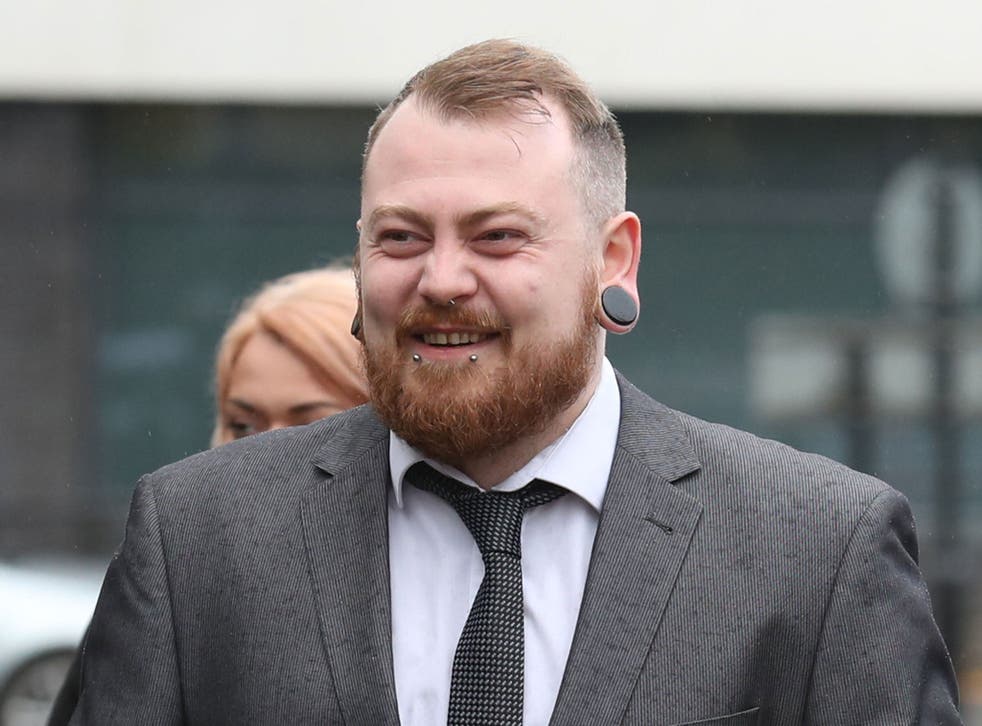 A YouTuber who trained his girlfriend's dog to perform Nazi salutes has been dropped from a BBC Scotland programme following a public backlash.
The broadcaster concluded it was "not appropriate" for Mark Meechan, known online as Count Dankula, to appear on late-night debate series The Collective.
Meechan was fined £800 last year after being convicted of causing "gross offence" over a video of his girlfriend's pet pug raising its paw in apparent response to commands such as "sieg heil" and "gas the Jews".
He had filmed appearances for two episodes of the discussion programme, which is due to air in April. Those episodes will no longer be shown, said BBC Scotland, a new channel which launched last month.
A BBC spokesman said: "We have been reviewing our new late night discussion programmes The Collective during the edit process. As with all new formats, robust editorial processes apply.
"In this case we have concluded that it's not appropriate to include Mark Meechan as a contributor. The two programmes in which he featured will not be broadcast as part of any series."
UK news in pictures

Show all 50
The decision came after the broadcaster faced criticism from anti-racism and Jewish campaigners over Meechan's role.
Hope Not Hate said the 31-year-old had become "a symbol for the far right" after being prosecuted and "functions as a recruiter" for Ukip, the party he joined last year and which has been shifting further to the right under leader Gerard Batten.
"The BBC's decision to give Meechan a platform on their digital channel is bizarre, and they should rethink it," it added.
Glasgow Friends of Israel member and lawyer Matthew Berlow told The Scotsman Meechan's intended role in the show was "absolutely sickening and disgusting".
Meechan had been due to appear on the series alongside reality TV star James English and dominatrix Megara Furie.
Meechan, of Coatbridge in North Lanarkshire, said: "Due to the media getting outraged I got deplatformed and I am being edited out of the show.
"I fully 100% expected this, even while filming I was thinking 'No one is gonna let this air'. So it's not a surprise to me. Can't have people seeing what I am really like can we?"
He has defended the Nazi salute video, viewed millions of times on YouTube, as a tasteless joke intended only to annoy his girlfriend.
Meechan denied criminal wrongdoing but was convicted under the Communications Act in April 2018.
He crowdfunded nearly £200,000 for legal fees as he sought to overturn both his conviction and sentence, but was refused leave to appeal by the Sheriff Appeal Court in Edinburgh.
The case provoked widespread concern among comedians and free speech campaigners, including the Index on Censorship, which said it "fundamentally disagreed" with his conviction.
Meechan also received support from far-right figurehead Tommy Robinson, who attended his sentencing hearing.
Register for free to continue reading
Registration is a free and easy way to support our truly independent journalism
By registering, you will also enjoy limited access to Premium articles, exclusive newsletters, commenting, and virtual events with our leading journalists
Already have an account? sign in
Register for free to continue reading
Registration is a free and easy way to support our truly independent journalism
By registering, you will also enjoy limited access to Premium articles, exclusive newsletters, commenting, and virtual events with our leading journalists
Already have an account? sign in
Join our new commenting forum
Join thought-provoking conversations, follow other Independent readers and see their replies