Sunday Times criticised for 'childless' female politicians' picture
The picture has been described as 'crass and wrong' and putting 'wombs before brains'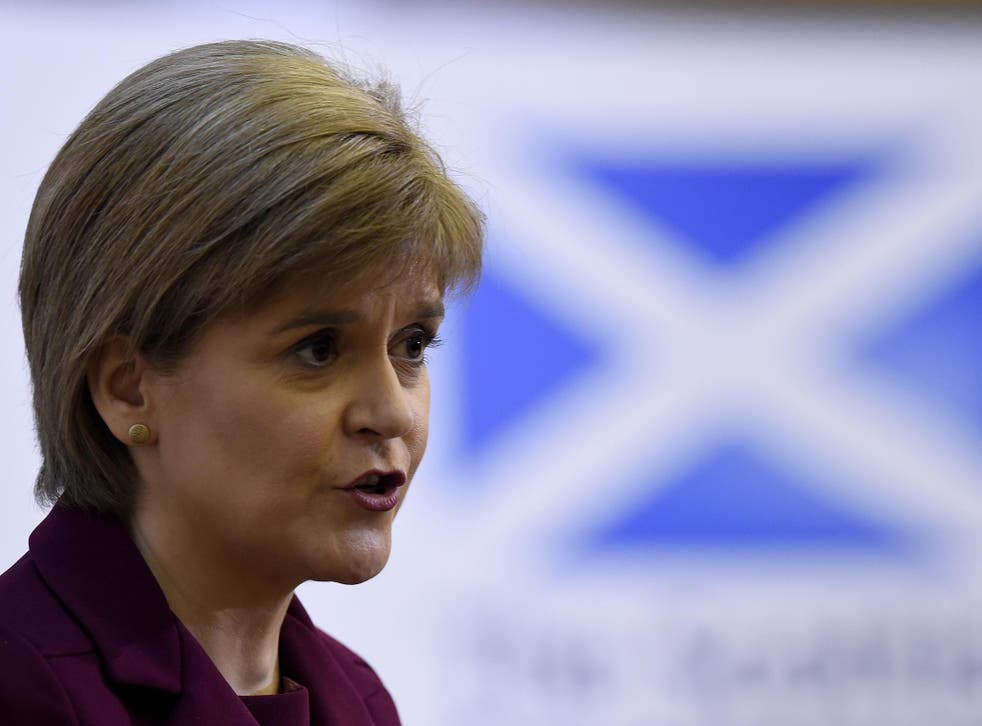 A picture of "childless politicians" featured alongside a Sunday Times interview with Nicola Sturgeon, in which she speaks about her miscarriage in 2011, has been heavily criticised for only mentioning women.
The picture, which features images of six female politicians, including Prime Minister Theresa May, German Chancellor Angela Merkel, Labour MP Angela Eagle and Education Secretary Justine Greening, has been dubbed "shocking" and "totally misjudged".
Published in the newspaper's magazine supplement on Sunday, the interview featured a series of extracts from a new book, in which the author referred to Ms Sturgeon losing a baby five years ago.
The presentation of the article has been further condemned after the paper described Ms Sturgeon's miscarriage as her "tantalising secret".
Scottish Conservative leader Ruth Davidson, who was featured in the "childless politicians" list, labelled the feature "crass and wrong". She also tweeted a picture of the infograph, commenting: "Oh, I do SO enjoy when I'm categorised as a 'childless politician'."
Former Green Party leader Natalie Bennett, also listed, criticised the picture for being retrograde, tweeting: "Sunday Times living in 1950s: 20% [of] British women aged 45 [have] no children, expected to rise to 25%."
Figures from across the political spectrum have denounced the picture, including Labour MP Stella Creasy, who chastised the Sunday Times for putting "wombs before brains", and Conservative MP Therese Coffey, who asked: "What about male politicians with no kids?"
Welsh Labour MP Chris Elmore, criticised the Sunday Times for singling out female politicians, tweeting: "I'm a childless politician too. Guessing because I'm a man it doesn't matter."
Others have condemned the use of the word "childlessness" saying it implies a person without children is "missing out or lacking".
Ms Sturgeon has been applauded for speaking out about her experience, which she said might "contribute in a small way to a future climate in which these matters are respected as entirely personal – rather than poured over and speculated about as they often are now."
In the extract from the book Scottish National Party Leaders, Ms Sturgeon says she does not know whether she would have become First Minister if she had not had the miscarriage.
"I'd like to think yes, because I could have shown that having a child wasn't a barrier to all of this, but in truth I don't know," she said.
"Having a baby might have so fundamentally changed our lives that things would have taken a different path, but if somebody gave me the choice now to turn back the clock 20 years and say you can choose to start to think about this much earlier and have children, I'd take that. But if the price of that was not doing what I've gone on to do, I wouldn't accept that, no."
The Prime Minister has also dealt with media attention surrounding the fact she does not have children and in an interview with the Mail on Sunday this year, Ms May spoke out about being unable to have children with her husband Philip.
Register for free to continue reading
Registration is a free and easy way to support our truly independent journalism
By registering, you will also enjoy limited access to Premium articles, exclusive newsletters, commenting, and virtual events with our leading journalists
Already have an account? sign in
Register for free to continue reading
Registration is a free and easy way to support our truly independent journalism
By registering, you will also enjoy limited access to Premium articles, exclusive newsletters, commenting, and virtual events with our leading journalists
Already have an account? sign in
Join our new commenting forum
Join thought-provoking conversations, follow other Independent readers and see their replies