The Media Column: The journalist who believes 'decency' is the best weapon in the battle for free speech
Marianne Pearl, whose journalist husband was killed by Al Qaeda abductors, will help recognise the world's most courageous and creative journalists and campaigners, as a judge at the 15th global Freedom of Expression awards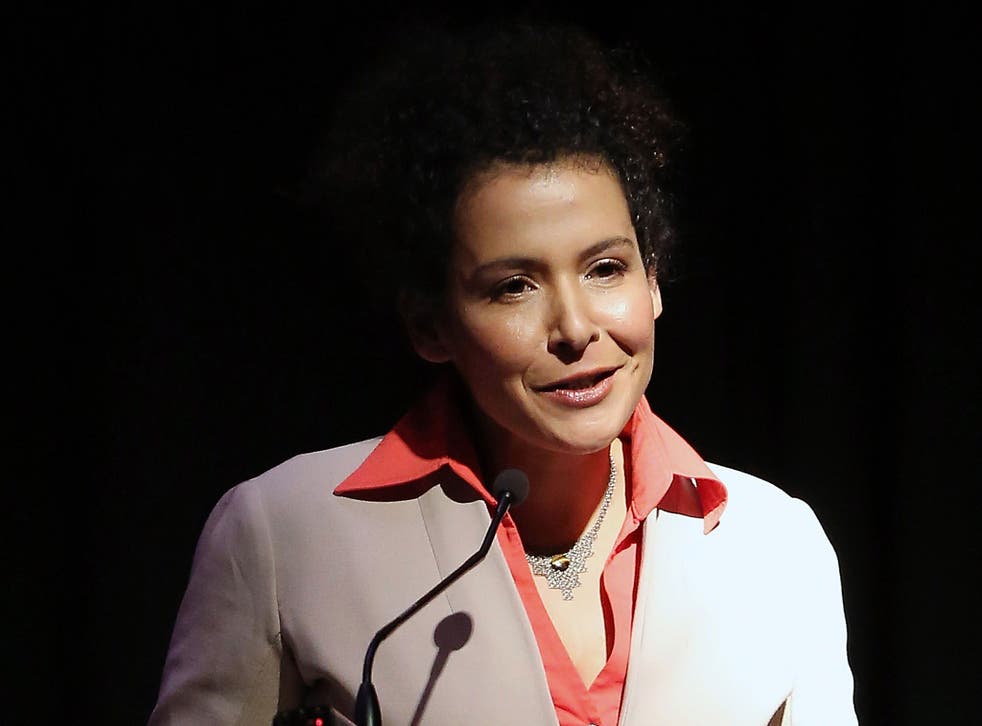 Few people understand the price of defending press freedom better than Mariane Pearl, the widow of Daniel Pearl, the Wall Street Journal reporter murdered in Pakistan in 2002 by al-Qaeda abductors.
"Before 9/11 there was still an understanding that a journalist who was working in a place like Pakistan was a neutral party," Ms Pearl said. "Al-Qaeda broke that line very effectively and now Isis has followed."
In the hours following Daniel's murder, Mariane, pregnant with the couple's first child, was horrified to find herself having to argue with a US television network over its intention to show a "newsworthy" video, released by his killers, of Daniel Pearl's decapitation.
A decade on and beheading videos have become a grim element of the news cycle, released following the killings of the American journalists James Foley and Steven Sotloff, by the British Isis murderer Mohammed Emwazi, known as Jihadi John.
"What kind of journalism exactly is worth dying for?" asks Ms Pearl, who spoke from Irbil, capital of the Kurdistan Region, where her Chime For Change organisation is giving Iraqi and Kurdish female refugees, some of them Yazidis who fled with their families as jihadist forces overran parts of northern Iraq last year, a chance to tell their stories.
Ms Pearl will help recognise the world's most courageous and creative journalists, artists and campaigners, as a judge at the 15th global Freedom of Expression awards, held by Index on Censorship on Wednesday at the Barbican.
Many of those selected are regularly targeted by authorities or by criminal and extremist groups for their work. Some face regular death threats, others criminal prosecution.
The Journalism nominees include Safa al-Ahmad, who has spent the past three years covertly filming an unreported mass uprising in Saudi Arabia's eastern province. Her BBC Arabic documentary, Saudi's Secret Uprising, broadcast in May 2014, drew wide attention to the violent and bloody protests.
Al-Ahmad risked severe punishment during her filming trips, as a woman travelling alone, carrying a camera full of footage of dissent in one of the Arab countries with the most restrictive laws on free expression.
The battle for free speech is now fought daily on the digital terrain. The online platform Syria Tracker, which is providing reliable data on human rights abuses in Syria is among the nominees, along with Yaman Akdeniz and Kerem Altiparmak, cyber-law experts and internet rights activists who have campaigned vigorously against the Turkish government's increasingly restrictive internet access laws. Their advocacy efforts, including an appeal to Turkey's highest court, forced the overturn of blocks on Twitter and YouTube last year.
The Arts nominees include Songhoy Blues, a four-piece "desert blues" band, made up of musicians who fled northern Mali after militant Islamist groups captured the territory and implemented strict sharia law – including the prohibition of music – in spring 2012. The group have since received acclaim in the West and were invited by Damon Albarn to appear as his support act at the Royal Albert Hall.
Appropriately, this year's awards will be hosted by the comedian Shappi Khorsandi, the daughter of an exiled writer and comic from Iran who was the subject of an assassination plot in 1984.
Xavier Bonilla, an Ecuador-based editorial cartoonist who has lampooned Ecuador's political leaders for 30 years and now faces legal action from the country's leader, President Rafael Correa, is also shortlisted.
There is no posthumous nomination, however, for the 12 members of staff of Charlie Hebdo, the French satirical magazine, who were shot dead in a terror attack in January.
Did their cartoons mocking the Prophet Mohamed go too far even for Index on Censorship? Ms Pearl said: "I grew up in France and we have a history of these kinds of drawings, which do not appeal to everyone but are in the spirit of irreverence. We need that voice too. I think people in France felt, 'I don't like Charlie Hebdo but I'll fight to the end for your right to say it.'"
In regions where it is often too risky for news organisations to operate, the job of spreading news and information often falls to brave individuals like Amran Abdundi, a women's rights activist based in north-eastern Kenya, who runs the Frontier Indigenous Network, an organisation that helps women set up shelters and radio-listening groups along the dangerous border with Somalia, with little funding or support.
"There used to be organisations behind journalists but now we are on our own," said Ms Pearl, who had accompanied her husband to Pakistan and was helping his investigation into the links between the "shoe bomber" Richard Reid and al-Qaeda when he was abducted. "It is a more murky world now. The real tangible hope we have is the courage of individuals but they are taking the heat on their own," she added.
Conventional journalism has a "big problem which we are not confronting," Ms Pearl believes. "We do not have a counter-narrative to Isis. They are very good at PR. Al-Qaeda was the same. They understand the effect of filming these murders will have on our democracy.
"They need to control the media. They know the videos will get seen because we have freedom of information. How do we respond to that?" For Ms Pearl, the response starts with "decency – something we know for a fact terrorists can't do."
Journalism should return to its founding principles, to "give a voice to the voiceless, always put the person at the centre of the story and resist power".
How do you solve a problem like Clarkson?
Russell Brand, Jonathan Ross, Jeremy Paxman and now Jeremy Clarkson. Why is it that so many of the BBC's biggest personalities have either had to be hauled off the airwaves or, in Paxman's case, chosen to leave the corporation?
The BBC has a big problem managing the kind of self-confident, opinionated talent, individuals who might occasionally embarrass the corporation but are sorely missed by viewers when they depart.
In Clarkson's case, it would appear that a managerial blind eye had been drawn over his previous excesses because of Top Gear's immense commercial value to the BBC.
For Danny Cohen, though, the £50m that Top Gear generates for the BBC is small beer compared with the £3.6bn licence fee, the protection of which is the raison d'être of any aspirant Director-General.
Previously Mr Cohen aimed his fire at stars like Jennifer Saunders and David Dimbleby for joining the "daily chorus of BBC bashing" by daring to vocalise their frustrations with the BBC in public.
The danger with Mr Cohen's approach is that by targeting the "awkward squad" he will denude the BBC of the unruly yet often brilliant talent it needs to justify the licence fee. Like him or loathe him, the abrasive Clarkson reaches a mass audience that other parts of the BBC struggle to.
Reports of cinema's death are exaggerated
New figures show UK cinema admissions have slumped by some 15 million over the past two years to 157.5 million in 2014. So, have Britons fallen out of love with the big-screen experience as we settle in front of our 55-inch TVs and dial up a Netflix box set?
Cinema exhibitors are confident this isn't the case. Oscar-winners like 12 Years A Slave didn't appeal to popcorn-munchers last year, but with a slate headed by the latest Star Wars film, the return of Bond with Spectre and the final Hunger Games movie, "tentpole" franchises are set to fill multiplexes again. Cineworld Group has already reported a bumper first quarter thanks to 50 Shades of Grey.
But Hollywood is blatantly chasing Chinese money, targeting films at a younger, Asian, action-loving audience – not good news for the Exotic Marigold Hotel crowd.
The hugely-popular Orange Wednesday two-for-one ticket promotion has also ended after a decade. Expect exhibitors to announce a major marketing deal with a noisy new partner which will return cinema-going to the forefront of people's leisure choices.
Twitter: @adamsherwin10
Register for free to continue reading
Registration is a free and easy way to support our truly independent journalism
By registering, you will also enjoy limited access to Premium articles, exclusive newsletters, commenting, and virtual events with our leading journalists
Already have an account? sign in
Register for free to continue reading
Registration is a free and easy way to support our truly independent journalism
By registering, you will also enjoy limited access to Premium articles, exclusive newsletters, commenting, and virtual events with our leading journalists
Already have an account? sign in
Join our new commenting forum
Join thought-provoking conversations, follow other Independent readers and see their replies