The Media Column: There is only so much glitter you can sprinkle on soaps before their essence is lost
What seems probable is that established brands such as Coronation Street and EastEnders will grow old alone in the soap market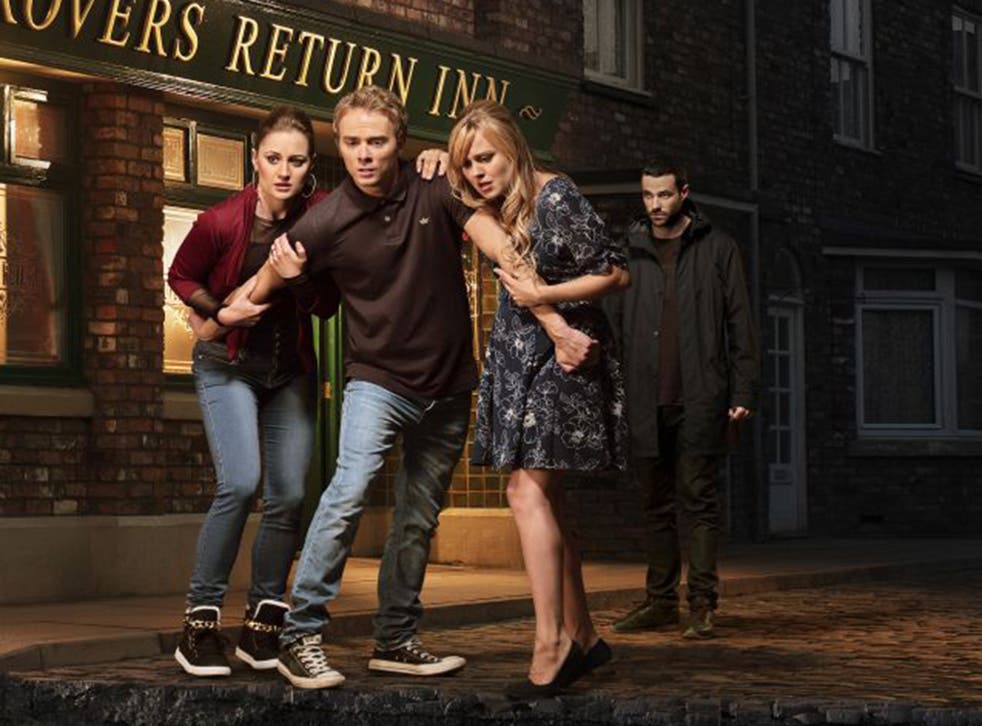 The British soap opera, many television insiders believe, is in its death throes. Trapped between an avalanche of high-quality box-set drama and a YouTube video world that captivates the younger generations, the soaps cannot compete.
Channel executives and soap actors are alarmed. But in increasingly frantic efforts to arrest the decline of audiences, soaps are resorting to outrageous storylines and celebrity casting which alienates core viewers and diminishes any relationship to everyday life, the original concept that made soaps popular.
ITV celebrated its 60th anniversary last week and broadcast an hour-long Coronation Street Live to mark the moment. It's ironic that Coronation Street – which launched in 1960 and has been at the heart of ITV's schedule ever since – was originally envisaged as a 13-part series, the fashionable length of a modern box set. It is now approaching 9,000 episodes.
The live broadcast was technically ambitious and well executed. Scheduled against The Great British Bake Off, it matched the BBC show with an audience of 8.4 million. Importantly, it reminded lapsed viewers that it still existed by giving them a moment of "event" television, normally associated with big entertainment shows such as The X Factor or Strictly Come Dancing.
Having proliferated from two episodes a week to four, then to omnibus editions and now live productions, the big soaps are screened 300 times a year. They are hardly "events".
A live episode could not conceal the malaise at the Weatherfield show, nor its great BBC rival EastEnders. The Albert Square soap staged its own earlier this year on its 30th anniversary, when the unmasking of Lucy Beale's killer pulled in an impressive 12 million viewers.
But several recent shows have had audiences below five million. "The ratings have been terrible," one TV critic told me.
Coronation Street this month dropped its producer Stuart Blackburn ahead of an expected shake-up of the cast, overseen by Kate Oates, who has been brought in from Emmerdale to replace him.
"She will definitely get rid of the gimmicks and stupid cameos," one ITV source told the press.
Corrie Live had its stunts and horrors: a car explosion and drug dealer Callum Logan being beaten to death with a wrench. Will Payne, head of TV at The Sun, said: "Corrie has always been about warm northern life. It was always slightly comedic and a bit tongue-in-cheek on occasions, but it wasn't about car explosions."
The TV website Digital Spy has just conducted a study of the "deadliest" location in British soaps. Hollyoaks came top of the carnage chart, with 43 murders in 20 years. Even rural Emmerdale has featured a rising tide of 24 murders. "Emmerdale Farm was a lovely place for many years," the site noted wistfully.
Ian Hyland, TV critic of the Daily Mirror, said: "The average soap viewers don't want to be shocked or scared. They just want to be engaged with for half an hour after their dinner." He said that those running the soaps "are panicking and saying all our viewers are dying out", when they should be holding their nerve and serving their core audience.
That's not easy when the television world is so obviously changing. A genre that began in an era of limited entertainment choice is being engulfed by competition, especially in drama. Platforms such as Netflix, Amazon and Sky are offering shows with Hollywood actors and cinematic production values. Sky last week announced a new show, Last Panthers, with introductory music written by David Bowie. Ed Waller, editorial director of C21 Media, which covers global media, said: "The bar has been so visibly raised that it's showing the paucity of characterisation and storyline in the soaps."
Celebrities have been introduced to rack up interest. Recent episodes of Corrie have featured appearances by the Girls Aloud singer Sarah Harding and the northern comedian and voiceover specialist Paddy McGuinness. Mr Hyland said: "They will be putting a glittery curtain by the door next, 'Tonight, ladies and gentlemen...'"
But the best talent prefers drama to soap and, especially on the production side, the latter is a stepping stone to the former. Tony Jordan, perhaps the most successful writer in EastEnders history, is making a spectacular multi-part series, Dickensian, and its spectacular Victorian set was used by BBC1 controller Charlotte Moore last week as she unveiled the channel's new season of "ambitious drama".
Things will not get easier for the soaps. Some 400 scripted dramas will be offered to the US market this season. Time-limited viewers calculate that they can get a better return for their viewing investment in a hot new box set than an open-ended commitment to a decades-old series.
Where once soaps offered viewers a reflection of lives like their own, they now show fantasy worlds. Into that abandoned space will come the YouTube creators who connect to young audiences with endless videos filmed in their bedrooms.
The racy storylines also run contrary to the growing television trend in "authentic" programmes, a backlash against the hackneyed "reality TV" genre. The "slow television" championed by BBC4 – such as a real-time canal trip – not only makes the everyday interesting, it appropriates the "slow burn" narrative that soaps used to have to themselves.
One television executive says that it is time the big terrestrial broadcasters "weaned themselves off the crack" of these schedule-dominating TV brands. At least Channel 4 bit the bullet on Big Brother.
But the soaps are too important to be scrapped. EastEnders (with around 6.8 million viewers per episode over seven days) gave BBC1 three of its five top-performing shows last week. Coronation Street, with an audience of around 6.5 million per episode over the week, held down seven of the top 10 shows on ITV1 and Emmerdale (around five million) had places 11 to 15. The BBC, despite straitened financial circumstances, is investing heavily in new EastEnders studios at Elstree, which will put more pressure on the soap to perform – from within and without the corporation.
While there is a still a substantial, if ageing, audience with little or no interest in platforms such as Netflix, the big soaps will carry on. And technology is bringing advantages. The ratings are already helped by catch-up viewing and future innovation will offer fresh opportunities to package content for soap fans. But British broadcasters have so far been slower than counterparts in telenovela-mad Brazil and Scandinavia in using YouTube to showcase their storylines.
What does seem probable is that established brands such as Coronation Street and EastEnders will grow old alone in the soap market. The relaunched Crossroads was axed in 2003 after two years. It would be even harder now. "In an increasingly competitive world, I wonder whether any other channel could launch a soap again," says one TV executive. "There's no way you can put the brake on once you commit to doing a soap and so I don't think anyone would ever do it."
New 'Sun' chief takes aim at the BBC
Tony Gallagher is a week into his new job as editor of The Sun but already the paper seems to have moved closer to the territory of the Daily Mail, his former home.
Twice in the space of four days last week, the red top splashed on stories attacking the BBC, seemingly aimed at bringing down the corporation's creative director, Alan Yentob.
On Monday, its target was The Space, a highly controversial £16m digital arts project created by Arts Council England in 2012. I've never understood its value and Lord Bragg told me last week that he thought it was a "bit dicky". But BBC Director General Tony Hall has championed the scheme, committing £8m of BBC funds to it last year, so it looks a bit personal to make Mr Yentob the only focus of the story.
The BBC creative chief is in a corner. The Mail has been on his case for months and he is being pursued by investigative reporter Miles Goslett and former Newsnight reporter Meirion Jones who, in the new Spectator Life, accused Mr Yentob of calling him a traitor "to the BBC" for his work in exposing Jimmy Savile. Mr Yentob denies this, but it made another splash in The Sun.
The Imagine presenter and former chair of collapsed charity Kids Company is a supreme networker, with famous friends ranging from Mel Brooks to Mick Jagger. But his enemies are trying to cast him as the face of BBC mismanagement. And they are powerful, too.
Radio heads jostle in the marketplace
Interesting times for BBC Radio 1's controller, Ben Cooper, who last week saw his former breakfast show host, Chris Moyles, return to the air with the rebranded Radio X (formerly XFM).
It was Mr Cooper who ousted the obstreperous Yorkshireman in favour of the youthful Nick Grimshaw, so he may have taken it personally when Moyles claimed that only "kids" like the "pop pop" of Radio 1.
On 29 September at the British Library, Mr Cooper will come face to face with another of his former big hitters, Zane Lowe, who quit Radio 1 this year to join Apple's new radio service, Beats 1. The pair will be "in conversation" as part of the Radio Festival Showcase. Top Gear's presenter Chris Evans is also on the bill and will surely argue the case for Radio 2, which – like Radio 1 – is supposedly under threat from the Government's BBC Green Paper.
Register for free to continue reading
Registration is a free and easy way to support our truly independent journalism
By registering, you will also enjoy limited access to Premium articles, exclusive newsletters, commenting, and virtual events with our leading journalists
Already have an account? sign in
Register for free to continue reading
Registration is a free and easy way to support our truly independent journalism
By registering, you will also enjoy limited access to Premium articles, exclusive newsletters, commenting, and virtual events with our leading journalists
Already have an account? sign in
Join our new commenting forum
Join thought-provoking conversations, follow other Independent readers and see their replies