BBC annual report: Tony Hall announces £374m in annual savings
Ian Burrell
Monday 21 July 2014 18:44 Comments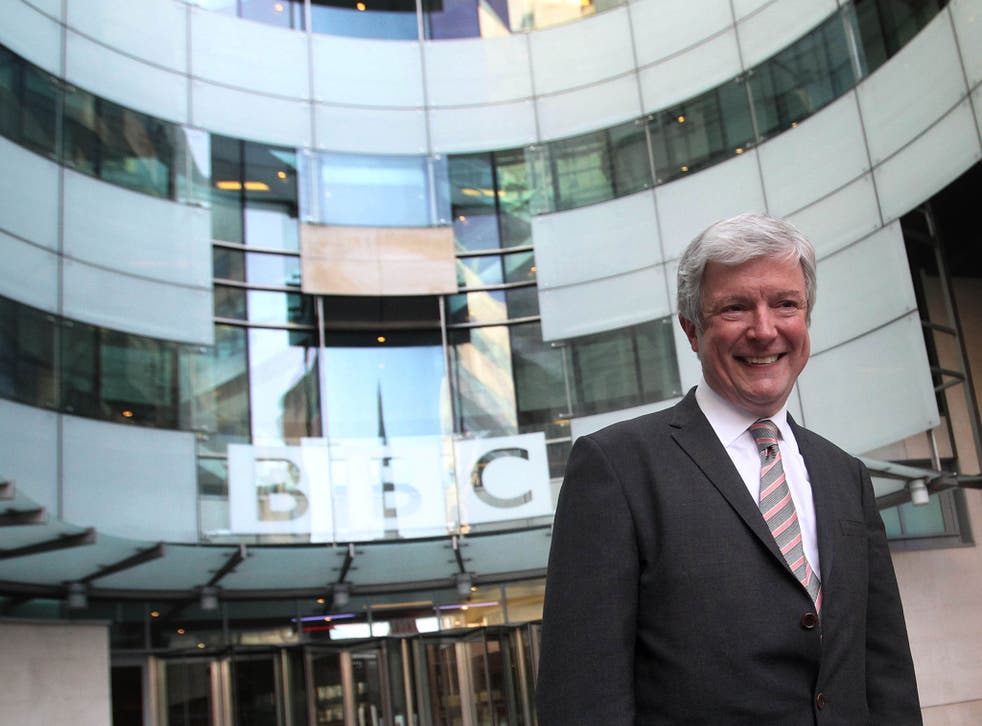 The BBC has had a "fantastic year", its director general Tony Hall said today, after 12 months in which the broadcaster has been pilloried by Parliament for misspending on executive pay and wasting £100m on a failed computer project, and when iconic presenters Rolf Harris and Stuart Hall have been jailed after high profile criminal trials.
Citing successes such as Sherlock and Happy Valley, the Director General said the BBC had "much to be proud of" as he published its annual report, which showed that audiences were spending less time with the BBC each week - 18.5 hours a week compared to 19.5 hours last year - and that spending on television, radio and online has fallen amid increased budget pressures.
Lord Hall said the BBC had delivered £374m in annual savings and was on course to reach its target of £700m a year by 2016-2017, following the freeze in the Licence Fee in 2010. But the annual report showed that the head count of BBC staff had actually increased, to 16,672 from 16,534 the year before.
Although the BBC has reduced overall expenditure on senior management, the number of managers on more than £220,000 has increased. The report revealed that £25.6m was spent in further severance packages last year, in spite of criticisms from Parliament's Public Accounts Committee over the generosity of the BBC's redundancy deals. Payments of £100,000 or more amounted to £9.9m.
The BBC also managed to reduce its spending on presenting talent, although the amount spent on talent earning between £250,000 and £750,000 grew from £14.4m to £14.8m. Total BBC talent costs are down 15 per cent since 2008.
Diane Coyle, acting chair of the BBC Trust, praised Lord Hall for his "strong leadership" and said he had "re-energised" the BBC. She noted that 96 per cent of people access BBC services every week. But she said the organisation had also suffered "some high-profile failures", citing the closure of the £100m Digital Media Initiative archive project and the "controversy" around severance payments "above contractual entitlements".
Ms Coyle said the BBC needed to improve its record on diversity and the distinctiveness of its programming. The annual report revealed that the proportion of women in senior management and leadership roles at the BBC fell last year. Only in the lowest pay grades do women outnumber men at the BBC.
Lord Hall said: "I just want to say what a great year's it's been for the things that really matter to everyone around the UK, and indeed around the world, and that's the content, the programmes, the services."
He also praised the BBC's coverage of Andy Murray's 2013 Wimbledon victory, the 50th anniversary of Doctor Who, the drama Luther and the final of The Great British Bake Off on BBC2.
Total spending on television is down from £2,472m to £2,276m. The radio spend has been cut from £670m to £650m, and the online budget is down to £174m from £177m.
The report showed that 74.9 per cent of people watched BBC1, compared to 77.6 per cent the year before, and that the average time spent watching the channel has fallen from seven hours, 51 minutes a week to seven hours, 30 minutes. Spending on BBC1 content fell to £1,023.7m from £1,129.2m. BBC1 showed less drama, arts, sports and comedy last year but increased its output of news, factual programmes, entertainment shows and film.
BBC2 saw its reach fall slightly from 50.9 per cent to 50.3 per cent and its average weekly viewing hours dropped from three hours, 15 minutes to three hours, 13. Its programme budget reduced marginally from £404.8m to £400m. The channel showed less news, arts and entertainment and added to its output of current affairs, drama and comedy.
Radio 1 dropped from an average weekly listening time of seven hours 14 minutes to six hours and 23 minutes, with its reach down slightly to 20.3 per cent from 20.9 per cent. Both Radio 2 and Radio 4 marginally increased their reach last year, although both suffered minor falls in average listening times.
Danny Cohen, the BBC Director of Television, said the fall in the BBC's overall audience appreciation - from a score of 83.1 to 82.1 - was linked to smaller programming budgets and the exceptional results the previous year, when the BBC was widely praised for its coverage of the London Olympics.
According to poll research published by the BBC the public's support for the licence fee has grown from 31 per cent in 2004 to 53 per cent in 2014.
Register for free to continue reading
Registration is a free and easy way to support our truly independent journalism
By registering, you will also enjoy limited access to Premium articles, exclusive newsletters, commenting, and virtual events with our leading journalists
Already have an account? sign in
Join our new commenting forum
Join thought-provoking conversations, follow other Independent readers and see their replies