BBC Trust should be abolished and replaced with external regulator, says trust chairwoman Rona Fairhead
'It's clear the BBC has been damaged in recent years'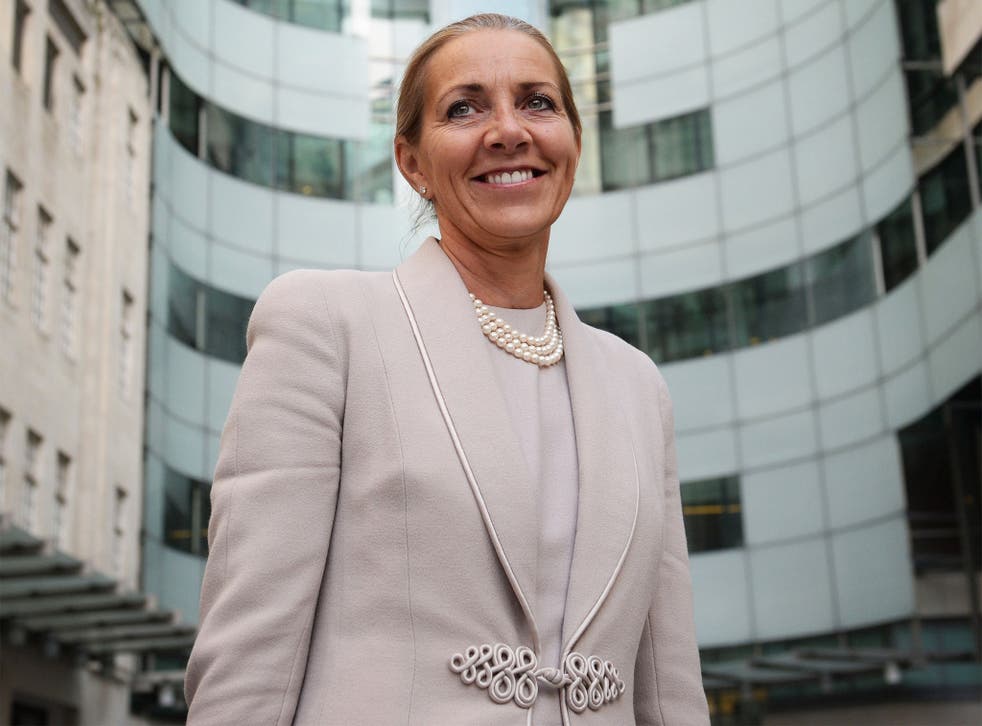 The BBC Trust should be abolished and replaced by a new external regulator monitoring the BBC and a stronger unitary Board, Rona Fairhead, the BBC Trust chair has recommended.
Ms Fairhead, who was only appointed to the Trust last year, is to be questioned by MPs about her work at HSBC at which she worked one day a week and was paid £500,000 last year. She was also chair of its audit committee at a time when the Swiss arm of the bank helped clients evade tax.
Parcelling out the Trust's responsibilities to a beefed-up BBC executive board and an outside regulator would end once and for all the "blurred accountabilities" between the Trust and the BBC Executive Board when the BBC is hit by crises, Ms Fairhead told the Oxford Media Convention.
She would be the BBC body's last chair if the governance revolution she suggests is accepted.
"It's clear the BBC's reputation has been damaged by a spate of issues in recent years, though somewhat heartening that public faith is returning," she said.
"Responsibilities for strategy, financial and operational management need to sit with the BBC Executive – to allow them to respond to a rapidly changing environment. Responsibilities for regulation and broader accountability need to sit at one remove.
"That way, there should be no possibility of vagueness or uncertainty about who will be held responsible for what, when the chips are down."
Outlining a solution which would effectively abolish the Trust's function, Ms Fairhead argued: "The cleanest form of separation would be to transfer the Trust's responsibilities for regulation and accountability to an external regulator. And that's an approach we want to explore further. I think it's the front-runner.
"In this model, the BBC would need to establish a stronger unitary Board, with an independent chairman and a majority of non-Executive Directors. They would take sole responsibility for running the BBC and its corporate governance.
"They would have their own responsibilities to listen and respond to their most important stakeholder – the British public. And the Non-Executives would need to have access to independent research and advice.
"The external regulator would have responsibility for all matters of regulation and those matters of Licence Fee Payer representation which require a broader, more regulatory perspective."
Ofcom, the communications watchdog, could not regulate the BBC however. "The Trust is convinced that, in this or any model, there needs to be a bespoke regulator for the BBC, given the higher expectations that audiences have for its editorial and creative standards and the particular concerns that exist about its market impact and fair trading.
"There should be a single body responsible for setting those standards for the BBC, licensing and regulating its activities, and holding it to account for the way it spends public money."
Ms Fairhead added: "This model needs to be tested thoroughly. It does provide maximum clarity about who is accountable. But for it to work, the regulator would need to have fairly strong powers and levers - to hold the BBC to its public purposes and to the standards that audiences expect; and to prevent undue damage to the commercial market. The BBC Board and its regulator would need to be able to act as a protective buffer between Government and management, to ensure the organisation's independence. There would need to be some structure for ensuring the BBC served audiences in all the UK's Nations and regions."
Ms Fairhead is to be questioned by MPs about her role at HSBC while the bank's Swiss arm helped wealthy clients evade tax.
She has been a member of the bank's board since 2004 and was chairwoman of its audit committee from 2007. She was paid a total of £513,000 by the bank last year, and joined the BBC Trust last October, following the unexpected departure of Lord Patten. The Trust said Ms Fairhead has had no conversations about with anyone on the BBC's editorial side about its coverage of the HSBC story.
She will give evidence to the Public Accounts Committee alongside HSBC chief executive Stuart Gulliver next Monday.
Ed Vaizey, the Broadcasting minister, told the Convention that Ms Fairhead, a former Financial Times Group chief executive, went through a "completely proper appointments process" to get the BBC job. He described her an "incredibly impressive woman."
Register for free to continue reading
Registration is a free and easy way to support our truly independent journalism
By registering, you will also enjoy limited access to Premium articles, exclusive newsletters, commenting, and virtual events with our leading journalists
Already have an account? sign in
Register for free to continue reading
Registration is a free and easy way to support our truly independent journalism
By registering, you will also enjoy limited access to Premium articles, exclusive newsletters, commenting, and virtual events with our leading journalists
Already have an account? sign in
Join our new commenting forum
Join thought-provoking conversations, follow other Independent readers and see their replies