Downton Abbey: 'Sorry ma'am, the butler's out snowboarding!'
Continuity errors, anachronisms, gaffes, and plain clangers can't halt the rise of period drama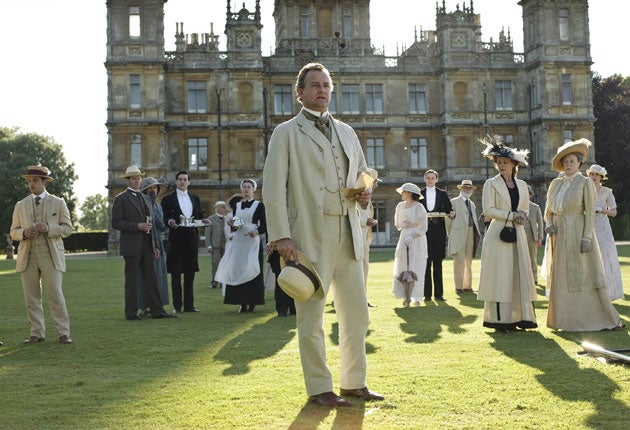 It has become the water-cooler TV hit of the autumn schedule. Downton Abbey, ITV1's First World War period drama centring on the everyday lives and scandals of the Crawley family and their servants, generated 11.6 million viewers on its debut night last month.
Fans rave about the drama's script, penned by the Oscar-winning writer Julian Fellowes, and its cast, ranging from Dame Maggie Smith and Hugh Bonneville, to Penelope Wilton, Elizabeth McGovern and Jim Carter. Together they have produced the most successful new drama on any channel since February 2009, earning an instant second run of eight episodes to air next year.
Yet despite lavish praise for the riveting, racy storylines, appreciation of the grand Edwardian country house setting, and swooning over Brendan Coyle's sturdy portrayal of the handsome valet John Bates, a growing band of critics is causing ripples among the show's fan base.
On blogs and fan forums, Downton Abbey is being picked apart, studied and lambasted – not for its content or weak plot, but for its minute and often overlooked historical inaccuracies, ranging from the far-fetched portrayal of the servants' "very good life" to the appearance of a stray TV aerial.
Here are just a few of the historical gaffes spotted by sharp-eyed online sticklers for authenticity.
1. "Lady Sybil Crawley talking about a 'professional, qualified woman' when there was no such creature in 1912."
2. The use of the word 'boyfriend'. According to one posting: "'Boyfriend' first appeared in The Times in 1933. From the context it was presumably the name of a racehorse, but it did not appear in those august pages again until 1955. I know that The Times used a more formal English than would be experienced in the everyday conversation below stairs, but this does suggest to me that it is unlikely that servants would have used the word 'boyfriend' in 1912."
3. "Maid walking up to her mistress to ask after her mother – the presumption of the girl! I wonder if she can get away with it because this is set north of Watford where 'we speak as we find'. In many houses the servants were obliged to turn and face the walls when their 'betters' were walking along the same corridor."
4. "Pity there were errors such as showing a rooftop view complete with a TV aerial and a car from 1921, etc."
5. "I think it was an episode that aired the week before last, there was a street scene and there was a modern street sign with bold black lettering. I couldn't believe what I was seeing."
6. "Confused timing – when the Titanic sank, the characters said they'd be in mourning 'until September', yet it was made clear that September was reached in episode 1. Also, Albania became independent in November 1912, which was why the Turk was visiting, so it should be October-ish time at the minute, but it is so obviously filmed in the summer."
7. "I'm a bit unsure about the whole 'nudge-nudge, wink-wink, Thomas isn't a ladies' man' business. Wouldn't they be quite disgusted by it? And wouldn't it make him very vulnerable?"
8. "Bit of a clanger, playing 'After You've Gone' on the piano. It wasn't written till 1918!"
9. "If the frequent mentions of Thirsk and Ripon are anything to go by, Downton is supposed to be somewhere in the Vale of York. I still haven't heard anything approaching a North Yorkshire accent yet."
10. "My only quibble would be that surely a house of the size that this one is made to look on screen would have many more staff than it appears to have?"
Join our commenting forum
Join thought-provoking conversations, follow other Independent readers and see their replies