From Russia with news
The arrival of RT means that state-sponsored channels from Moscow, Beijing and even Tehran are now beamed directly into our homes. Should we be worried, asks Ian Burrell
Friday 15 January 2010 18:51 GMT
Comments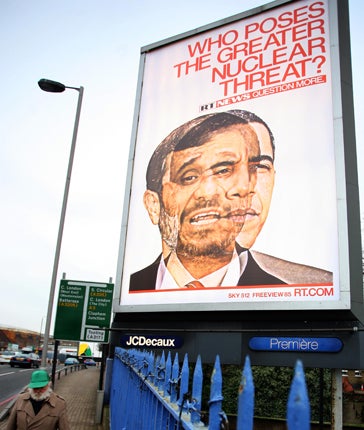 Earlier this week John Ryley, the head of Sky News, stood up in front of an audience at the Cambridge Union Society and asked to be set free. "I neither want nor need to be subjected to the controlling hand of a regulator armed with a set of codes and sanctions," he complained.
According to Ryley, the requirement of the broadcasting watchdog Ofcom that British broadcasters produce news which is free of political bias is no longer necessary. If not for democratic reasons, then for pure economic ones, it is in the best interests of commercial news broadcasters to be balanced, he argued. "In simple terms, it's good business for us to be impartial."
Lord Mandelson is convinced he knows what is happening here: Murdoch wants to "fill British airwaves with more Fox-style news". And yet in many British homes, the unashamedly pro-Republican Fox News is already available, along with the news channels of the Islamic Republic of Iran (Press TV), the Chinese state (CCTV-9), and the television arm of the Russian state news agency RIA Novosti (RT or Russia Today). All these channels, including Fox News UK, are covered by the Ofcom regulations on due impartiality but many critics claim the rules are flouted.
"It's obvious to anyone with half a brain that state-sponsored TV wants to peddle a particular line," said David Mannion, editor-in-chief of ITV News. "If channels are coming from a particular local perspective I don't have a problem with that - unless they claim to be impartial when they're not. If channels pretend to adhere to historic impartiality rules and they're not then I think they are in the dock for fraud."
At least there is diversity. British news junkies, channel-hopping on Thursday evening, might have come across different angles on the Haiti disaster from France 24 (set up by Jacques Chirac in 2006 to give a French perspective on the world), which interviewed senior UN official Alain Le Roy, or from Al Jazeera English (funded by the Qatari royal family), which had spoken with Leonel Fernandez, president of the Dominican Republic, Haiti's neighbour.
Over on the privately-run New Delhi based NDTV, there was a story on heated protests in Madhya Pradesh over shops selling women's knickers and billboards advertising condoms. China's CCTV-9 was showing a documentary on Huang Binhong and other Chinese landscape painters specialising in heavy ink.
The Japanese public broadcasting service NHK World, meanwhile, was airing J Tech, a programme on "the heart and soul of Japanese manufacturing", which highlighted the production of digital books with all the gravitas of a children's programme demonstrating the potential uses of empty cornflakes packets.
Meanwhile the far-right Fox News presenter Glenn Beck was discussing Barack Obama's policies with black republicans in a slot titled "The Effects of Big Government on the African-American Community". Making little secret of his personal views, Beck went to the adbreak with the sign off: "Big government, how it's hurting you and everybody. Next!"
On Russia Today, it was the Brits who were under fire, from shouty American financial journalist Max Keiser. "[Gordon] Brown is very high-minded in his attempts to fight terrorism around the world, but when it comes to financial terrorism he's doing nothing," he told viewers of The Keiser Report in an attack on bankers, before accusing the BBC's most famous rottweiler of being a government patsy. "Jeremy Paxman put out the corporate line… he's got a huge soapbox with his newscast. Will people see through the propaganda of Jeremy Paxman?"
Kevin Bakhurst, controller of the BBC News channel, takes the view that impartiality elsewhere helps to make the BBC's offering stand out. "It's a much more interesting landscape now for audiences. France 24 and RT have got very obviously defined agendas…choice is a really good thing. But whatever Sky ends up doing, the core for the BBC remains impartial TV news. That is our main selling point around the world," he said.
RT, in particular, has been raising its profile in recent weeks by being deliberately contentious. Traffic-bound British commuters have found themselves stuck in front of giant billboard posters showing American President Barack Obama morphing into Mahmoud Ahmedinajad, the Iranian leader, and the provocative question: "Who poses the greatest nuclear threat?" The ad is part of a campaign being run by Russia Today and banned by American airports. Another ad in the series shows a Western soldier merging with a Taliban fighter and asks: "Is Terror Only Inflicted by Terrorists?"
Russia Today, an English language service, was set up in 2005 to present a perspective from Vladimir Putin's government as a counterbalance to Western global news organisations such as CNN and the BBC. Its editor-in-chief Margarita Simonyan claims that the Russian state "doesn't at all" interfere with the output of the network's journalists.
But Shaun Walker, The Independent's Moscow correspondent, disputes this. "It is untrue that the channel's journalists are able to report on what they want to without editorial influence; while as time has gone on there have been more features on "negative" aspects of Russia, there is still a total absence of any voices criticising Prime Minister Vladimir Putin or President Dmitry Medvedev," he says. "The channel's coverage of Russia's war with Georgia was particularly obscene. With Western TV networks hooked on a "New Cold War" headline and often not too well versed in the nuances of the region, there was a gap in the market for a balanced view of the conflict that explained Russia's position. Instead, RT blasted "GENOCIDE" across its screens for most of the war's duration, produced a number of extraordinarily biased packages, and instructed reporters not to report from Georgian villages within South Ossetia that had been ethnically cleansed."
Nick Pollard, the former head of Sky News who now runs the British Forces Broadcasting network, warned against trying to tighten up existing regulations. "When you have the world's news channels available, you cannot possibly hold them to a particular definition of impartiality. Anybody who thinks they should be regulated so that they either fit the UK view of life or you block them out, is mad," he said.
In fact Pollard suggested that a UK news broadcaster, outside of the main existing outlets and with a clear political agenda, would further invigorate the market. "If you could find a way of continuing to ensure that the BBC, ITV, Channel 4 and Sky were traditionally impartial, you should then find a way of loosening the restrictions on impartiality for everyone else. There's no shortage of spectrum and airtime to fill," he said, adding that he hoped that incoming providers of ITV regional news would provide more than "an imitation" of what had gone before.
One broadcaster with a clear agenda is Press TV, which was set up by the Iranian state "to address a global audience exposed to misinformation and mudslinging as regards the Islamic Republic of Iran". It has a sizeable UK operation, taking contributions from many prominent critics of the British government, such as George Galloway, who was criticised by Ofcom in August for anti-Israel bias on his Press TV show. London broadcaster Nick Ferrari resigned from the same network in July complaining of bias in the channel's coverage of the Iranian elections. "I imagine they've been told what to do, and I can't reconcile that with working there," he said.
According to Richard Sambrook, the director of BBC Global News, the existing due impartiality rules have made British broadcast news the best in the world.
"What we are seeing in international broadcasting is more and more players entering the market, partly because it's cheaper than ever before but also because they want a voice in the debate," he said. "I slightly worry that many viewers won't realise there's an agenda behind these channels, but if they watch for long they will recognise it."
Join our commenting forum
Join thought-provoking conversations, follow other Independent readers and see their replies