Hey, presto! Record numbers of children signing up to Young Magicians Club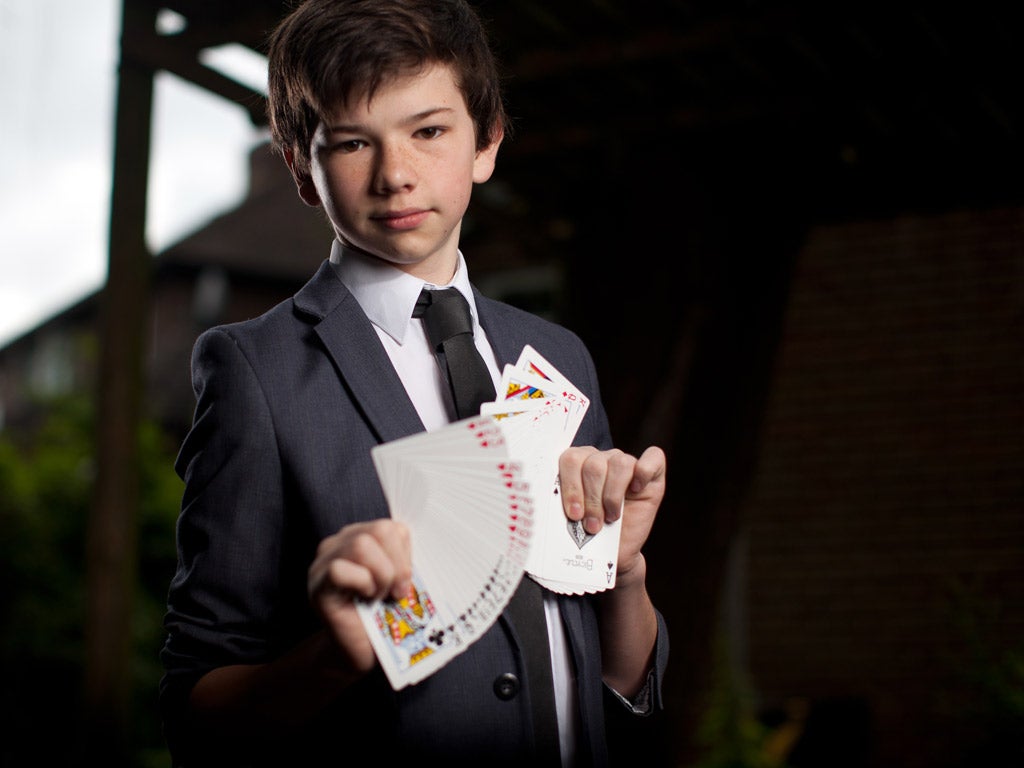 Children see magic because they look for it, it's said, but more and more of them are determined to practise it as well. Once the preserve of men in tuxedos pulling rabbits from top hats, TV magic is nurturing a new generation who want to get down with the kids.
The Young Magicians Club, youth wing of the Magic Circle, is reporting record numbers of young people joining, hoping to learn the skills to make them the next Harry Houdini or David Copperfield. It has seen membership rise 60 per cent over the past year, up to 550 members from 350.
Experts believe its boosted popularity is no illusion, but springs directly from the growing numbers of prime-time TV shows that feature stage trickery such as Penn & Teller: Fool Us, and the CBBC show Help! My Supply Teacher is Magic.
Among those inspiring a new wave of young magicians is Dynamo (real name Steve Frayne), who returns to TV screens this week with his show Magician Impossible which features one scene where he appears to walk across the River Thames.
Kevin Doig, chairman of the Young Magicians Club, which is open to people aged 10-18, said: "There is now more magic on television than there has been over the last decade, with BBC1, ITV and CBBC all having shows. YouTube is also huge for magic. And magicians such as Dynamo and Penn & Teller appeal to young people, as they are seen as cool."
John van der Put, known on stage as Piff the Magic Dragon, learnt magic aged 14 when he was off school with glandular fever. Last year, the 32-year-old, who performed at the Apple Cart Festival this June and will be in Edinburgh this summer, won the Magic Circle award for his show. "Magic is phenomenally popular now. It is all over YouTube, there are online magic shops, and people can learn tricks at home," he said. "Close-up magic is very immediate: people are engaged by the mysterious world where you see your name on a playing card, concealed within a block of ice."
He agrees that Penn & Teller, Derren Brown and Dynamo have all created the "explosion in popularity" of magic, as its image has evolved. "It used to be seen as either cheesy in a 1970s-end-of-pier way, or Las Vegas showgirls-style. It had become a bit of a parody," he said.
Richard Kettle started Ketsy's Young Magicians magic club, held at Godalming Junior School in April last year. He holds before-school, after-school and lunchtime sessions for children in Surrey, as well as summer holiday magic camps. "We started with 80 children aged eight to 13, and now have 220 children involved," he said. "Young people love learning magic because it's so diverse: they get to express themselves and work on their performance skills. Children learn different tricks and are awarded stickers as they progress."
Will Houstoun, who is studying for a PhD to become a doctor of magic, believes the art of illusion is reaching Victorian levels of popularity once again, as both television shows and films including Martin Scorsese's Hugo have helped bring it to the top of people's consciousness. "In the Victorian times, magic lost its tie-ins with street entertainment and was performed in people's parlours," he said. "Now, its appeal is partly that it is moving back to the streets."
Davenports Magic, in London's Charing Cross, has also noticed a rise in sales of magic tricks to children. Daniel Young, product demonstrator at Davenports, said that trick packs of cards are most popular among the young. "Dynamo appeals to a younger crowd, and since he was on television we have seen an increase in children coming in. It is almost exclusively boys; I think partly because there are not many female magicians out there – magic has been a predominantly male profession or hobby for hundreds of years – so there are not many female role models. I wish that would change."
Kevin Doig said while magic attracted both girls and boys, the Young Magicians Club is overwhelming male, with boys making up 85 per cent of the club's membership.
Fay Presto, voted the Magic Circle Close-up Magician of the Year 2012, and who has performed for Sting, Madonna, Elton John and Eric Clapton, explains why she believes the magic industry is so male-dominated. "If every picture of a magician is a man in a top hat with a cape, it is easy to see how girls may be guided away from magic. And it's daunting for girls to walk into the Young Magicians Club. It's like a straight man going into a ballet class."
Young magician who confused his parents
Callum McClure, 14, from Guildford, Surrey, first became interested in illusions when he was eight and a magician came to his school. "I was baffled and intrigued by his tricks – he made a cane float," he said. "Then my parents bought me a magic set. I started playing around with it, and thought the linking rings were good, and the little sponge balls that would jump from hand to hand. I started showing tricks to my parents, who were confused how I did it."
When he was nine, he went to Hamleys where a magician was performing. "He recommended the Young Magicians Club. I had to wait until I was 10 to join, but since then I've been an active member. I like tricks where I make cards appear in impossible places, jumping into my mouth, my wallet and my pockets. I've auditioned to go on Penn & Teller and have been invited for the next series. I love their originality: they create new tricks and also make old tricks better. I want to graduate to the Magic Circle when I'm 18 and become a professional magician. I've raised more than £2,000 over the past year, which will fund my trip to Las Vegas and Hollywood with the Young Magicians Club. There are lots of male magicians, but not as many female role models for magic – girls are often stereotyped as assistants rather than doing the magic themselves. I think that's a shame."
Abracadabra! Five favourites
Svengali Magic Cards Trick deck in which some of the cards are smaller than others
Lights from anywhere Trick where children are able to produce light from the ends of their fingers
Dynamic coins Allows a pile of 10p coins to vanish and reappear
The Great British coin trick Moving 2p coins from one side of a table to another, magically
Wizard magic cards Another trick card deck, this one allows young people to perform 100 card tricks.
Join our commenting forum
Join thought-provoking conversations, follow other Independent readers and see their replies