Is Saturday TV a bit of a drag?
The foul-mouthed, dysfunctional Mrs Brown is hoping to change all that with her new BBC celebrity quiz show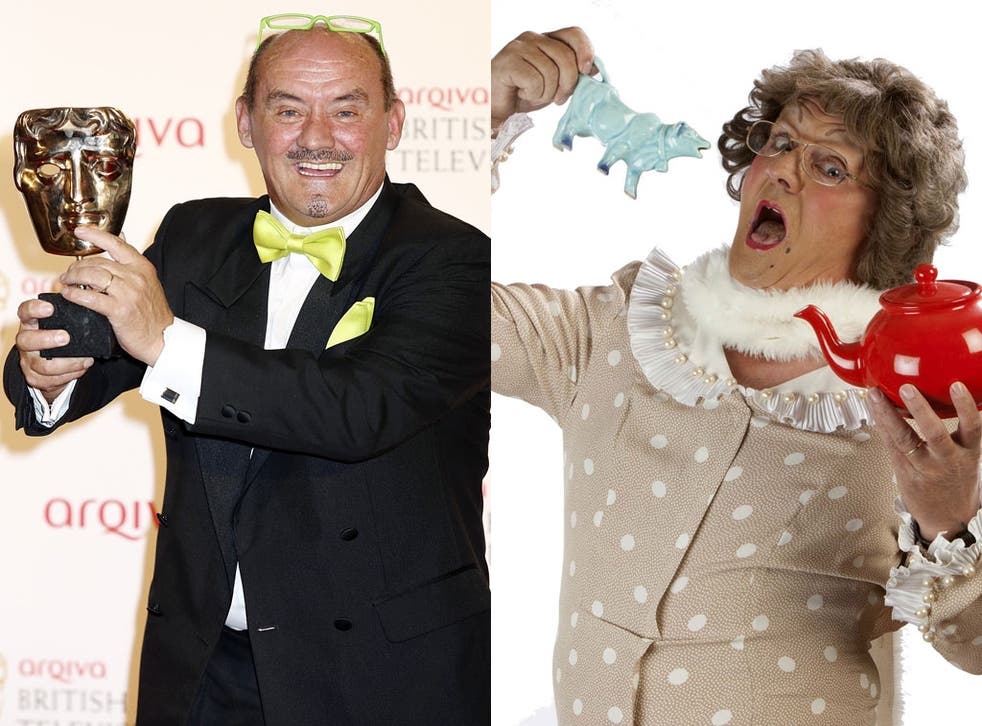 Ant and Dec should be very afraid. A foul-mouthed Irish grandmother, played by a 56-year-old former milkman, is being lined up as the BBC's secret weapon in the battle for Saturday-night supremacy.
Mrs Brown's Boys, which has been a two-decade overnight success for creator Brendan O'Carroll, has drawn such big late-night audiences that the madcap matriarch has been handed a spin-off quiz show – Mrs Brown's Celebrities.
Contestants are being sought for the show, with a pilot due to be filmed shortly and a full series hitting screens early next year.
Mrs Brown's Boys almost defies description. Part old-fashioned family farce, part post-modern deconstruction of studio-based sitcoms, it attracted the opprobrium of critics who baulked at the 1970s throwback, but gradually, quietly, it built a huge audience.
Announcing the new quiz show, O'Carroll joked: "It will be fun to see how Mrs Brown copes with a quiz, as she knows as much about trivia as my backside knows about snipe shooting. It's a new adventure, and Mrs Brown is always up for a new adventure."
The quiz show spin-off marks the latest stage in the phenomenal rise of Mrs Brown, first created by O'Carroll for radio in 1992. A series of films for Irish television and a movie with Anjelica Huston later, he landed a series jointly for RTE in Ireland and the BBC in the UK, recruiting several members of his own family for the cast.
It was initially commissioned for just one series, but TV bosses ordered a third series before even airing the second, which earlier this year drew almost seven million viewers. It won a Bafta, sold a million DVDs and is due to be made into a film.
The elevation of the cult comedy character to mainstream family viewing mirrors that of Keith Lemon, the sleazy moustachioed creation of Bo Selecta star Leigh Francis, who went from sexually harassing soap stars on ITV3's Celebrity Juice to fronting a Saturday tea-time show, Lemonaid.
In the new Mrs Brown show, two contestants will compete in a quiz with the help of five celebrities. The winner will go through to a final, where they must rely on stars of sport, music and TV to answer questions on their behalf.
It's not the first time the BBC has turned to a drag act to rescue its primetime schedules. In 2007, a pilot of the Generation Game, with Lily Savage as host, was recorded but, declared disastrous, it never aired.
Mrs Brown's Celebrities is being produced by 12 Yard Productions, the company behind Eggheads, Coach Trip and the Dale Winton lottery show In It to Win It. Andy Culpin, the managing director, said: "Mrs Brown's unique take on life is sure to provide an entertaining and unpredictable show that will appeal to old and new fans alike."
Alan Tyler, the BBC entertainment executive commissioning editor, hailed Mrs Brown as "one of the crown jewels of BBC comedy".
Not everyone has agreed. When the first series aired, the television critic of the newspaper Metro said the "BBC should hang its head in shame", while The Daily Telegraph warned viewers that the show made at least 25 uses of the F-word expletive in its opening episode, "which includes gags about vibrators and a rectal thermometer". And that's just what can be repeated in a newspaper.
Saturday-night TV will once again be about big-time, shiny-floored game shows. But Mrs Brown doesn't really do catchphrases beyond fecking, shite and arse. Bringing the XXX Factor to prime time.
Join our new commenting forum
Join thought-provoking conversations, follow other Independent readers and see their replies