James Murdoch's return as Sky chairman is inappropriate, warns investor
James Murdoch, 43, was Sky's chief executive from 2003 to 2007 and chairman from 2007 to 2012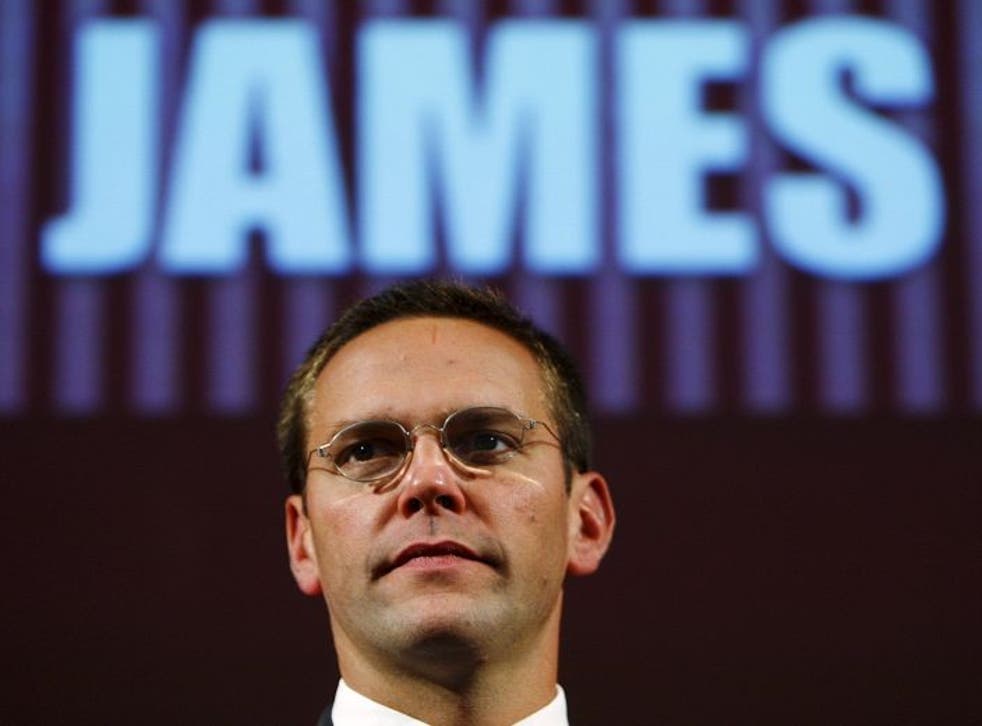 James Murdoch is controversially returning as chairman of Sky TV four years after he left the role in the wake of the phone-hacking scandal at News International.
His return cements his position as heir apparent to his 84-year-old father Rupert and immediately prompted speculation that the Murdoch family, through its Fox TV network in the US, might again bid to buy the 61 per cent of Sky that Fox does not already own. It also reignited controversy about the Murdochs' control over Sky.
Ashley Hamilton Claxton, corporate governance manager at Royal London Asset Management, which owns £49m worth of Sky shares, said: "The reappointment of Mr Murdoch as chairman is inappropriate in our view. Should Fox make a bid for Sky, investors need a strong independent chairman to protect the interests of minority shareholders and negotiate the best possible deal."
James Murdoch, 43, was Sky's chief executive from 2003 to 2007 and chairman from 2007 to 2012, when he stepped down saying he did not want to be a "lightning rod" to Sky over the hacking scandal. He remained on its board. He is chief executive of the Murdoch family's broadcasting empire 21st Century Fox and a director of News Corporation.
Nick Ferguson, a City grandee who replaced Mr Murdoch, will quit as chairman and director of Sky in April.
Tim Bush, head of governance at the shareholder advisory group Pirc, said: "We thought we were well past the point where Sky could be run without him. We will want to know how the rest of the board can explain this."
Sky's chief executive, Jeremy Darroch, said: "Our senior independent non-executive director Martin Gilbert led the process and the nomination committee met separately from the board. It then put its recommendation to the board, who approved it unanimously."
He admitted that Mr Murdoch was the only name submitted to the board. Mr Gilbert, chief executive of Aberdeen Asset Management, which owns nearly 15 million Sky shares, becomes deputy chairman – a role that has not existed since Mr Murdoch ceased to be chairman.
Andrew Sukawaty, chairman of satellite communications group Inmarsat, will take on the role of senior independent director. That will leave Sky in the unusual position of having 12 directors, of whom only six are deemed independent. Besides Mr Gilbert and Mr Sukawaty, they are: Tesco chief Dave Lewis; Standard Chartered's Tracy Clarke; the former managing director of Swedish investment firm Investor, Adine Grate Axen; and the French banker Matthieu Pigasse.
Citi said: "The retirement of... Nick Ferguson and the announcement of James Murdoch as his replacement may raise some questions about the balance of the board."
Sky has had its strongest quarter for a decade, signing 377,000 new customers in the three months to December.
Half-year operating profits rose by 12 per cent to £747m, beating City forecasts, and the dividend goes up by 2p to 12.6p a share.
CV: James Rupert Jacob Murdoch
1972 Born in Wimbledon, south-west London. Goes to school in New York and studies film and history at Harvard in the 1990s, but does not complete course.
1995 Sets up Rawkus Records (signings included Eminem), a hip-hop record label.
1996 Joins family business after News Corp buys 80 per cent stake in Rawkus. He is made chairman of News Corp's Australian record label Festival Records.
2000 Made chairman and chief executive of News Corp's Hong Kong-based Asian satellite service Star TV.
2003 -2007 Becomes chief executive of BSkyB – 39 per cent owned by News Corp.
2007 Named chief executive of News Corp in Europe and Asia, including News International newspaper business, and chairman of Sky.
March 2011 Made deputy chief operating officer at News Corp.
July 2011 Closes News of the World amid hacking scandal.
February 2012 Resigns from News International.
April 2012 Resigns as chairman of BSkyB.
1 July 2015 Named chief executive of 21st Century Fox, the film and TV business split out of News Corp in 2013.
Register for free to continue reading
Registration is a free and easy way to support our truly independent journalism
By registering, you will also enjoy limited access to Premium articles, exclusive newsletters, commenting, and virtual events with our leading journalists
Already have an account? sign in
Register for free to continue reading
Registration is a free and easy way to support our truly independent journalism
By registering, you will also enjoy limited access to Premium articles, exclusive newsletters, commenting, and virtual events with our leading journalists
Already have an account? sign in
Join our new commenting forum
Join thought-provoking conversations, follow other Independent readers and see their replies