Jimmy Savile report: BBC chiefs 'deeply sorry' after sexual predators 'hid in plain sight' within organisation
Critical 1,220-page report on BBC culture suggests broadcaster will struggle to ever recover from damage to reputation
Ian Burrell
Media Editor
Thursday 25 February 2016 22:48 Comments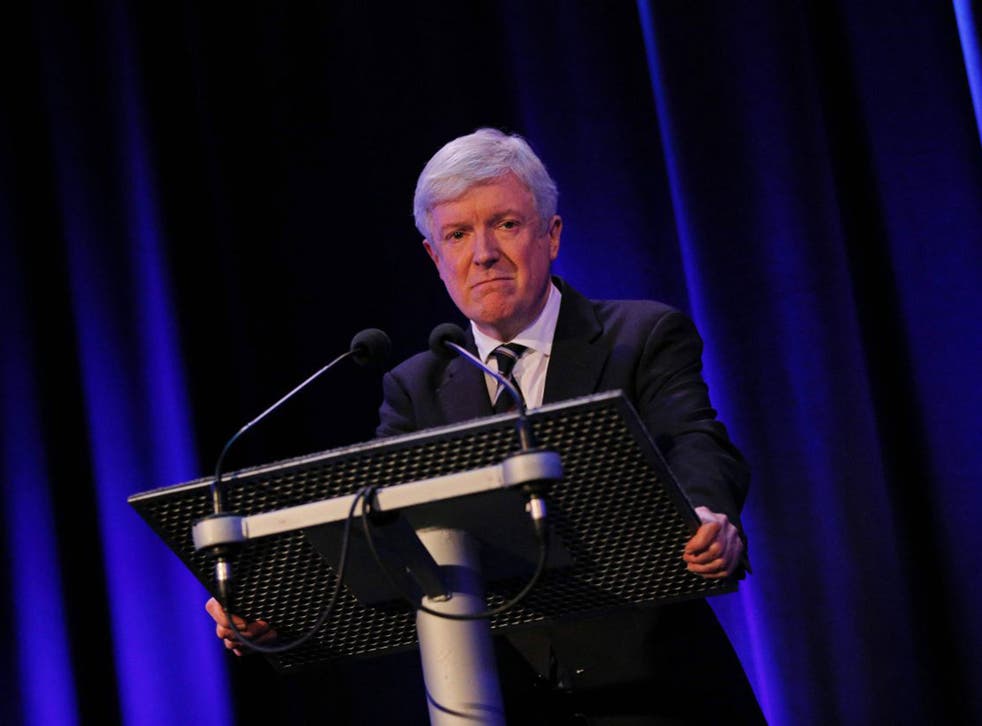 In a moment of rare contrition, the leaders of the BBC have apologised for the organisation's direct culpability in allowing the sexual abuse of Jimmy Savile and Stuart Hall to take place on its premises.
Speaking at the publication of a highly critical 1,220-page report on BBC culture at the time the attacks were carried out, Lord Hall, the BBC Director-General, said he was "deeply sorry" for the pain suffered by the many victims of the two presenters. "A serial rapist and a predatory sexual abuser both hid in plain sight at the BBC for decades," he admitted.
Rona Fairhead, the chair of the BBC Trust, suggested that the broadcaster would struggle to ever recover from the damage caused to its reputation. "These events will forever be a source of deep regret and shame," she said.
The BBC had "failed" the victims of Savile and Hall, she said. "It failed, not just them, but the public, its audiences and its staff. It turned a blind eye, where it should have shone a light. And it did not protect those who put their trust in it."
They were responding to the findings of an independent review carried out by Dame Janet Smith, a former judge, who identified the "complicit effect" of entrenched BBC culture in enabling the "monstrous behaviour" of the two presenters.
She exposed a flawed complaints procedure undermined by BBC staff having a "reluctance to rock the boat" and by a management structure that was "not only hierarchical but deeply deferential". She found a "macho culture", where women feared to report sexual harassment and celebrities were "treated with kid gloves and were virtually untouchable".
A solemn-looking Lord Hall said that he had been "particularly" disturbed by a passage of Dame Janet's report which recounted that one of Savile's survivors had been told: "Keep your mouth shut, he's a VIP."
Lord Hall said this made clear the unique culpability of the BBC in the Savile scandal. "This hit me because it made it so very clear that we did that. We, the BBC, did that. Jimmy Savile committed many crimes in many places. But, uniquely, it was the BBC that made him famous. We made him a VIP."
Publishing her report, produced over three years at a cost of £6.5m, Dame Janet was scathing of the decisions of BBC managers to repeatedly give Savile "a platform" when he was "boasting" in the press of his "past associations with violent criminals" and "having a prolific, casual sex life with young women many decades younger than himself".
Jimmy Savile: Life in pictures

Show all 15
She said: "It is amazing that it never occurred to them that Savile was not a suitable role model for the young audiences of Jim'll Fix It."
She identified 72 people who had been sexually abused by Savile on BBC premises (57 females and 15 males), including 34 under the age of 16. The attacks included eight rapes and 47 indecent assaults.
The findings come at a time when the BBC is desperate to protect its public reputation ahead of a Government White Paper on its future.
Dame Janet gave the BBC six months to respond to her on how it had improved its procedures as a result of her findings.
Lord Hall said that the BBC would be calling in the NSPCC to provide advice on how it can improve its child protection policies. It will also work with the National Association for People Abused in Childhood (NAPAC) to highlight the damage caused by abuse. A BBC1 documentary, The Abused, will give a voice to victims who gave evidence to Scotland Yard's Operation Yewtree into child sex abuse by Savile and other prominent individuals.
Register for free to continue reading
Registration is a free and easy way to support our truly independent journalism
By registering, you will also enjoy limited access to Premium articles, exclusive newsletters, commenting, and virtual events with our leading journalists
Already have an account? sign in
Join our new commenting forum
Join thought-provoking conversations, follow other Independent readers and see their replies