Mark Byford: The byword for BBC excess
The cash-assisted departure of Mark Byford from the corporation triggered howls of protest, but was he worth it? James Cusick investigates
James Cusick
Wednesday 11 September 2013 01:08 Comments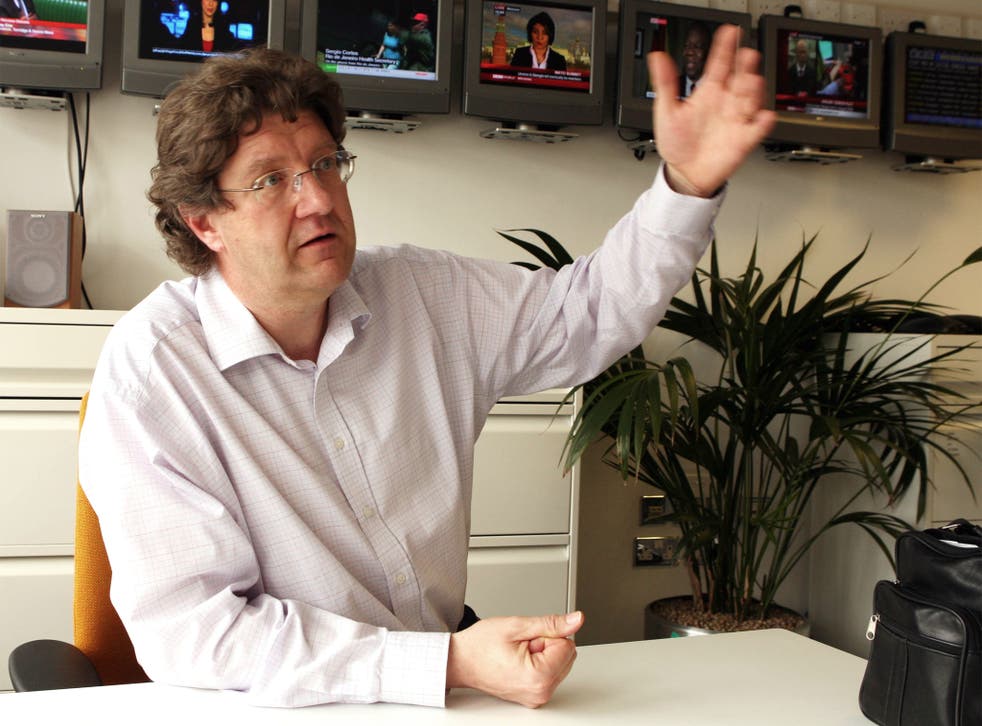 It was an unusual place for a leaving party. The top floor of New Broadcasting House, the £1bn add-on of sparkling glass and steel transforming the old Reithian building in central London, was yet to be kitted out and divided up. The odd wire and the occasional empty ceiling panel revealed work still in progress. But the 300 guests who made their way to the large empty space in early 2011 were not there to welcome the new BBC. They were there to say goodbye to someone who had made the corporation his life when he first joined aged 20 in 1979.
The executive being waved off was Mark Byford, the former deputy director general of the BBC, whose £1m pay-off by the corporation two years ago was the subject of a heated Commons hearing on Monday.
Despite the array of current and former BBC big-wigs who were in attendance – and heavily criticised – Byford himself did not attend, and his version of events has yet to be heard.
At his farewell bash two years ago, the large TV screens dotted around the vast space at NBH were showing a specially-made tribute film by Ron Neil, the former BBC journalist who co-created Newsnight, was the first editor of BBC Breakfast Time, and was also mastermind of the relaunched Six O'Clock News.
One BBC insider at the party said: "Ron was a father-figure to both Mark Byford and Mark Thompson [then the BBC's DG]. What Ron did in his tribute film was lay out why both Marks were important to the BBC – and why it was so sad one of them was leaving."
As Byford's role at the BBC was praised in the Neil film and the champagne – not paid for by the corporation – continued to flow, tears were noticed in the eyes of some big names that had made time to come to the leaving do. Enthusiasm, integrity, diligence, huge respect, ran Neil's script. Most people in attendance, if they had any knowledge of the senior strata of BBC management, knew what had happened; knew why Byford was off. Looking back at the 2011 party, one BBC figure, who remains namelesss, said: "Pay was a toxic issue. It was unsustainable. Mark had made it clear fairly early on that he was going to help Mark Thompson and go. Essentially he was going to sacrifice himself and help Mark T out."
As the BBC's number two and one, Byford and Thompson were often described by colleagues as "the brothers". Thompson was often noted as having the better "strategic brain"; someone who had become a channel controller and chosen a particular route, through news, to the very top.
Byford was different. "He had a phenomenal nose for trouble," said another insider. "He was a pressure-tester. But cut him open and BBC values ran through him. People in trouble, execs at the top, programme makers, turned to him for advice, not as a manager, but a colleague."
Retrospective wisdom is easy. But there are too many people sitting in senior and influential jobs at the BBC, all saying the same thing about Mark Byford, for it just to be kind words. One insider said: "The money Byford got to go? He was worth every penny. The Lord McAlpine screw-up. The way the Jimmy Savile business was handled. Maybe none of that would have happened if Byford had been still around." The assumption is that Byford, despite his public image as a grey man of the BBC, a time-served corporate bureaucrat, had sound news values. The pass-the-buck decision making that characterised the brief and embarrassing regime of George Entwistle as DG? A former Beeb official, now enjoying authority in another establish organisation, said: "If that business had passed across Mark's desk, he wouldn't have ignored it. That's why he was trusted. That's why Thompson wanted him to hang around as long as possible – and was prepared to pay for it."
The interaction between Byford and Thompson is under scrutiny by the Commons Public Accounts Committee (PAC) for another reason. A report this year by the National Audit Office, commissioned by the PAC, showed that severance payments to 150 senior executives between 2009 and 2012 came to more than £25m – some £2m more than was agreed.
In another report by accountants KPMG, which looked at 2006-2009, the parallel overspent was £1.5m across 30 cases. In total, between 2006 and 2012, somewhere north of £3m was overpaid. The biggest pay-off was awarded to Mark Byford, whose total severance package amounted to £1,022,000.
Byford – currently "travelling a lot" and writing a book on Vietnam – was absent from the latest PAC hearing. Thompson, however, attended the session described by the chair of the PAC as a "grossly unedifying occasion".
Chair Margaret Hodge said the "evidence" presented demonstrated "incompetence" at the top of the BBC, where corporation execs and current chiefs appeared to be blaming each other and refusing to accept responsibility for what had happened over inflated compensation payments as the Beeb tried to slim down its overweight top tier.
Thompson told the committee what he'd previously told other BBC managers and editors. Byford was entitled to £500,000 when he left the BBC in 2011. But what of the extra money, which took his package beyond £1m? According to Thompson, the deal represented "value for money". What the MPs did not hear about was the closeness between the former DG and his deputy. One insider close to both said Byford was "phenomenally disappointed when he didn't get the DG's job and Mark Thompson did. He could have gone at that point in 2004. But he stayed. He'd helped calm things down for five months as acting DG in the aftermath of the Hutton Report [and the resignation of Greg Dyke as DG] and took responsibility for restoring the BBC's journalistic confidence.
"Mark doesn't suffer from clouded judgement. I don't think it was an emotional issue for him. It was Byford who took the decision to go, not Mark Thompson."
Others questioned the position in which Thompson found himself.
"These two men climbed up the BBC from the time they joined as graduates," said one. "In Byford's case that meant an award-winning regional journalist, editor of BBC news and current affairs, the director of regional broadcasting, the director of the BBC World Service, and then head of the BBC's global division. Jesus, cut him and BBC blood – whatever colour that is – will flow out of him. "Thompson is a similar BBC man. They had a mutual bond. They complimented each other. Execs knew Thompson could think the unthinkable and it was Byford who had a better hand on reality.
"A way should have been found to keep that partnership together."
But that didn't happen – and the unforeseen outcome is an uncivil war between those still responsible for Britain's national broadcaster and those whose hands were once at the helm of the corporation.
Register for free to continue reading
Registration is a free and easy way to support our truly independent journalism
By registering, you will also enjoy limited access to Premium articles, exclusive newsletters, commenting, and virtual events with our leading journalists
Already have an account? sign in
Join our new commenting forum
Join thought-provoking conversations, follow other Independent readers and see their replies