Ex-BBC boss Mark Thompson apologises to MPs and public over wasting £100m on digital archive
Ian Burrell
Monday 03 February 2014 20:09 Comments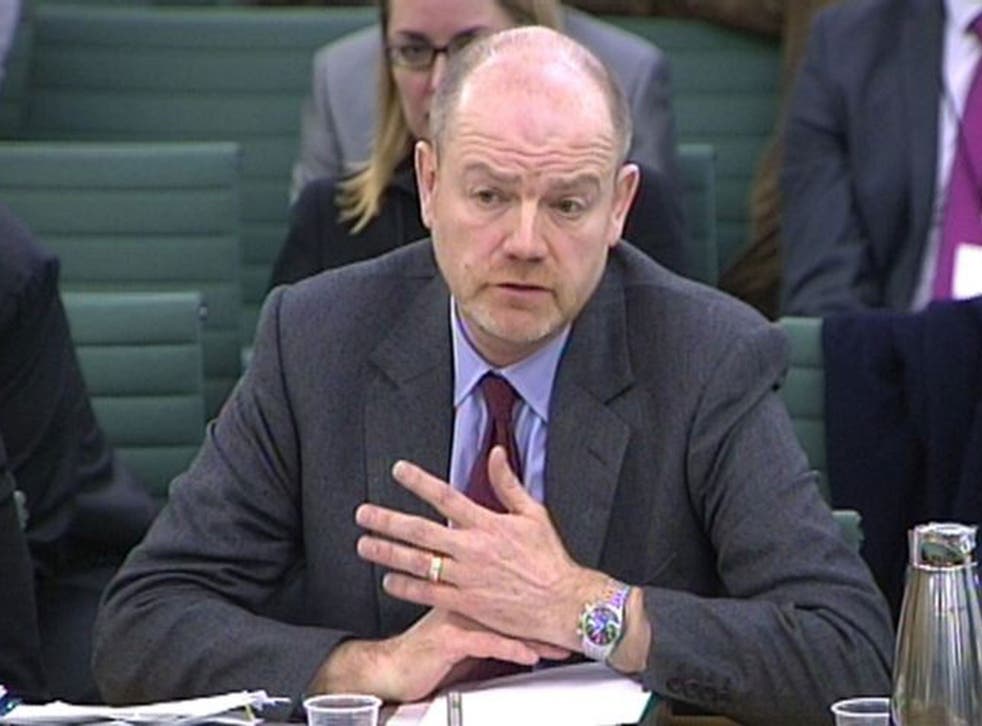 Mark Thompson, former Director General of the BBC, made a personal apology to MPs and licence fee payers over a disastrous computer project on his watch led to £100m of licence fee money being wasted.
"I just want to say sorry," he told the House of Commons Public Accounts Committee (PAC). "I want to apologise to you and the public for the failure of this project."
Mr Thompson, the CEO of the New York Times Company, was giving evidence on the failed Digital Media Initiative for the third time after again recalled by MPs who were angry over previous information supplied to them by the former Director General and other BBC executives.
The PAC chair Margaret Hodge asked him: "Were you misled?" He claimed his assertion that his positive account of the DMI in February 2011 was based on information he had been given at the time. "I believed it," he said.
At the end of the hearing, Ms Hodge expressed sadness over the damage done to the BBC by the affair. She said she found the bureaucracy of the BBC "almost beyond parody" and claimed MPs had been offered "some half-truths" by the BBC executives who had given evidence to the committee's hearings. "I just think the BBC does deserve better," she said.
Mr Thompson and colleagues, including former Chief Operating Officer Caroline Thomson, repeatedly tried to point out that the BBC had successfully delivered many larger technology-related projects.
Stephen Barclay MP said that there were signs that the project was in trouble several years earlier than the BBC acted. Mr Thompson replied: "I think there's some justice in what you say. It was very high risk. We believed at the time we were putting adequate governance in place – history suggests that we didn't do that."
Anthony Fry, a former member of the BBC Trust, expressed regret over the governing body's failure to do more over DMI. "I wish sincerely that we had been able to take more actions than we did," he said.
The MPs heard from Dominic Coles, the BBC's Director of Operations under new Director General Tony Hall, that the DMI project had been "appalling value for money". He said that the £125m digital archive, which was intended to serve the entire organisation, was so "clunky" that it was ten times slower than the 40-year-old system it was designed to replace and was regularly used by only 163 people at the BBC.
Towards the end of his evidence, Mr Thompson was questioned by Stewart Jackson MP over a legal letter sent to the Sunday Times on 6 September 2012 in which he and his former head of news Helen Boaden had threatened to sue the paper over a proposed article about Jimmy Savile's sex offences on BBC premises.
Mr Thompson has claimed to have had no detailed knowledge of the Savile affair when Director General. But he said the lawyer's letter had been sent on his behalf by the BBC press office and legal department days before he left the organisation. "I didn't read the contents of the letter."
Earlier in the hearing the BBC's former chief technology officer John Linwood, who was sacked in the wake of the DMI disaster, claimed that the fault did not rest with his department. "They've tried to pin this on technology to avoid facing up to the truth."
Register for free to continue reading
Registration is a free and easy way to support our truly independent journalism
By registering, you will also enjoy limited access to Premium articles, exclusive newsletters, commenting, and virtual events with our leading journalists
Already have an account? sign in
Join our new commenting forum
Join thought-provoking conversations, follow other Independent readers and see their replies