My Life In Media: Graeme Garden
'I used to write for Mr Blobby. It was done under cover of darkness and handed over in a car park. It was a funny idea to start with, but later turned into a monster'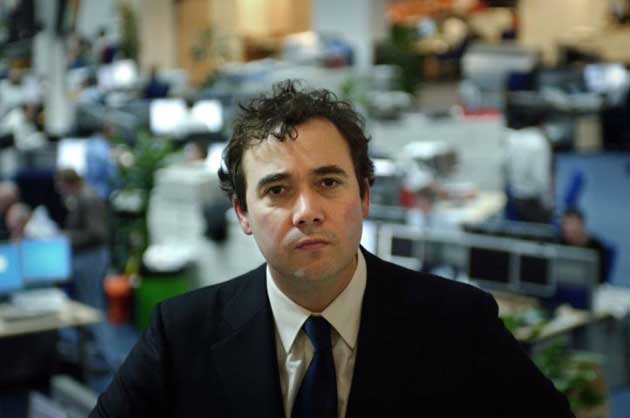 Graeme Garden, 65, is best known for his role in The Goodies. The television comedy series ran throughout the 1970s. He also created the Radio 4 satirical panel show I'm Sorry I Haven't a Clue and, via appearances in Yes, Minister, Holby City and Peak Practice, still appears in its spin-off show, Hamish and Dougal, with Barry Cryer. Garden lives near Chipping Norton in Oxfordshire with his wife, Emma, and has three children: Sally, a teacher; Tom, a concept artist; and John, keyboard player with the Scissor Sisters.
What inspired you to embark on a career in the media?
I joined the Footlights club at Cambridge and met fellow Goodies Bill Oddie and Tim Brooke-Taylor. I think it was largely because Bill and Tim's revue was very successful that I went into radio. I don't think many of us would have gone into the media individually, but as a group we moved in en masse.
When you were 15 years old, which newspaper did your family get?
The Daily Express. The Beachcomber column was my favourite bit.
And what were your favourite TV and radio programmes?
It was the early days of television, we got one for the Queen's Coronation. I loved comedy shows like TerryThomas and Benny Hill. He was the first comic to send up the medium and would do jokes about film and television. My first memories are of radio shows and I loved Take It from Here with Jimmy Edwards and Dick Bentley.
Describe your job.
I'm a writer/performer. I usually catch up with emails in the morning. Then I may spend the day at home, go up to London or travel somewhere to do my radio show.
What's the first media you turn to in the mornings?
Sky News, which tends to hover in the background for a lot of the day.
Do you consult any media sources during the day?
Sky News again or Radio 4.
What do you tune into when you get home?
Travelling home I always have Radio 4 on in the car and carry on listening to whatever it was when I get in. As for television, it's easy to get terribly hooked on things like Big Brother. I tune in to soaps like Casualty and Holby City, partly because I had a part in Holby City so it's quite fun to see how the show is developing.
What is the best thing about your job?
The variety. You know if you're struggling or finding something a bit dull it's not going to last very long.
And the worst?
The insecurity. At the beginning of the year you don't know how much work you'll be doing or how much you're going to earn during the year, which means you tend to accept work when you probably don't need to.
How do you feel you influence the media?
I suppose I did have an influence when I devised I'm Sorry I Haven't a Clue. In a way that has been the template for the postmodern ironic deconstructive panel gameshow, like Have I Got News For You. Before that it was all rather polite.
What's the proudest achievement in your working life?
I'm Sorry I Haven't a Clue. I'm sort of labelled for being in The Goodies, although it hasn't been repeated for such a long time. When my youngest son, now 23, was at school, I found out I was more famous for voicing the cartoon Bananaman.
And what's your most embarrassing moment?
An ongoing thing that I come out in a cold sweat about now and again is the fact I used to write for Mr Blobby, in his very early incarnation on Noel's House Party. It was done under cover of darkness and handed over in a car park. It was a funny idea to start with, but later turned into a monster.
What is your Sunday paper? And do you have a favourite magazine?
The Sunday Times and The Observer. The Week is a great catch up magazine and Private Eye is the magazine I have probably had the most reads of over my lifetime. I remember it starting out and have followed it ever since.
Name the one career ambition you want to realise before you retire?
Just to keep pottering on would be very nice. I'm of an age where the pension kicks in, but I can't see me stopping because I'd probably do what I do for a living as a hobby if I retired.
What would you do if you didn't work in the media?
Something medical. Not a doctor, as I might have been a good one but I don't think I would have been a very happy one. Something on the media side: on television, which I have done in the past, or in medical journalism.
Who in the media do you most admire and why?
Bill Cotton, who has just died. He was a terrific guy when he ran the BBC's light entertainment department. He had a real, buccaneering spirit and would give people a chance and follow his gut instincts. It was in the days when he and the people working with and under him were interested in finding ways to make things happen. The philosophy over the years degenerated a bit, but he lived in a simpler era. He had a very sensible attitude towards broadcasting and he's sadly missed.
'The Doings of Hamish and Dougal: You'll Have Had Your Tea?' by Barry Cryer and Graeme Garden is published by Preface
The CV
1965: Writes and performs in Radio 4's 'I'm Sorry I'll Read That Again' while a student at Cambridge
1967: Breaks into television with 'Twice a Fortnight', co-starring Terry Jones and Michael Palin. 'Broaden Your Mind' followed in 1968
1969: 'Doctor in the House' starts on LWT, with Garden as a writer
1970: 'The Goodies' get their first outing on BBC2, appearing until 1982
1972: 'I'm Sorry I Haven't a Clue' begins on Radio 4. It is still running
1983: Voices 'Bananaman', a children's cartoon series
2002: Garden and Barry Cryer get their own Radio 4 show with 'You'll Have Had Your Tea: The Doings of Hamish and Dougal'
2006: Teams up with Tim Brooke-Taylor for nostalgic show in EdinburghDevises and performs in 'The Unbelievable Truth' on Radio 4 hosted by David Mitchell from 'Peep Show'
Join our commenting forum
Join thought-provoking conversations, follow other Independent readers and see their replies