Patten vows to tackle 'toxic issue' of executive salaries at the BBC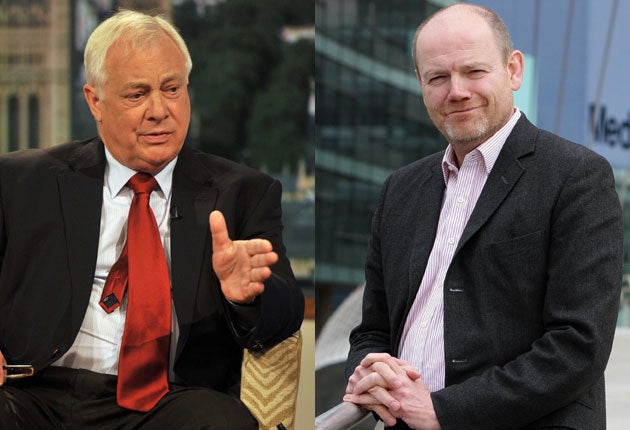 Pay cuts are expected to be forced on senior executives as part of measures by the BBC Trust to win back public confidence in the corporation.
Lord Patten, chairman of the BBC Trust, accepted that the "toxic" issue of high salaries had poisoned relations with the public and he signalled yesterday that changes are to be made.
He said: "The biggest issue for the public is senior executive pay, because what's happened does seem to fly in the face of public service ethos.
"We can deal with all that and, if we do so, we will deal with one of the most toxic reasons for the public's lack of sympathy with the BBC as an institution, even though they like enormously what it does," he told BBC One's Andrew Marr Show.
Lord Patten said: "There are four aspects which we will be making announcements about in the next few days. First, there's the pay level at the very top; second, there's the number of people who get more than £150,000; third, there's the number of people who are deemed to be senior managers; and fourth, there's the whole issue of fairness across the board, with senior managers getting some deals that don't apply to others."
He hailed research by Will Hutton of the Work Foundation into a Government proposal to limit top public servants' pay to no more than 20 times that of their lowest paid staff.
"You look at the relationship between top pay and median pay, and I would like the BBC to be the first organisation in the public sector which gets into implementing some of Will Hutton's ideas," he said.
Lord Patten took over as chairman of the Trust – the corporation's governing body and charged with protecting licence fee payers' interests – in May and said yesterday he wanted a "more flexible, leaner" BBC, "aware of the principles on which it was founded". He said it was "a fantastic organisation," but said it should "take out a lot of costs" and learn to live within its £3.5bn budget, funded by the £145.50 licence fee.
"Everybody is having to pull in their belts and I hope we can pull in ours, while producing high-quality programmes still," he said.
The BBC is due to release its annual report in the coming days, which is expected to show that the total amount paid to members of its executive board fell heavily compared with last year.
It is expected to reveal that former deputy director-general Mark Byford, who stepped down in May as part of cost-cutting among senior managers, received a redundancy payment of close to £950,000.
Sharon Baylay, who served as the director of marketing, communications and audiences at the BBC for nearly two years, was also made redundant in November, and reportedly received close to £390,000 in redundancy money.
Two months ago, the Director-General of the BBC Mark Thompson told the House of Lords Communications Committee that the BBC was finding it "extremely hard" to fill senior roles because of the amount that it pays people. The corporation had previously announced a target of reducing its senior management remuneration by 25 per cent by July 2013.
A BBC spokesperson said last week: "We have made significant progress on reducing both our senior manager headcount and our pay bill, and we are on target to reach our proposed reductions."
What they earn: The top five
Mark Thompson, Director-General
Salary: £668,000
Total remuneration: £838,000
Peter Salmon, director, BBC North
Salary: £375,000
Total remuneration: £463,000
Tim Davie, director, audio and music
Salary: £365,000
Total remuneration: £452,000
Zarin Patel, chief financial officer
Salary: £352,000
Total remuneration: £434,000
Caroline Thomson, chief operating officer
Salary: £335,000
Total remuneration: £419,000
The controllers
John Yorke, controller of drama
Salary: £238,119
Total remuneration: £245,91
Danny Cohen, BBC One controller
Salary: £225,000
Total remuneration: £232,800
Janice Hadlow, BBC2 controller
Salary: £225,000
Total remuneration: £232,800
Roger Wright, controller, Radio 3 and director of BBC Proms
Salary: £215,322
Total remuneration: £223,122
Bob Shennan, controller, Radio 2 and 6 music
Salary: £205,000
Total remuneration: £212,800
Join our commenting forum
Join thought-provoking conversations, follow other Independent readers and see their replies