Russia Today: The stories you won't see on the BBC – or anywhere else
Russian news channel RT has launched a UK station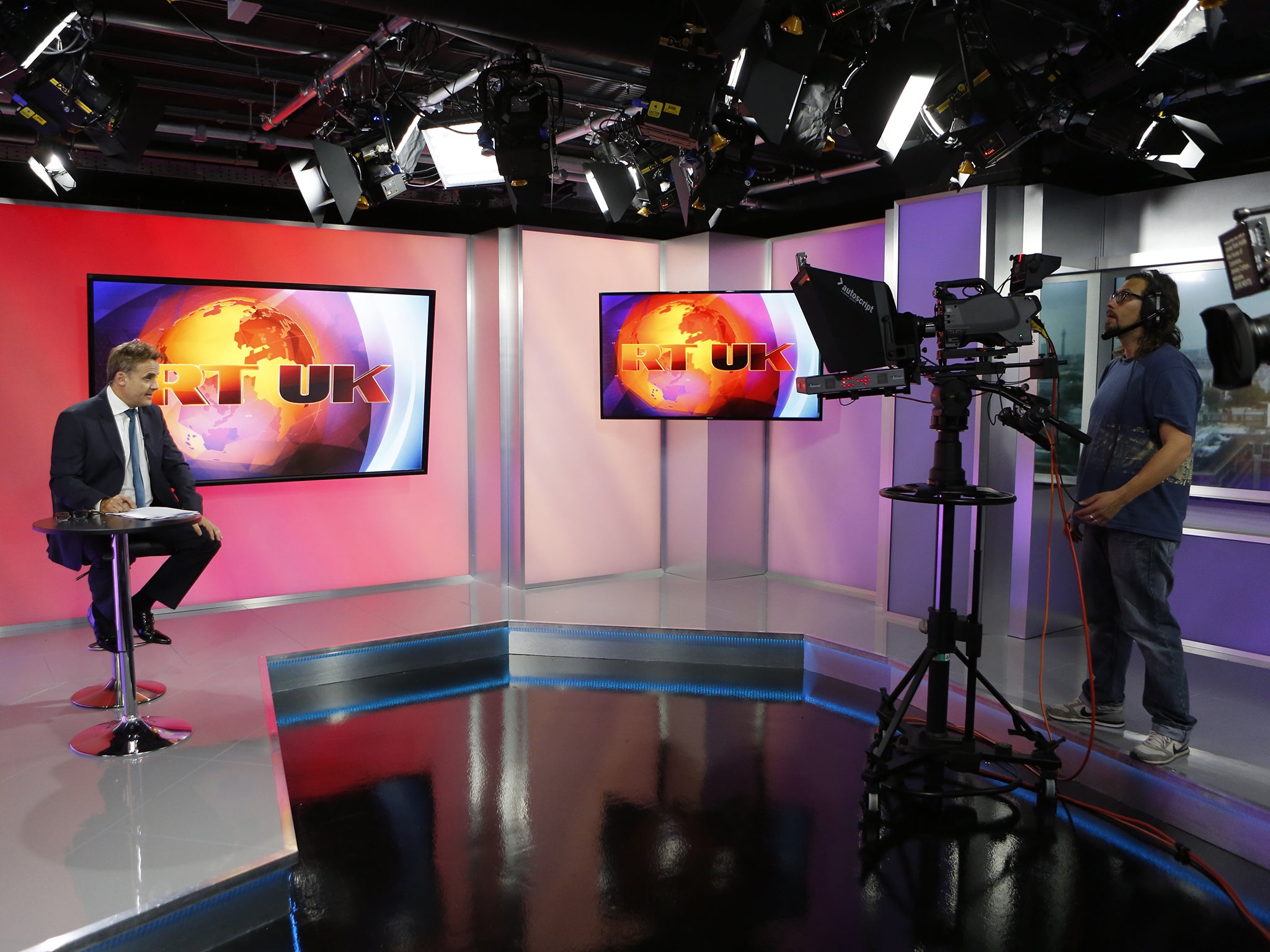 Before the foreboding backdrop of the Tower of London, Max Keiser, star presenter of Russia Today, solemnly pronounced judgment on the leaders of Britain's high street banks. "They're mass murderers!" he exclaimed. "Mass murderers!"
British viewers tuning in for the first day on air of the Kremlin-backed broadcaster's new RT UK channel had been promised a unique insight into their homeland – "the side of the story they won't see on the mainstream channels" – and the maverick American host of the The Keiser Report didn't disappoint.
His big news was "Austerity Britain" and a Northern Echo story of a Darlington heroin addict jailed for stealing steak from a branch of Sainsbury's.
It was a consequence, said Keiser to American co-host Stacy Herbert, of a country run by "financial terrorists".
The British banks, he said, had "the same ideology as Isis". Indeed, David Cameron himself should be in the Isis headquarters "with a bouquet and a box of chocolates".
The views of The Keiser Report's presenter are, says a disclaimer shown in commercial breaks, "not necessarily" those of RT.
However, his theme of the collapse of capitalism is a favourite for a growing network founded in 2005 to introduce Russian perspective to the global news industry.
It has established services in Arabic and Spanish and its UK offering, which offers British-themed news bulletins after 6pm, launched today.
Undoubtedly it will be a home for dissenting voices. Keiser hosted a talk with a film-maker, Peter Bach, who is crowd-funding a documentary on the demise of the NHS.
"The film has to get out," said Bach, nobly explaining how his message was more important than winning movie awards. "The ego has to be sublimated – the cause is greater than the man."
RT's news bulletin focused on Nato's interception of Russian planes and "levels of paranoia" at "fever pitch" in the UK.
I hadn't noticed this myself but, whipped up by its media, Britain has an expectation that "any moment now, Putin is going to order an invasion of the United Kingdom", said London-based Afshin Rattansi, who will present a show with a title familiar to fans of The Jam: Going Underground.
RT's British anchor man Kevin Owen wondered why, in the eyes of British media, "Russia is the ultimate bad guy".
Tony Gosling, a Bristol-based investigative journalist, came on to explain. Gosling's Twitter account is decorated with the message "HM Government – If We Don't Like You We Will Kill You", alongside pictures of Princess Diana, Robin Cook, Dr David Kelly and Jill Dando.
He explained this "media war" in terms of the failure of British journalists to investigate the death of Diana, the 7/7 bombings and the Whitehall sex abuse scandal.
Next up, Murad Gazdiev described the UK's "car theft epidemic". RT didn't seem to realise that car thefts fell from 318,000 in 2002 to 77,500 last year, according to the Office for National Statistics.
Join our commenting forum
Join thought-provoking conversations, follow other Independent readers and see their replies