Sir David Attenborough: CGI confuses fact and fiction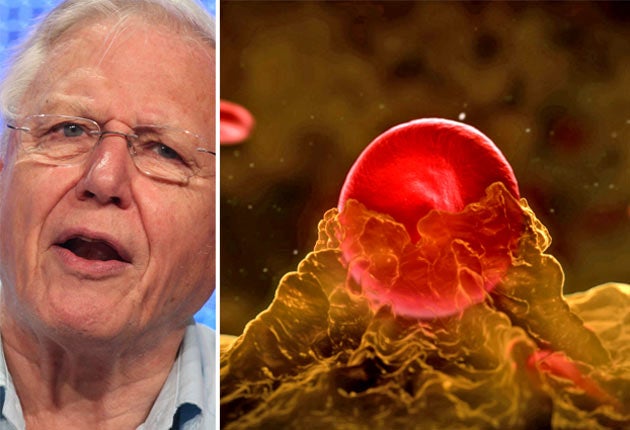 Sir David Attenborough has warned that advances in computer graphics mean viewers can no longer tell what is real and what has been artificially generated in science documentaries.
Giving evidence to a House of Lords select committee, Sir David said last week's controversial BBC 1 documentary, Inside The Human Body, had left even a veteran broadcaster like himself confused.
Sir David, 85, said: "It's a very real problem. It's not too difficult to use a computer to make a dead fish waggle its ears. It's both true and false. The problem comes when you overstep the mark and put in something that isn't true. With modelling by computers, if you wanted to confuse the audience, you've got more ways than ever before.
"I had some misgivings about the Inside The Human Body programme. I did think 'I don't know where we are with that'." Sir David also called on the BBC to give a greater voice to non-mainstream opinions which challenge orthodox thinking.
"One of the things the BBC has lost – for safety-first reasons, perhaps – is for cranky, oddball and eccentric viewers to have a platform of some sort."
A series called One Pair Of Eyes, commissioned when Attenborough was BBC director of programmes in the late Sixties, gave a voice for polemical views outside the mainstream, he said. Although Sir David admitted reviving the series would open the door to a lot of eccentrics, he said the BBC was "rather light" on programmes which gave the "cranky" a mouthpiece. Sir David also warned that the BBC's flagship channels "don't have the personality they used to" because of a "laborious" programme commissioning process.
Channel controllers no longer stamp their authority on a channel but make decisions after other BBC executives have market-tested whether new series could be made cheaper by outside, independent companies.
Sir David gave evidence alongside Professor Brian Cox, the BBC science presenter, who said the corporation should have a bias towards the "scientific consensus" on issues like climate change. Professor Cox urged the BBC to get "more on the front foot" and "not be afraid to make mistakes".
He also said the level of the licence fee should be set by an outside body, in the same way the Bank of England has responsibility for interest rates.
The Lords Committee, investigating the governance of the BBC, also quizzed Jeremy Hunt, the Culture Secretary. He said: "I don't believe there should be any comparability between the pay of the Director General of the BBC and the chief executive of ITV".
Join our commenting forum
Join thought-provoking conversations, follow other Independent readers and see their replies