Sport on TV: Winds of change blowing through sail of the century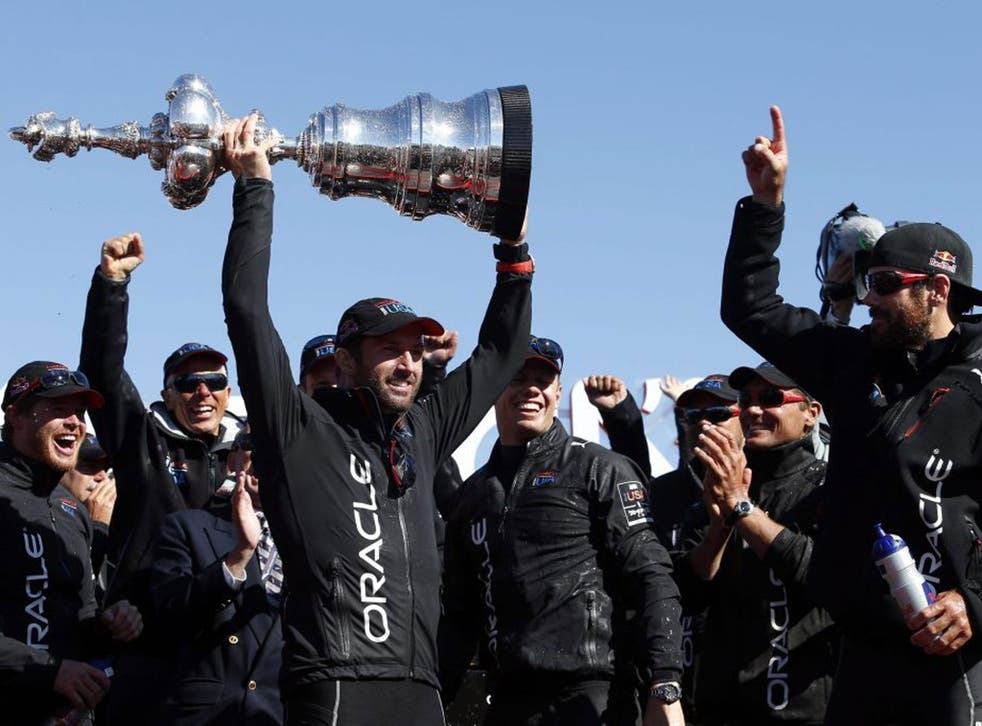 If you are going to fork out $100 million on a boat, then it's only right that the America's Cup should be an impressive trophy to put on the mantelpiece. As befits a bauble with such a name, it's big and brash and verging on obesity. Never mind that it was won by an Australian skipper, Jimmy Spithill, and his British mastermind, Sir Ben Ainslie. After the Yanks won the first one in 1851, they have never even renamed it when another country has won it.
On Wednesday night (Sky Sports 1 and BBC2) the US team pulled off one of the great sporting comebacks, coming from 8-1 down to win 9-8. It was "the longest and the fastest" version of the venerable old contest, and possibly the most exciting. "There are sights and sounds that nobody in sailing ever dreamt we would see," exclaimed Ken Reid, although a lot of water, wind and thick anoraks seemed like pretty standard fare really. "This is a new sport we were witnessing." He was referring to the coverage, and it was dazzling to see the AC72 catamarans floating around San Francisco Bay at up to 50mph.
On board it all seemed so calm that it looked like Cary Grant and Grace Kelly driving a car in an old Hollywood film. Then there was the "amazing audio" that gave insights into Ainslie's tactical masterplan as he orchestrated the great revival – essentially "Keep going, boys, that's the way". "As commentated by Mister Ben Ainslie," cooed Reid. Wait a minute, that's Sir Ben Ainslie to you. And he even put special emphasis on the "Mister". Honestly, it was enough to make you long for the good old days when Britannia ruled the waves. Men have been made to walk the plank for less.
On the BBC highlights the question was asked: "Can Sir Ben lead a British challenge?" It might be better in the current climate to build a new hospital or two – just ask the New Zealand public what they think. Then again, Ainslie could probably win it on his own in a rubber dinghy.
Team Oracle's Larry Ellison may have transformed the sport with his ludicrous amounts of money but the contest was already exciting enough in itself. Even before a race began it was thrilling to see the boats trying to arrive at the start line at exactly the right time. And when in the final race Oracle straightaway did a "massive skid" and "piled into" the waves, it was better than the first corner in a Formula One race. New Zealand had been "marooned on match point" for a week; not even the intricacies of five-day Test cricket can match such an extended cliffhanger.
Spithill was interviewed in a howling gale with the brine sluicing down his face, perhaps the most impressive effort of all. Then he started throwing bubbly liquid down his throat instead. "Larry Ellison enjoys the moment and the sparkling wine with the sailors," gushed Todd Harris. Surely they could afford proper champagne rather than a bottle of Asti Spumante from the corner shop?
* Luis Suarez got away lightly on his return to Liverpool colours at Old Trafford (Sky Sports 1, Wednesday) following his ban for munching on an opponent's arm. The pundits failed to deliver the requisite puns, though at least Martin Tyler said Suarez kept "chipping away" at the United defence. It's good to know he enjoys the finer morsels of the British diet, though it's no surprise that occasionally he hankers after some more refined foreign fare.
It must have been tough on the striker when all the advertising hoardings along the byline behind United's goal were showing "Mister Potato Crisps" (not Sir Potato Crisps): "Freshness, fun, no compromise," whatever that means. United were in an uncompromising mood, too, and when it came to the crunch Suarez could not find the cheese and onion bag.
Register for free to continue reading
Registration is a free and easy way to support our truly independent journalism
By registering, you will also enjoy limited access to Premium articles, exclusive newsletters, commenting, and virtual events with our leading journalists
Already have an account? sign in
Register for free to continue reading
Registration is a free and easy way to support our truly independent journalism
By registering, you will also enjoy limited access to Premium articles, exclusive newsletters, commenting, and virtual events with our leading journalists
Already have an account? sign in
Join our new commenting forum
Join thought-provoking conversations, follow other Independent readers and see their replies