The 'Miliband Loop' leaves Labour leader looking like a robot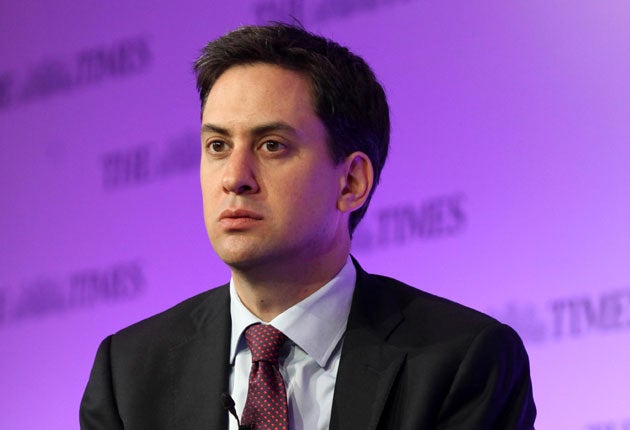 It has become known as the "Miliband Loop", the robotic interview technique adopted by the Labour leader on television news when attempting to communicate his disapproval of Thursday's mass walkout of public sector workers.
Like a waxwork in Madame Tussauds that has been fitted with a voicebox, Ed Miliband replayed the same words to each question he was asked by ITV journalist Damon Green, over and over again.
"These strikes are wrong... the Government has acted in a reckless and provocative manner... both sides should put away the rhetoric and get around the negotiating table," he trotted out, irrespective of what he was asked.
Green was embarrassed. "I couldn't look him in the face afterwards. I was ashamed," he wrote later on Twitter as the interview became a viral hit.
Mr Miliband's colleagues were aghast. "It's almost as if someone was behind the camera holding up a card. It was amateurish," said one Labour MP.
The performance horrified media training experts like Susan Bookbinder, a former journalist, who said: "You can see he has been so over-trained by somebody that he's not focused. There's no feeling in the eyeline. He's staring rather than looking at the interviewer."
Andrew Caesar-Gordon, owner of Electric Waves, the company which prepared Nick Clegg ahead of his well-received, pre-election televised debates, said Mr Miliband would have made a greater impression if he had developed a narrative from a speech he gave on the day of the interview.
"He had a line that the Labour Party I lead will always be the party of the mums and dads who know the value of a day's education. For anybody watching the BBC who is a parent, and that's a lot of people, that would have struck a chord with them.
"But his automaton response made it look like he can't trust himself to talk about the issue genuinely without having his automatic paragraph generator to guide him."
Join our commenting forum
Join thought-provoking conversations, follow other Independent readers and see their replies