The Vietnam vet who thinks MTV can make the world a better place
Bill Roedy runs MTV in 162 countries and hopes to unite people through music, with help from Fidel and Bono. Ian Burrell reports
Monday 16 November 2009 01:00 Comments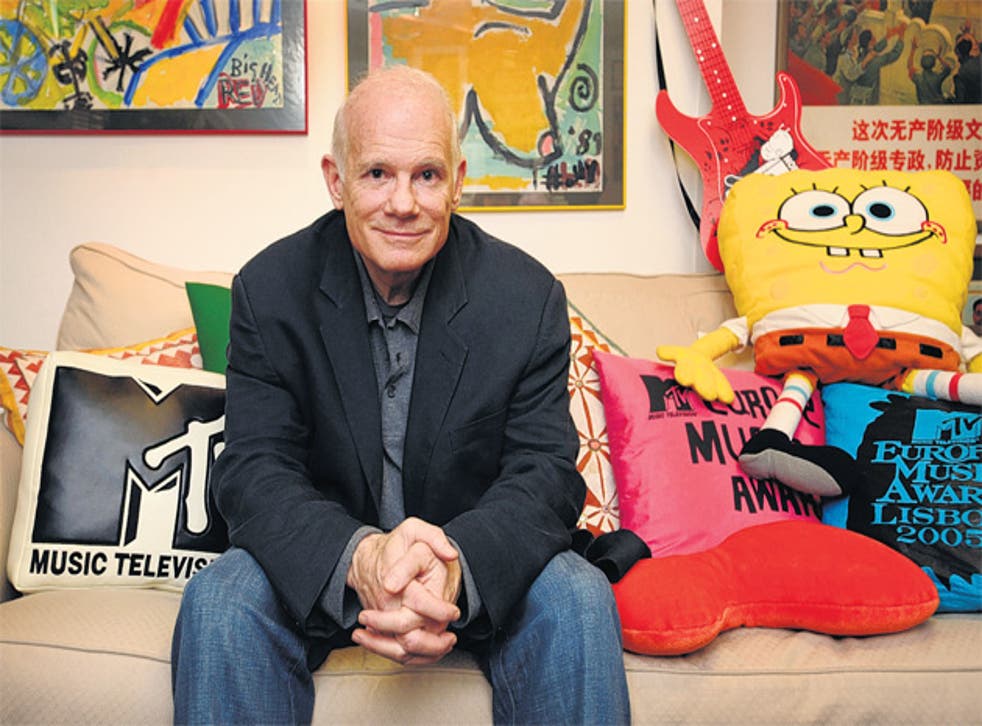 Bill Roedy is the international statesman who never got voted out of office. To step into his London office is to enter a museum filled with artefacts featuring the global leaders, world-changing events, natural disasters and cultural icons that have characterised the past two decades. Every photograph, painting and ornament relates to the media career of this tough-looking Vietnam veteran, the chairman and chief executive of MTV Networks International.
"That's Shanghai, Sarajevo, there's Bono, that's our trip to Cuba where we had a couple of meetings with Fidel," he says pointing to a large photo of the Cuban leader with Ernest Hemingway, actually autographed by Castro. "I've met Shimon Peres a few times over the years. There are the Rolling Stones. Warren Buffett, who gave me poker tips. There's the Dalai Lama..."
Roedy, who oversees MTV's output in 162 countries and 33 languages, resists the suggestion that he has the role of a globe-trotting ambassador – "I don't know if I would take it that seriously" – but then says: "I have met over 30 heads of state and seven or eight Nobel prize winners."
Another photograph shows him on a recent trip to Afghanistan, holding aloft his BlackBerry alongside an Afghan solider posing with an AK47. Trained at the elite West Point military academy, Roedy is a former airborne Ranger who later specialised in deactivating nuclear missile bases. The soldier's life is behind him now, but he still has battles on his hands.
Michael Jackson's death was a reminder of the role Jacko played in perfecting music video and the growth of MTV. It showed how influential the Viacom-owned network was to a generation that has now grown up. But does it have the same resonance with today's teenagers, who get their music fixes online? Roedy's response is well-illustrated by the television screen beside him, where the X Factor winner Alexandra Burke is singing on MTV's new British channel, Viva, launched last month. Viva is also a key element of the British website mtv.co.uk – a broad offering that includes comedy and children's content and seems to have a female skew. "I think we have 160 analogue channels and we're still launching them," he says. "But we have over 300 digital products – mobile phone channels, websites – we've worked really hard to create a footprint and integrate the digital with the analogue. The thing we've done is morphed into multi-platform distribution."
Gaming has become a key part of Viacom's multi-platform business, especially the newly-launched The Beatles: Rock Band game. There are MTV games for mobiles, games for kids on the Nickelodeon channel's website and hundreds more ways to fritter away time on the AddictingGames site, an acquisition which now forms part of the MTV Online Network. "Add it all together and we are the number two destination worldwide for casual games on the internet," says Roedy.
When MTV launched in New Jersey in 1981, its first clip was, famously, The Buggles' hit Video Killed The Radio Star, produced by Trevor Horn whose latest work is the new Robbie Williams album Reality Killed The Video Star. Again, there's that sense of the end of an era.
But MTV would argue that it has a major stake in reality television too, having made a strategic switch at the turn of the millennium, most successfully with The Osbournes, which launched in 2002. Current British-based series include the car show Pimp My Ride, hosted by Radio 1's hip-hop presenter Tim Westwood, and My Super Sweet 16, about teenagers preparing for their all-important birthdays. A new show, Slips, Roedy describes as "kind of Top Gear meets Pimp My Ride: there's a race-off between artists".
The English model and party girl Alexa Chung has been given her own New York-based talk show, It's On With Alexa Chung. Then there's the late-night offering Pants Off, Dance Off, which is basically a show about stripping. "It's a funny type thing, dancing to current music and ... I know it sounds weird ... but disrobing," says Roedy, somewhat awkwardly. "It's not that edgy."
I'm beginning to see why he doesn't always take his role too seriously. But then he was at the Brandenburg Gate in Berlin a few days ago to meet Mikhail Gorbachev and to see U2 and Jay-Z perform at the MTV European Music Awards, a celebration of the fall of the Berlin Wall 20 years ago. MTV found itself criticised after building its own wall around the concert to keep it exclusive to the 10,000 people with tickets. Roedy say the awards, like the rest of the MTV output, are about celebrating the present rather than dwelling on the past. "Our audience doesn't know who Gorbachev is. It's all about experiencing MTV in its many forms on many different platforms in a holistic 360-degree way."
But Roedy happened to be in Berlin that week in November 1989, when the infamous barrier was hauled down, and in his office he keeps a lump of wall as a memento of a moment that was pivotal in the advance across the continent of MTV's fledgling European operation. It was at that moment that MTV found itself a symbol of the benefits of capitalism, with eastern European viewers dazzled by western television commercials.
But not everyone thought MTV was a good thing, even in Britain, where the network arrived in 1987 and was seen as a cultural threat. "People didn't wish us well, there were a lot of obstacles. Now it seems like a slam dunk, a no brainer, but at the time it was very iffy whether this would actually work," says Roedy. In Britain, he was told: "We have the BBC and the three channels and that's all we need."
In the early years of MTV "Anglo-American music dominated the world", but that is no longer the case. The network was criticised for not playing enough black music and learned a lot from Michael Jackson's success. "The whole music scene has changed remarkably. It's much more diversified," says Roedy. "We like to think we played a role in exposing audiences to music they otherwise wouldn't have heard."
He talks of an "epiphany" when he first heard German techno being played in South Korea. In 2005, he launched – with Will Smith and Nelson Mandela – MTV Africa. Roedy is convinced that Indian pop music is about to produce global stars. MTV has a 24-hour branded show across the Pearl River Delta in China, has done eight years of video awards in Beijing and is expanding in the vast Chinese mobile market. "We have a fashion show in Shanghai on 3 December which I'm going to," he adds. As he travels, he collects local music with Pakistani and Mexican groups being among his current favourites. "I drive my wife crazy by still playing this Mongolian group that I got from my China trip."
Roedy, 59, who has four children under 13, has lived in England for 21 years and has British citizenship. Sir Winston Churchill is his hero and he has recently bought a London flat overlooking Westminster Cathedral where Winny lived and wrote his "Wilderness Years" speeches.
Later the same day, Roedy is due to meet 15 young people from as far afield as Azerbaijan and Zambia, who have been given grants to work on MTV's Staying Alive campaign to combat HIV and Aids, which will be heavily covered on the network's channels around World Aids Day on 1 December. "It's part of the DNA of the corporate culture and the channel," he says. "We'll have Wyclef yelling at you to wear a condom or Beyoncé telling you to just say no."
Other MTV international campaigns he oversees include Switch (addressing climate change) and Exit (highlighting human trafficking in its many forms). But Roedy says he is "definitely not a politician". "We have been blessed and privileged by being part of history, and we want to reflect the amazing diversity of the world musically and culturally ... and lift the spirit."
Register for free to continue reading
Registration is a free and easy way to support our truly independent journalism
By registering, you will also enjoy limited access to Premium articles, exclusive newsletters, commenting, and virtual events with our leading journalists
Already have an account? sign in
Join our new commenting forum
Join thought-provoking conversations, follow other Independent readers and see their replies