Tucker's no more - but the Coalition's still in the thick of it
As the BBC's political satire ends, Westminster's real-life farce carries on
Robert Epstein
Monday 29 October 2012 10:07 Comments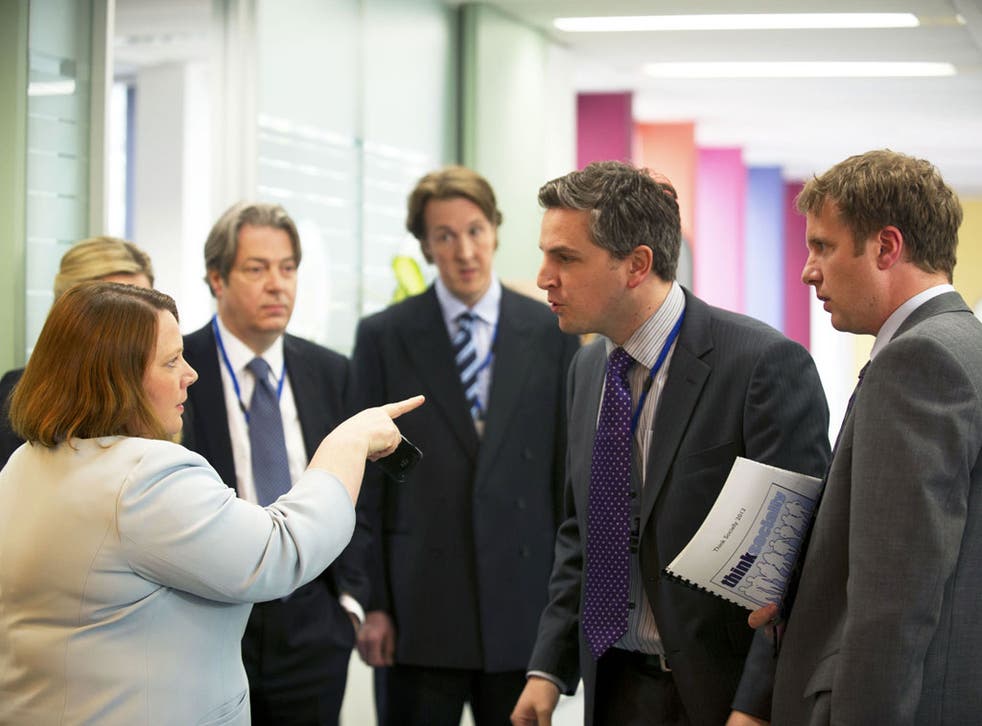 And so, goodbye Malcolm Tucker. You'll be remembered. Fondly? Perhaps not by your erstwhile, bullied colleagues, but certainly by those of us who enjoy the Schadenfreude of a well-constructed verbal lashing and an insight into the mind of a monster manipulator.
Last night, The Thick of It took its bow after four magnificent seasons of satire that laid open the conniving art of British politics. Like Yes Minister before it, there was never any question that the power in the show sat firmly behind the throne, as the baby-kissers were manipulated to suit the desires of the Iagos. Though circumstances have changed in the past three decades: for whereas before it was the civil servant Sir Humphrey pulling the strings, in The Thick of It, it was the princes of PR. And none more so than Tucker.
The final episode delivered perhaps his finest moment. After apparently perjuring himself in front of an inquiry set up to examine the ubiquity of governmental leaks to the press, Tucker faced the undignified prospect of being hauled into jail in front of the press. And so, jumping on the Home Office's inability to properly staff police stations, he sent off his new party leader to visit a nick in Lewisham so he could hand himself in, unnoticed, across town. Which says it all, really: a head of communications using a potential prime minister to cover his own fetid trail of stink.
It was not for nothing that The Thick of It moved from BBC4 to BBC2 after its second season, its influence spreading over the great and not-so-good to the extent that at times it seemed our real-life politicians were following its lead. Famously, Ed Miliband imported Tucker's phrase "omnishambles" to disparage the Budget at PMQs, but the show has done more than invent neologisms: when Jeremy Hunt dropped a clanger on launching the Olympics countdown; when the Government performed a hasty U-turn on the pasty tax; when the Chancellor was discovered sitting in first class with a standard ticket; when Andrew Mitchell barrelled, both guns blazing, into public consciousness - when all these things happened in the past few months alone, it was hard to believe they had not been written by Armando Iannucci and Simon Blackwell. By creating its own bureaucratic catastrophes, The Thick of It has held up a mirror to the absurdities that seem a near-daily experience of those in power, and revealed, too, how modern politics is more interested in the appearance of governing than in governing itself.
We will miss the show, as Iannucci and his team focus their efforts on extending Veep, their American send-up of life just outside the White House, but maybe it was time to go. Despite some exceptional writing and performances, this fourth series has not been quite so caustic as its predecessors – the divisions within the Coalition offering, perhaps, too easy a target. And now that we have a heightened awareness of the comic fallibilities of those on the hot seat, perhaps it's a case of job done. For while the BBC will find it near-impossible to replace, maybe we'll need do no more than look to the political news pages to get our fix …
Register for free to continue reading
Registration is a free and easy way to support our truly independent journalism
By registering, you will also enjoy limited access to Premium articles, exclusive newsletters, commenting, and virtual events with our leading journalists
Already have an account? sign in
Join our new commenting forum
Join thought-provoking conversations, follow other Independent readers and see their replies