US mother gets hate mail over 'baby hooker' outfit
Calls for TV child pageant show to be banned after three-year-old dresses up as film prostitute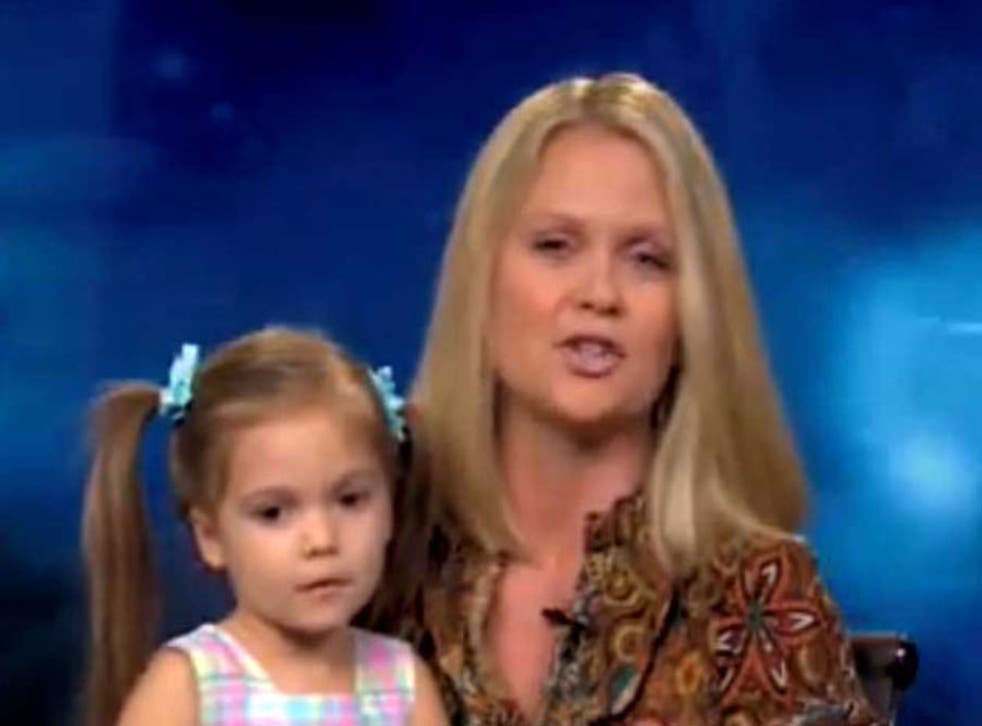 It took just 45 seconds for Wendy Dickey to become a national hate figure. That was the length of a well-edited clip from the TV series Toddlers & Tiaras, which shows her three-year-old daughter Paisley competing in a child beauty pageant. It was uploaded to the internet on Wednesday.
Within hours, Ms Dickey had started receiving death threats. Soon, the nation's media were beating a path to her doorstep in deepest Georgia. And by last night, thousands of people had signed petitions calling for the popular reality TV series in which she stars – and the cable channel TLC, which broadcasts it – to be taken off the airwaves.
At issue is a costume worn by young Paisley for the few seconds in which she strutted across a stage in the "celebrity wear" round of a local pageant. It was inspired by a outfit worn by Julia Roberts in the film Pretty Woman. And no, it wasn't the demure designer dress that Roberts's character, Vivian Ward, wore to a polo match.
Instead, viewers were treated to the unnerving sight of the infant dressed as the most famous prostitute in modern cinema. She wore knee-high black PVC boots, a skin-tight mini-skirt, a white tank top, and a platinum blonde wig. Just like Vivian Ward, who worked LA's Sunset Boulevard, she stepped into the limelight accompanied by the sounds of Roy Orbison's song "Oh, Pretty Woman".
In the cold light of day, few viewers would disagree that the so-called "child hooker" costume was a poor choice (even if the crowd went wild and Paisley seemed delighted). But was the sartorial gesture enough to justify the rage that saw Ms Dickey dubbed the "worst mom in America"?
Critics of toddler pageants think so. They have long argued that the events, in which make-up and comely dresses come as standard, sexualise children. As evidence of the scene's darker side, they cite such murky scandals as the murder of the child beauty queen JonBenet Ramsey in the mid 1990s.
Their camp boasts several thousand members of the Facebook group "Help ban the TLC show Toddlers & Tiaras", along with a CNN blogger who wondered if the show should be "outlawed" and the Parents Television Council, a powerful lobby group which has spoken out to criticise the depiction of "a toddler, who probably hasn't even learned to read, dressed as a prostitute showing off her sexy strut".
"There's no question [that] TV executives are complicit in robbing these small kids of their childhood," said a statement from the PTC. "For years we've seen adult sexuality being inappropriately and aggressively foisted on young children, but children today are being sexualised at younger and younger ages. All available data suggests they will suffer for it later in life."
TLC has already been heavily criticised during this season of Toddlers & Tiaras, which gets roughly 1.1 million viewers, for a segment in which a four-year-old girl was given an outfit which contained fake breast and buttock enhancements, to help her impersonate Dolly Parton.
The broadcaster, officially (and perhaps ironically) named "The Learning Channel", has yet to comment. But supporters of the all-American pageant tradition peg them as a harmless diversion more in keeping with the spirit of the movie Little Miss Sunshine. They believe that critics of their hobby – which is largely a working-class, Southern pursuit – are motivated by metropolitan social snobbery.
Leading the case for her defence, Ms Dickey appeared on The Joy Behar Show, a popular chat-show, arguing that the outfit was perfectly acceptable. She also told TLC: "I'm raising my child just as well as any mother does... I take my kid to church every week. At least I'm not forcing them into sports and getting my child injured, like some parents."
Though it will hardly win her fans among critics who happen to be of a liberal persuasion, she has announced that the outfit in question would be auctioned to benefit a "good cause" – an anti-abortion organisation called Georgia Right to Life.
Register for free to continue reading
Registration is a free and easy way to support our truly independent journalism
By registering, you will also enjoy limited access to Premium articles, exclusive newsletters, commenting, and virtual events with our leading journalists
Already have an account? sign in
Register for free to continue reading
Registration is a free and easy way to support our truly independent journalism
By registering, you will also enjoy limited access to Premium articles, exclusive newsletters, commenting, and virtual events with our leading journalists
Already have an account? sign in
Join our new commenting forum
Join thought-provoking conversations, follow other Independent readers and see their replies