YouView: Look out Sky Plus! New set-top box mimics Murdoch's TV service – and it costs just £50
TalkTalk and BT will offer the boxes to 10 million customers for a one-off fee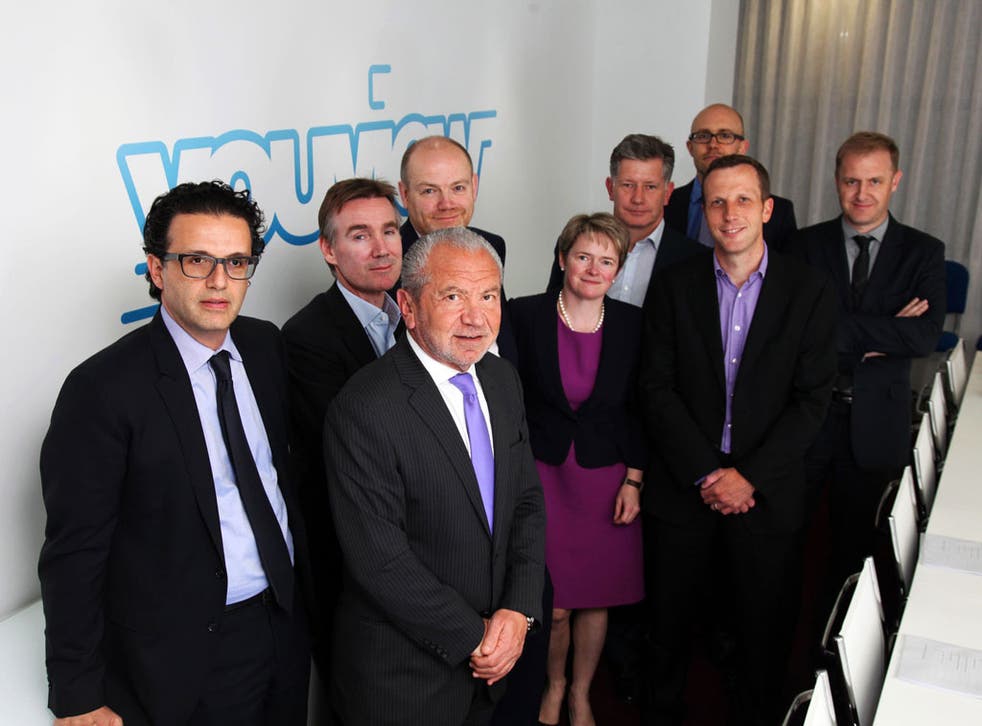 The future of television has arrived, and its great advantage is going backwards. A new set-top box that allows viewers to watch popular programmes like Strictly and Sherlock days after they have been screened has gone on sale to millions of homes for £50.
Backed by the terrestrial broadcasters BBC, ITV, Channel 4 and Channel 5, YouView offers a much wider choice of programmes without the need to take out a year-long package with Sky.
As well as showing Freeview's 70-plus channels, YouView can pause and rewind TV. But its unique feature is that it can screen almost any terrestrial broadcast shown during the previous seven days, allowing instant viewing on a TV set – rather than a laptop – of shows from the BBC's iPlayer and rival services.
Month-long packages for sports, including Premiership football, and movies are available from Sky, meaning that viewers can turn premium content on and off rather than being locked into a long contract.
BT and TalkTalk have announced during the past fortnight that they are offering the box to 10 million customers for a one-off fee of about £50. Last week, BT said it would offer the boxes free to its 700,000 Infinity broadband subscribers from 26 October, though there is a £49 "activation" fee and a delivery charge of £6. Other BT subscribers can pay £55 and a monthly fee of £4.
TalkTalk, launching its YouView service yesterday, will offer a free box to one million customers on its £14.50 a month Plus broadband service, though there will be a £50 installation fee. The boxes are being installed in home from this weekend.
All 10 million customers will be offered the chance to upgrade to broadband packages or otherwise obtain a YouView box for about £50. The box has been on sale in the likes of John Lewis and Comet since July for around £280.
Speaking at TalkTalk's launch in central London, its communications director Mark Schmid predicted that the box would appeal to those who wanted more choice than was provided by terrestrial TV or Freeview. "We have spent a long-time looking at this market," he said. "Customers want value and choice. YouView offer gives them a subscription-free service to buy films and sport when they want."
At present, about 10 million homes have Sky subscriptions and 11 million have Freeview boxes. Rupert Murdoch's BSkyB initially fought the launch of YouView, making an 11th-hour complaint to the communications regulator Ofcom.
YouView was dogged by technical delays but the service, chaired by Lord Sugar, finally launched this summer.
Q&A: YouView explained
Q What is it?
A A box that sits under your television set and gives you a much wider choice of programmes.
Q Don't Freeview and Sky already do that?
A Yes, but YouView is cheaper than Sky with more choice than Freeview.
Q What do you get?
A BBC1 and 2, ITV, Channel 4 and Channel 5; a catch-up service for all those channels' shows over the past week; more than 70 Freeview channels; the option to buy premium sports and movies from Sky.
Q What do you mean by 'catch-up'
A All the terrestrial channels offer internet download services, such as the BBC iPlayer, to watch shows screened during the past few days. Most people watch these on a laptop, where the picture can be delayed by 'buffering'. YouView combines all these different services and gives a live viewing experience for catch-up TV.
Q And the sport and movies?
A TalkTalk (and later, BT) customers can take out a month's – rather than a year's – subscription to Sky Sports for £30 or Sky Movies for £15. films will also be available on demand via Sky's Now TV for between 99p and £3.49 each.
Q Anything else?
A Like a video recorder, the box can pause and rewind live TV.
Q How much does it cost?
A About £280 in shops, or as part of a broadband package. TalkTalk is offering one million free boxes to customers with Plus packages (but with a £50 installation fee). BT is offering boxes to Infinity customers, with a £49 "activation fee".
Register for free to continue reading
Registration is a free and easy way to support our truly independent journalism
By registering, you will also enjoy limited access to Premium articles, exclusive newsletters, commenting, and virtual events with our leading journalists
Already have an account? sign in
Register for free to continue reading
Registration is a free and easy way to support our truly independent journalism
By registering, you will also enjoy limited access to Premium articles, exclusive newsletters, commenting, and virtual events with our leading journalists
Already have an account? sign in
Join our new commenting forum
Join thought-provoking conversations, follow other Independent readers and see their replies