UK's first ever 'pop up newspaper' to be launched in response to Brexit
The New European will discuss the failures of traditional media and politicians - and feature 'plenty of experts'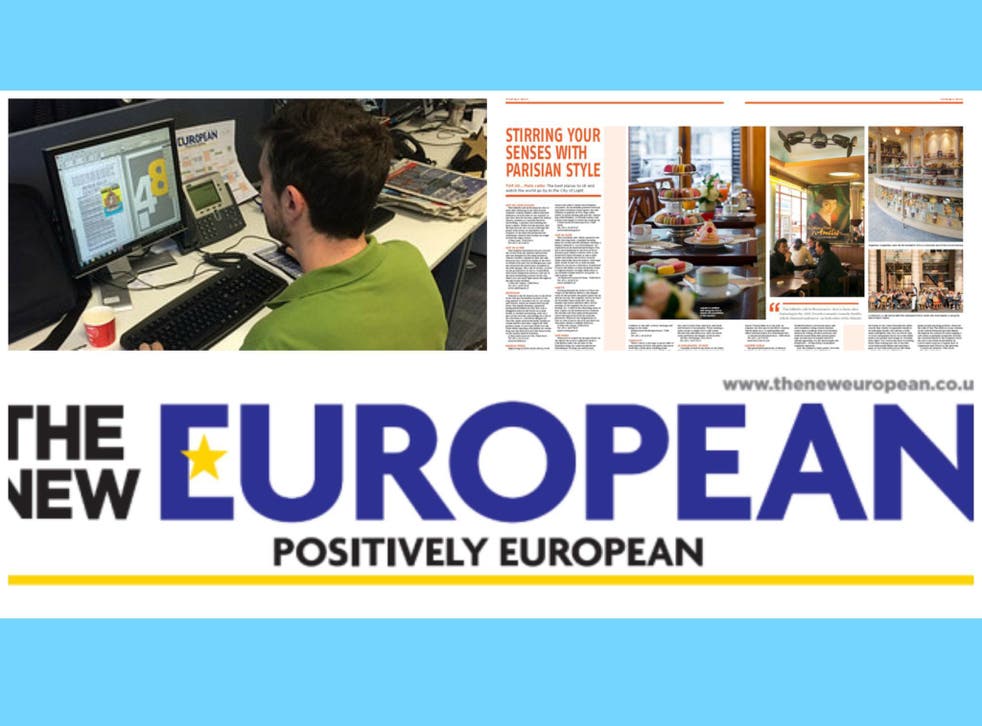 The launch of a 'pop up' newspaper has been announced by media company Archant in response to the Brexit vote.
The publication will be called The New European and only four issues are planned - any subsequent editions will depend on sales.
Set to be printed in Berliner format, the publication was conceived less than a week ago and its senior editors believe it will be the fastest ever newspaper to be created. If all goes smoothly, it will be on the shelves on July 8 at a cost of £2.
Following the outcome of the EU referendum, Archant bosses felt there was an opportunity to market a product at the 48 per cent of voters who "felt let down by traditional media", launch editor Matt Kelly told The Independent. The company were also keen to exploit the market opportunity presented by the 16 million people who voted to Remain -- the paper's distribution will be targeted at areas which voted to stay within the EU.
"The traditional route to market [for newspapers] involves huge amounts of market research about where your target audience will be strong, but it's been handed to us on a plate," Mr Kelly said.
He cited as inspiration the launch of The Independent print newspaper in 1986, which was a "badge of honour" for people who wanted to politically identify in a certain way. But now, Mr Kelly said, "there's nothing to pick up which says you were one of the 48 [per cent]. So this is our go".
He added: "The plan is just to do it for four weeks, just to chronicle this insane month."
Brexit reactions – in pictures

Show all 10
Referencing the comments made by Leave campaigner Michael Gove, Mr Kelly said the newspaper will feature "plenty of experts", and have stories on a diverse range of topics, including poetry, fashion, football, economics and entrepreneurship. Simon Calver, former chief of Mothercare and venture capitalist Saul Klein will both author pieces "talking about how disconnected they realised they had become from ordinary people" after the plebiscite.
However, the overriding theme of the first issue will be the "traditional media" and how it "just didn't live up to expectations" through the campaign stage of the referendum.
Political voices are not expected in the publication, as the paper will also aim to discuss how "the political environment is no longer fit for purpose."
The New European's innovative business model is to be the UK news industry's first serious foray into 'pop up publishing' and it is likely to be observed closely by other print editors. But its timing was critical.
"We're doing this incredibly quickly," Mr Kelly said. "I'm pretty confident in saying that never before has a newspaper been launched with such incredible speed. It will be nine days from concept to the newsagents."
Pop up publishing is described by Mr Kelly as: "The concept of launching a new paper into a market very quickly, at a relatively conservative cost base, and come and go. If the audience doesn't happen to be there you can leave at no great loss."
The budget for The New European is described as "next to nothing" – but Archant is a large company with considerable internal resources it was able to utilise.
The project stands in stark contrast to failed Trinity Mirror print venture The New Day. Its launch was planned months in advance and was accompanied by a £5 million TV marketing campaign. But the newspaper was said to be running at a loss equivalent to around £1 million a year and was closed in May.
Join our new commenting forum
Join thought-provoking conversations, follow other Independent readers and see their replies