UsVsTh3m and Ampp3d: Trinity Mirror jobs at risk as publisher looks to sacrifice digital media brands
Both sites have been credited with helping to rapidly grow the Mirror's online audience in the past two years
Roisin O'Connor Comments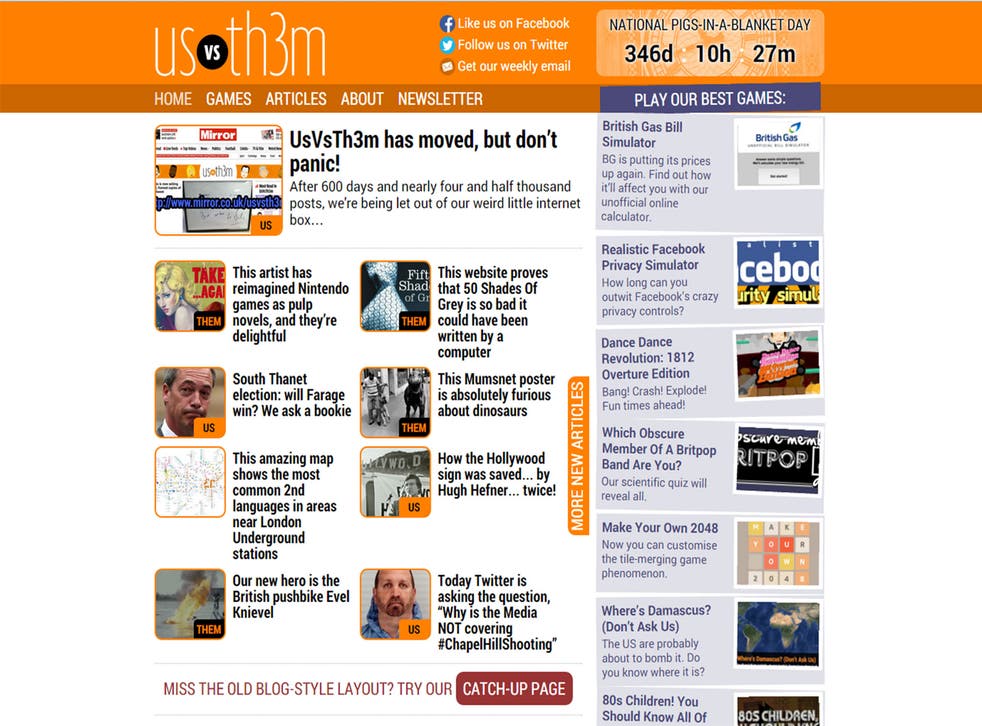 Trinity Mirror is understood to be set to close digital media brands UsVsTh3m and Ampp3d in a bid to fund its push into North America.
The move is expected to mean the loss of around 27 roles, including 14 jobs across UsVsTh3m, Ampp3d, and the football-focused Row Zed, with eight digital jobs created.
UsVsTh3m was launched as a Tumblr site with a team of five people in May 2013, and data-focused Ampp3d was launched in December that same year. Both have been credited with helping to rapidly grow the Mirror's online audience in the past two years, however a statement from Trinity Mirror suggested that "certain areas of content... carry very high costs in comparison to the traffic they generate".
Martin Belam, who was announcement editor for new formats until Wednesday's announcement, told the Guardian: "We're going to stop doing them, which is sad, but I'd always much rather try something new than sit on my hands fretting about the future of digital media without actually trying to influence or change it."
Editor-in-chief Lloyd Embley said: "The pressure to make the best use of our resources and to manage costs means that sometimes tough decisions have to be made. Sadly that is the situation we now find ourselves in.
"Although we have been performing excellently both in print and online, the market is incredibly tough and we have identified certain areas of content which carry very high costs in comparison to the traffic they generate.
"We do, however, remain completely committed to our digital future and will continue to invest and innovate in this area, including creating new roles both now and in the future."
Register for free to continue reading
Registration is a free and easy way to support our truly independent journalism
By registering, you will also enjoy limited access to Premium articles, exclusive newsletters, commenting, and virtual events with our leading journalists
Already have an account? sign in
Join our new commenting forum
Join thought-provoking conversations, follow other Independent readers and see their replies