How millennial 'plant influencers' are creating their own urban jungles
With houseplant obsession growing faster and more tenaciously than English ivy, Penelope Green meets the horticultural social media stars raking in book deals, sponsors and hundreds of thousands of followers
Friday 16 November 2018 16:57 Comments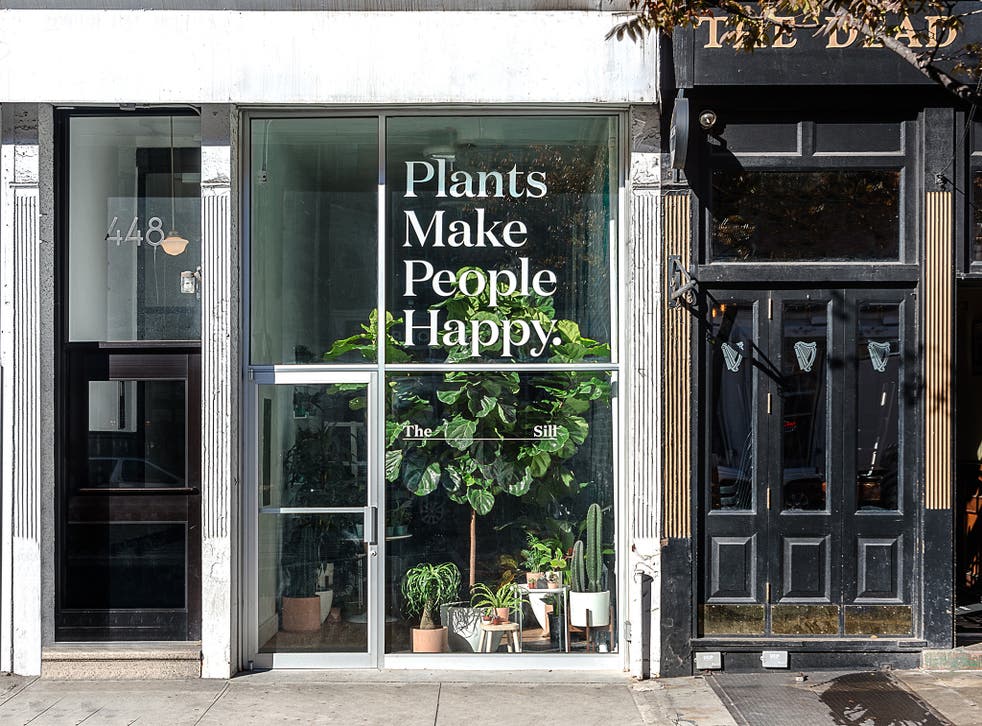 Horticulture and red wine are being served up at The Sill, a boutique on Hester Street, New York, as Christopher Satch – a botanist wearing a T-shirt that reads, "Plants Make People Happy", the company motto – leads a workshop on carnivorous plants.
It is plant standup – slightly blue patter with quick takes on Linnaeus and Darwin; binomial nomenclature (note the shape of the Venus flytrap for cues to how it got its name); detailed care instructions (carnivorous plants evolved in acidic bogs, which means they need distilled water, not tap, and lots of it); and a show-and-tell of Satch's collection of butterworts and sundews.
Among the rapt attendees are Madison Steinberg and Lindsay Reisman, both 23 and working in public relations, and Brayan Poma, also 23, who works in construction; they each take home an attractive tropical pitcher plant. "I like plants, but I kill so many of them," says Poma, who wears a green hoodie and a goatee. "Maybe that's why I find them so alluring."
Poma is not the only millennial to feel that allure. Buoyed by Instagram, his generation's obsession with houseplants is growing faster and more tenaciously than English ivy. Plant influencers, the horticultural stars of that medium, have book deals, sponsors and hundreds of thousands of followers.
Their apartment living rooms are the new urban jungles, spilling over with philodendrons, pilea (this year's "It" plant) and bird's nest ferns. Plant parents, as they call themselves, fuss over their plant babies with the attention once given to kimchi or coffee connoisseurship. (Such anthropomorphism – ironic though it may be – recalls the 1970s, when The Secret Life of Plants proposed plant sentience based on dubious science and convinced New Agers to chat up their spider ferns.)
Unlike George Orwell, these houseplant lovers see the lowly aspidistra as an aspirational totem, not a bourgeois cliche, and post money shots of their monsteras on #monsteramonday. That hashtag was propagated in 2016 by Morgan Doane, a director of analytics for an art company in Florida.
The same year, Doane, 37, bonded with another plant enthusiast over Instagram: Erin Harding, 39, a blogger and social media marketer who lives in Oregon. The two started sending each other plant cuttings in the mail.
Their joint account, Houseplantclub, is now an Instagram sensation, with more than 450,000 followers and regular entreaties from corporate suitors – makers of cactus watches, succulent jewellery and macramé pot hangers, among others – to feature their wares. Late last month, they published their first book, How to Raise a Plant and Make It Love You Back.
That's not to be confused with How to Make a Plant Love You: Cultivating Your Personal Green Space, out next year, by Summer Rayne Oakes, a 34-year-old activist, nature blogger and fashion model with degrees in environmental science and entomology who lives with some 700 plants in her Brooklyn apartment.
Oakes may be the original plant influencer. In 2012, the makers of the Toyota Prius designed the subcompact Prius C with Oakes in mind (the company described her as an "active eco-optimist") and created a paint colour in her name.
Boyswithplants, with more than 95,000 followers, offers a different sort of inspiration, found in beefcake photos of young men (some of whom also happen to be influencers, botanical and otherwise) posing with their plants. The account will migrate from Instagram into a book of the same name, out from Chronicle Books next spring.
Last year, nearly a quarter of houseplant purchases were made by those between the ages of 18 and 34, according to Gardenresearch.com. Plant industry marketers, like Garden Media, call them the Indoor Generation, noting they are overwhelmingly renters in urban areas who have little or no access to yards and are deeply aware of the physical and mental benefits of living with plants (cleaner air, for example).
This appetite is why The Sill is not simply a cheeky, curated plant boutique – with locations on the Lower East Side and the Upper West Side – selling moss balls (adorable algae pods that resemble damp, emerald green Tribbles), fiddle-leaf figs and a startling number of miniature succulents (over 100,000 this year). Its founder, Eliza Blank, a 33-year-old former brand strategist who started the business six years ago in her Lower East Side apartment with a $12,000 (£9,400) Kickstarter campaign, has conceived The Sill as a plant lifestyle company, or a global plant brand – a Glossier of plants, she said.
This past summer, the company's revenues reached $5m. Seventy per cent of its sales are online purchases, although Blank's ambitions include more bricks and mortar; two additional stores will open in Los Angeles in late January.
The Sill sells stylish ceramic planters in millennial colours (mint green and pale pink); watering cans; misters with upbeat messages; fertilizer and soil mixes; and totes and T-shirts; and hosts community-building events like movie nights and "sip and shop" cocktail parties. An ambassador programme encourages "brand evangelists" to host their own. It is Blank's aim to reinvent the garden centre – and your local horticultural society.
Her timing has been fortuitous. In 2012, when Blank began selling plants out of her apartment, Pinterest and Instagram were just two years old. People were looking to their social media feeds, rather than shelter magazines, for inspiration on home decor. Design blogs like Justina Blakeney's Thejungalow, now with over 1 million followers, were fomenting a 1970s style revival, making indoor jungles of textiles, wicker and a riot of hanging plants, cactuses and snake ferns.
Bohemian biophiliacs ensured that houseplants were on "the cool apartment checklist", says Abbye Churchill, an author of A Wilder Life: A Season-by-Season Guide to Getting in Touch With Nature, which is a millennial Whole Earth Catalog.
Becoming a travel influencer

Show all 24
"A succulent goes along with your Eames chair and your Group Partner ceramics vase," Churchill says, referring to the clay torsos made by a Brooklyn-based artist that have been enjoying a long pop cultural moment. But a houseplant also confers upon its owner "a more authentic form of existence," she says. "You can have this robust urban lifestyle – maybe there is only mayonnaise in your fridge – but because you have a plant, that indicates you have a modicum of ability to care for something."
It is also important to note "how well a glossy green houseplant goes with millennial pink," as Ingrid Abramovitch, the features director of Elle Decor, says.
If plants are "an affordable way to fill the void", as Blakeney, the designer behind Thejungalow, puts it, The Sill's ambition is to be the go-to source. But it has competition.
A couple of years ago, three friends practised a form of extreme horticulture in their apartment in the Williamsburg section of Brooklyn, kitting it out with plants instead of furniture. At its peak, there were 500 plants in there, says Ryan Lee, now 29, who has worked in finance and technology. He and his roommates, Jonathan Wu, a software engineer, and Kay Kim, a former creative director at an ad agency, both 27, held plant pop-up sales – their friends nicknamed them the Plantboys – and refined the idea for what Lee, echoing Blank, calls a modern plant company.
Their store, Rooted, opened in May in a warehouse building in Greenpoint; it too is an e-commerce platform, archly branded with dude-friendly vernacular (the care instructions for a bird's nest fern note that it's low-maintenance: "A 10-day surf trip to Bali is still in the cards") and stocked with minimalist planters in tough-looking pressed clay and concrete fibre.
The Plantboys also plan to sell branded gear like apparel and gardening products. "We want to be the pre-eminent green brand," Lee says, adding that Patagonia is an inspiration. "We want to create a company our generation will trust that we can leverage to enact positive change for the environment."
That's basically the manifesto of Tula House, another new houseplant company in Brooklyn, started by Christan Summers, 34, and Ivan Martinez, 38, both of whom are escapees from the advertising business. For the past few years, the couple have been selling plants from a truck they retrofitted and parked in front of design and arts centres, like the Invisible Dog in Boerum Hill.
Last summer they were parked in SoHo in front of Patagonia, offering plant care demonstrations, collections of pottery by local artists, and T-shirts and postcards with "environmental-action-oriented tasks", Summers says. "We started scrappy."
But the business has been successful enough that next week, they, too, are opening a storefront in a Greenpoint warehouse, to offer "carefully curated" desert, tropical and subtropical plants, along with ceramics, clothing, books and space for workshops and events.
"We want to get people thinking beyond #monsteramonday and 'Where is my monstera and I want it now'," Summers says. "Plants aren't made in a factory. We want people to recognise where they come from."
Courtney Almeida, a manager at Homecoming, a plant boutique and cafe in Brooklyn, spends a lot of time soothing customers panicked by the odd brown leaf on their pilea. "I tell them, 'It's nature, it's real,'" Almeida says. "Let 'em go. It's a bigger metaphor for life."
When The Sill started in 2012, Blank points out, Williams-Sonoma had just introduced its Agrarian line of high-end gardening products, including an $880 chicken coop. In that age of costly abundance, "it seemed like that was the only way to connect with plants", she says. "We're offering something more bite-sized and inviting."
Consider the moss balls, otherwise known as filamentous green algae – or pond scum. They grow in icy lakes, Blank says, which makes them a natural fit for apartment dwellers. (Two furry balls and a goldfish bowl cost $25.)
Support free-thinking journalism and attend Independent events
"They can be cold and alone in the dark," Blank says. "All you have to do is change the water every once in a while. Now we're talking about self-care. People want to interact with something that's not technical. They come to the store and say, 'I've killed a plant.' We say, 'It's OK, we've all been there.' We have a saying: 'It's OK if the only thing you did today was survive.' This is an entire generation that feels inadequate. Nobody wants another thing they're not going to be good at."
"We all have dreams of the big house in the country," Blank says, "but right now we're living in a basement on the Lower East Side, and how do we connect to nature there? I think my generation just wants to be happy."
© New York Times
Register for free to continue reading
Registration is a free and easy way to support our truly independent journalism
By registering, you will also enjoy limited access to Premium articles, exclusive newsletters, commenting, and virtual events with our leading journalists
Already have an account? sign in
Join our new commenting forum
Join thought-provoking conversations, follow other Independent readers and see their replies