Milo Yiannopoulos says wage gap and gender inequality are conspiracy theories in heated interview with Cathy Newman
Is his boss and Donald Trump's proposed chief strategist racist? 'No. I'm a gay Jew and he made me into a star'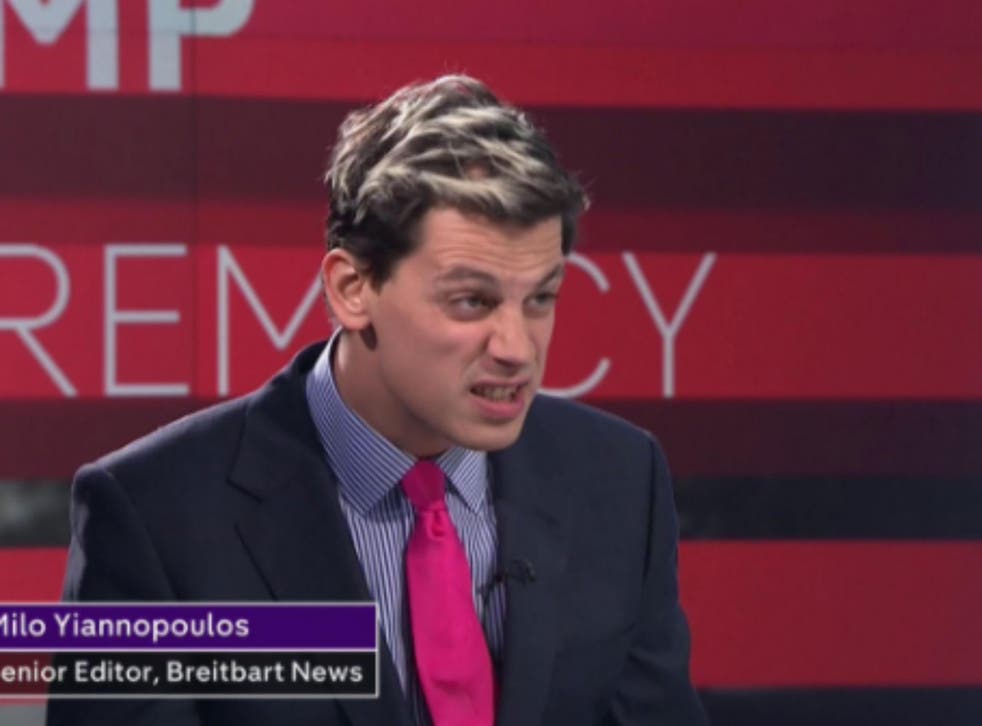 Alt-right journalist Milo Yiannopoulos said that gender inequality and the wage gap were "conspiracy theories" and that his boss at Breitbart turned government adviser should not care if he offended people.
Days after Stephen Bannon, executive chairman of Breitbart News, was appointed as Donald Trump's chief strategist, Breitbart columnist Mr Yiannopoulos argued that he and his colleagues were not racists or misogynists.
"Breitbart is a company that is almost entirely staffed by Jews. I'm a gay Jew and he made me into a star," he claimed in a heated Channel 4 News interview with Cathy Newman.
He also called out modern feminism as "nasty, ugly, sociopathic and mean" and that women "agreed" with him.
He said that feminists and movements like Black Lives Matter had ruled a policy of "feelings first, facts later" for the last 30 years in the US.
"They spread conspiracy theories, propaganda about the wage gap, campus rape culture - this stuff isn't real," he said.
The British-born writer and commentator was permanently banned from Twitter earlier this year as the social media company made a push to crack down on white supremacist-associated accounts.
Ms Newman challenged him on so-called "satirical" articles where he wrote that women should log off the internet, and that mass immigration should stop, otherwise people would "really know" what rape culture meant.
"You know perfectly well that it is a provocation to make people think and to perhaps make them laugh," he said.
"I do delight in offending people. I think the grievance brigade, victimhood, you know the idea that hurt feelings are some kind of special currency, I think that needs to come to an end and America agrees," he added.
Vermont Senator Bernie Sanders and and other legislators have called on Mr Trump to dump Mr Bannon from his administration come 2017, arguing he made anti-semitic comments and was a misogynist.
Mr Trump has only made two key appointments so far, and one of them was Mr Bannon.
Register for free to continue reading
Registration is a free and easy way to support our truly independent journalism
By registering, you will also enjoy limited access to Premium articles, exclusive newsletters, commenting, and virtual events with our leading journalists
Already have an account? sign in
Register for free to continue reading
Registration is a free and easy way to support our truly independent journalism
By registering, you will also enjoy limited access to Premium articles, exclusive newsletters, commenting, and virtual events with our leading journalists
Already have an account? sign in
Join our new commenting forum
Join thought-provoking conversations, follow other Independent readers and see their replies