Feature
High heels, tiny bikinis and Soviet nostalgia: Why is Miss USSR happening in London?
The Soviet empire may have collapsed 28 years ago – but in London, the idea feels alive and carefully preserved, writes Anna Myroniuk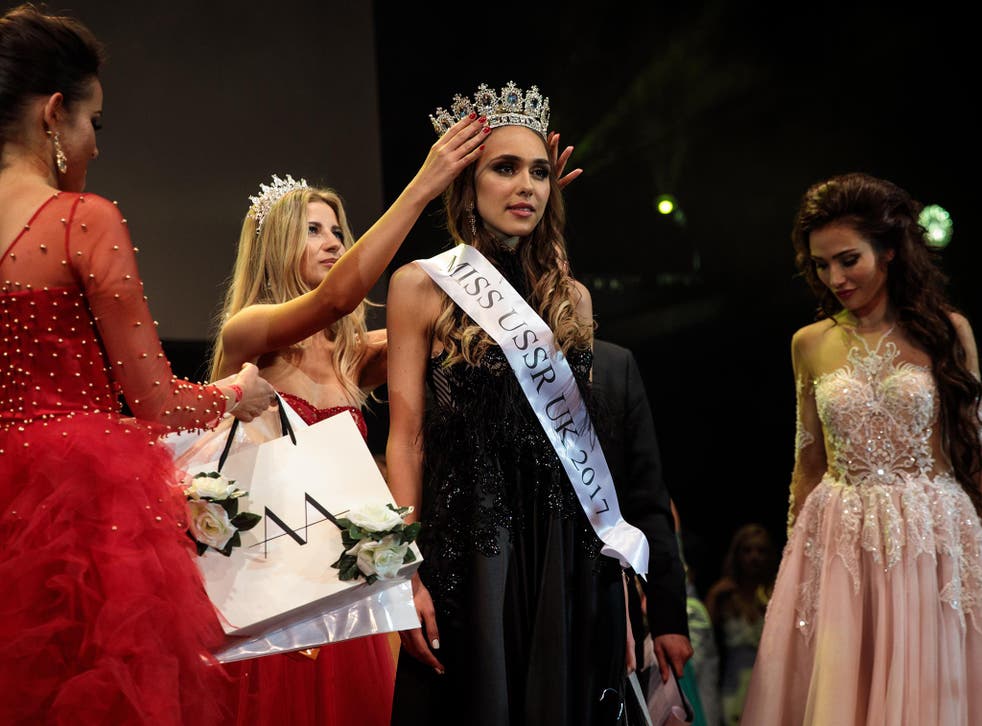 High heels, tiny bikinis, stunning postures – all desperate to catch the eye of the contest's judges and VIP guests.
But this isn't a typical beauty pageant.
The women are from former Soviet Union countries, and on Saturday, are competing for the title "Miss USSR UK".
Some have travelled to London from abroad for the contest, others are based in Britain.
The USSR Empire may have collapsed 28 years ago – but in London, the idea feels alive and carefully preserved.
"Miss USSR" was held in Moscow for three years before the Soviet Union collapsed in 1991. Its successor, "Miss USSR UK" has run in London for seven years.
The world today, according to the Soviet Union in 1960

Show all 5
The contest is now growing – in 2018, the same competition took place in Monaco, and according to the organisers, is set to be an annual event. There are also plans now to stage "Miss USSR" in Montenegro.
But this year's main contest is taking place on 27 April in London's luxurious Hilton Hotel in Mayfair.
It unites women from across the former Soviet countries – including those the USSR occupied in 1940.
Indeed the vast majority of this year's applicants appear to come from Ukraine, despite the ongoing conflict with Russia.
"We will show how beauty will save the world," claims the Miss USSR UK website.
But the competition has faced stiff criticism from various sides.
"It shows a serious lack of taste and historical awareness," former British ambassador to Latvia Ian Bond told The Independent, now foreign policy director at the Centre for European Reform.
"Imagine if someone organised a 'Miss Third Reich' competition for women from countries occupied by the Nazis? Or even 'Miss British Empire'?!" he adds.
The organisers, however, deny that there is any ideological motivation behind the contest.
"Our name has nothing to do with politics," Kateryna Burceva, who co-organised the contest in 2012, tells The Independent. Burceva is no longer involved in Miss USSR.
Karina Barulina, a 2014 finalist from Moscow, agrees.
It's only named after the Soviet Empire, she says, to make it more inclusive.
"It had been called this way deliberately to avoid discrimination, because it's not only Russian girls participating, but Russian-speaking girls also. This name makes it more understandable."
Applicants shoot and present videos about themselves and their countries, whilst wearing in national costumes on stage.
On the contest's website, an applicant from Crimea is listed among the girls representing Russia.
Russia annexed the Ukrainian peninsula in 2014, in a move considered illegal by the UN General Assembly. The vast majority of the international communities does not recognise Crimea as a part of Russia.
And while the organisers insist that the contest is non-political, they also invite diplomats to the show every year.
"You can say that almost all diplomats of former Soviet Union countries [attended]," says Miss USSR UK's director, Yulia Titova.
However, Ukrainian, Belarusian and Uzbekistani diplomats said that they were first told about the contest by The Independent and insisted they have never attended.
Titova was reluctant to name them, adding: "Kazakhstani diplomats attend with a great pleasure. I just do not know to what extent it is politically correct to mention them."
Moldovan diplomats came to the event back in 2016 according to the "Miss USSR UK" Instagram page.
Representatives from the Kazakhstan and Moldovan embassies in the UK did not immediately respond to The Independent's request for comment.
Several former Soviet countries have spoken out against the competition.
"The invitation of Lithuanian girls to participate in the event, named on behalf of the Soviet Union, shows great disrespect for the restored independence of Lithuania," says a statement on the Lithuanian Embassy's website.
Lithuanian diplomats in the UK tell The Independent that they have asked the contest's organisers to remove any reference to Lithuania from its literature, but that the organisers did not oblige.
A spokesperson from the Latvian Embassy told to The Independent that they advise women not to take part in the event, stressing that those who do, "by no means represent Latvia."
Aliyor Tilavov, political counsel at the Uzbekistan embassy, was similarly unimpressed.
"We do not approve this contest and we have no connection to it. If someone has nostalgia for a Soviet Union, we do not," he says.
The contest also gathers "representatives of royal families, lords, directors and CEOs of global corporations," according to its website.
Titova, the director, declined to provide further information on this year's guests.
"They are quite influential and noble people. We care about our clients and do not disclose this information."
For John Lough, Russia expert at Chatham House and a former NATO representative in Moscow, the event seeks to reinforce a longing for the Soviet Union, and hope to use such VIP guests to do so.
"It possibly seeks to reinforce an agenda that the Russian state would be very comfortable with, that 'we are all one big happy family, whatever happened in history. We are all together'."
"That is clearly not consistent with reality," Lough adds.
Women compete to win a contract with an international modelling agency, which changes annually.
This year, it remains a secret.
Titova says that the first runners-ups will also get a trip to the hotel Rixos in Kemer on Turkey's coast and a holiday exploring Montenegro on a 42-metre luxury yacht called Riana.
"Miss USSR UK" was first launched in 2012 by Titova.
She had moved to London a couple of years earlier to work as a nightclub promoter, but says she soon decided to promote her own beauty pageant.
To take part in the contest, there is an online vote for the best-looking women. Votes have to be purchased, at a cost of 1 euro for three votes.
The winner is likely determined by how much money backers are ready to spend, as the number of votes a person can buy is unlimited.
But money itself is not a guarantee of getting a place in the show in the first place, says Julia Rebenok, a 2018 finalist from Ukraine.
Women who win this first stage then have to pass a Skype interview.
"The organisers look at your body shape and ask you to do a small catwalk on the camera," Rebenok says.
Selected candidates then pay a £300 participation fee and the preparation for the show begins in earnest.
Inspirational and transformational coaches are employed to train the girls prior to the competition.
The webinars are available for anyone to join. During one, Ekaterina Lebedeva, a psychologist and sexologist, teaches the applicants how to produce pheromones while performing on the stage.
"Listen, girls, you should remind yourself where our vaginal tube is. Now we begin to compress it, we compress our vaginal muscles. One, two, three…"
"At the beauty contest, there will be men among the judges. You do not even need perfume. You will emit a smell of sexuality and it is not vulgar. Male judges will not understand why they like you, but they will like you," Lebedeva continues.
Lebedeva participated in the "Miss USSR" contest in Monaco last year, where she met her future husband, a Russian drummer. She was introduced to him by a contest's choreographer, she says during her webinar.
"I participated in the contest to get married," she confesses.
"Perhaps someone will see you at the beauty contest as there are some decent men. Behave properly."
The tickets to the show, starting at £400, are not available to the general public. The event is private - for "VIP clients" only.
"A person files an application on the website and our team decides whether to approve it or decline," says Titova.
Top TV and pop-stars perform at the events.
Sonique, Sheyla Bonnick from Boney M and DJ Smash are among those who have provided entertainment in recent years.
Despite the extravagance of the contest, "Miss USSR Management Ltd", the company, owned by Titova, does not earn much, according to its balance sheets filed on Companies House.
In 2016 the company first declared profit - £877 of current assets. In 2017 it showed a negative balance of £6,308.
The contest, though, has a strong financial backing from sponsors.
"As long as sponsors pay, the contest exists," says ex-organiser Burceva.
Among the sponsors are London Luxury Chauffeuring, Caviar House, and The Elite London – an exclusive jet-set lifestyle event for rich people.
However, by far the biggest company backing Miss USSR UK is Rixos, the luxury chain of 25 hotels around the world.
The Rixos Sungate, in Turkey, was the venue for a holiday for the finalists of "Miss USSR UK" in spring 2018. The next visit is planned for this summer.
Sponsors put money into "Miss USSR UK" to advertise their businesses, Titova says.
However, not many sponsors place the competition's logo on their own websites.
"We make a marketing strategy for a year and offer opportunities for companies to attract new clients," she says.
"Plus a photo shoot with our contestants."
Join our new commenting forum
Join thought-provoking conversations, follow other Independent readers and see their replies