Mo Sissoko's move to Tottenham Hotspur should give Everton's Tom Davies a chance to shine
Young midfielder is highly thought of but could have seen chances limited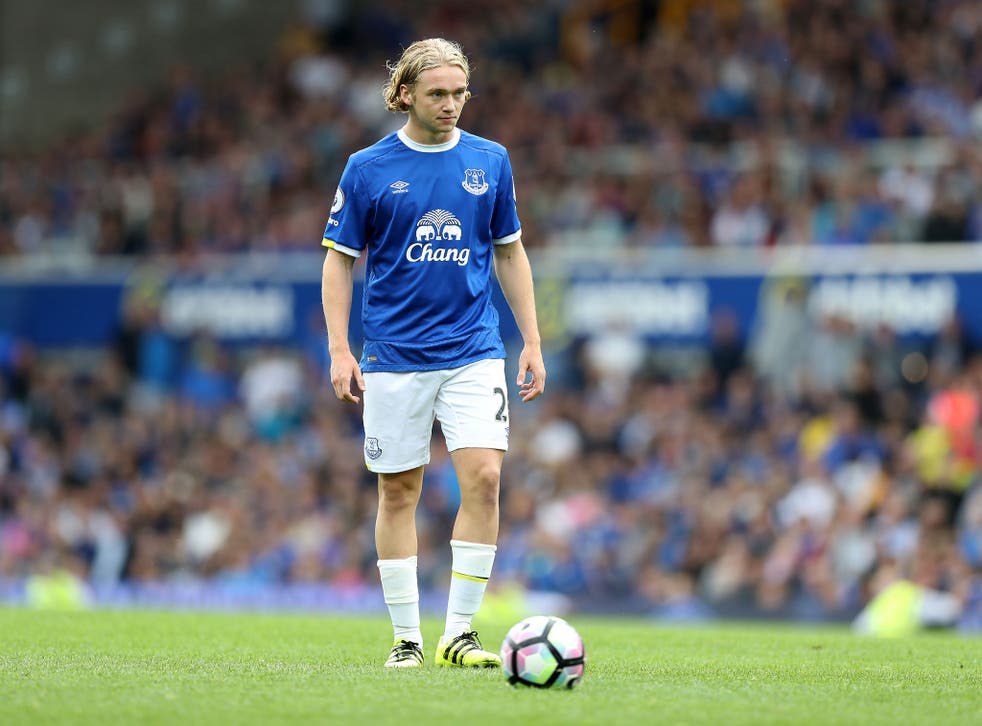 The extraordinary return of David Luiz to Chelsea was the transfer that had most chins wagging on Thursday morning but in some ways the strangest deal of deadline day was the Mo Sissoko tug of war between Tottenham and Everton.
That the Frenchman chose Spurs over Goodison need not be a disaster for Ronald Koeman's club, though, or indeed for those with the England national team's embarrassment at the feet of Iceland still nagging away at the back of the mind. Sissoko's White Hart Lane deal gives the Everton manager the opportunity to put his faith in the young midfielder Tom Davies, who would in all likelihood have been elbowed aside by the former Newcastle player – especially if he has just cost a cool £30m.
Davies, 18, is highly regarded by many at Everton – so much so that he has just been offered and signed a five-year deal at the club. The energetic midfielder made his first-team debut in April – against Koeman's Southampton as it goes – and also played in the 3-0 win over Norwich on the season's final day. The nephew of Alan Whittle, who made 74 appearances and scored 21 goals for the club in the late 60s and early 70s, has gone on to impress in pre-season, too, having played as both a full-back and in midfield. He came on – albeit as a late substitute – in the club's win over Stoke last weekend.
There is rich promise. So rich that he also trained with the England first-team squad at St George's Park last October.
But that promise could have stagnated had Sissoko joined the club. Another English player squeezed out of first-team Premier League football, a worrying long-term trend that undermines the national side: See Jack Wilshere being forced to seek first-team opportunities at Bournemouth not Arsenal, Calum Chambers following suit, Joe Hart heading to Turin. The list goes on.
"Coming back from the off season and going straight back with the first team has been a good insight for me into what's required," Davies said last month. "To play as much as I have with [the first team]…has been vital for my progression as a player." Too true.
Koeman was criticised in some quarters at Southampton for not putting his faith in the young English academy players: James Ward-Prose, Harrison Reed and Matt Targett for example. Had Sissoko signed for the Toffees it could have been history repeating.
Meanwhile, at Spurs, the manager Mauricio Pochettino believes he has added the missing pieces to complete the White Hart Lane jigsaw. At the end of last season he was open in admitting he wanted another striker, some midfield grit and some power and speed to beef up the squad.
This summer he has brought in the Dutch forward Vincent Janssen from AZ Alkmaar for £17m, Victor Wanyama, in from Southampton, adds the grit and now Sissoko adds the pace – Pochettino hopes.
Many Newcastle watchers feel selling Sissoko - who, of course, was unable to prevent his previous side's slide into the Championship - for £30m is great business. They see him as a Sky Sports player: he's superb when he's on TV.
Spurs had the cash to spend, though, having actually brought in a fair amount of money this summer, too. One way they have balanced the books during this window was selling Ryan Mason to Hull for £13m. Yep, that Ryan Mason: young, English, midfielder.
Join our new commenting forum
Join thought-provoking conversations, follow other Independent readers and see their replies