Thousands along Bangladesh, Myanmar coast told to seek shelter as powerful Cyclone Mocha approaches
Volunteers in coastal districts of Bangladesh are using loudspeakers to urge people to seek shelter as the delta nation braces for an extremely severe cyclone, which is expected to slam ashore in Bangladesh and Myanmar in the next 24 hours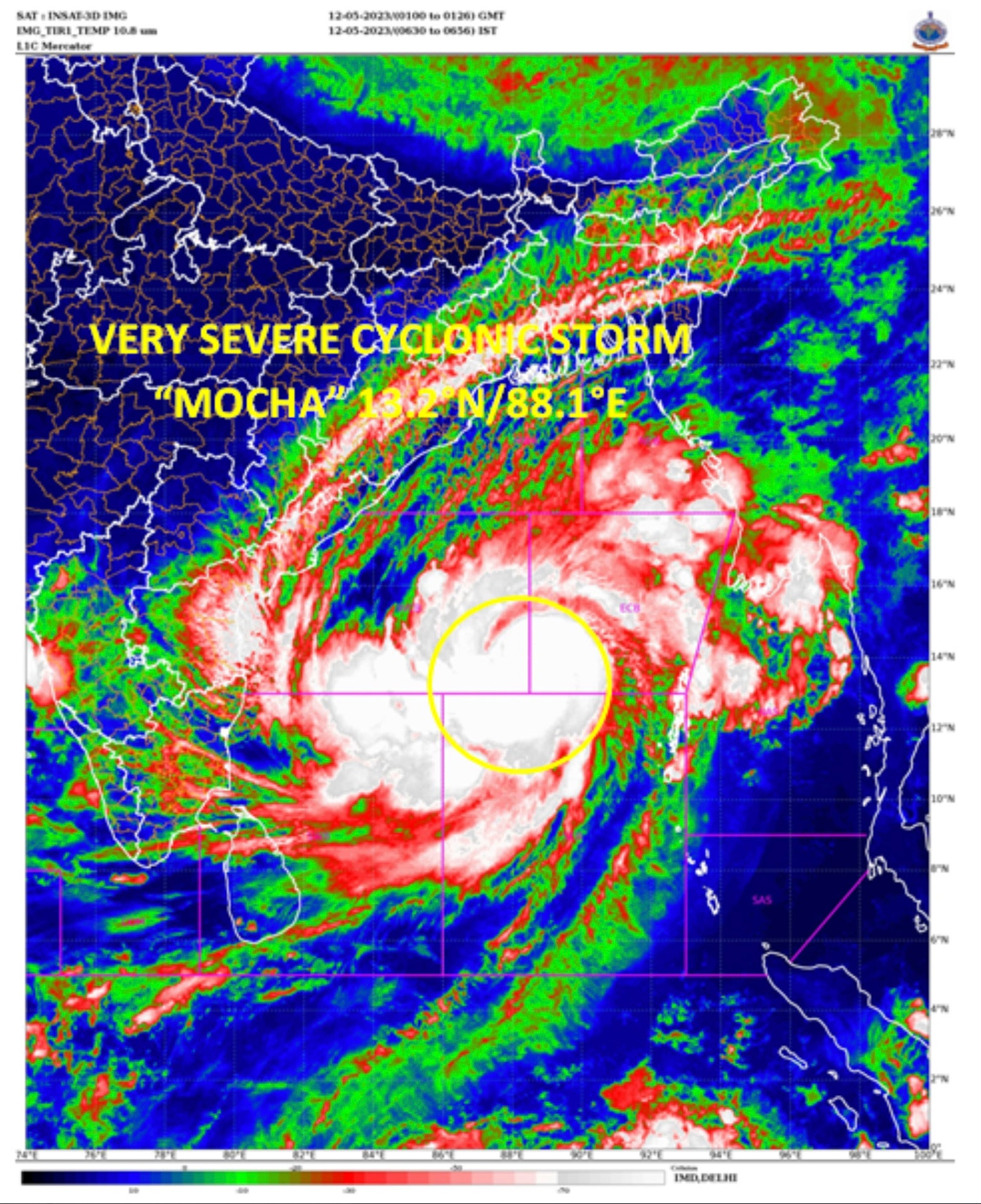 Volunteers in Bangladesh's coastal districts were using loudspeakers to urge people to seek shelter on Saturday as the delta nation braced for an extremely severe cyclone, which is expected to slam ashore in Bangladesh and Myanmar in the next 24 hours.
Cyclone Mocha was moving toward the coasts of southeastern Bangladesh and Myanmar with wind speeds of up to 160 kilometers (100 miles) per hour and gusts up to 175 kph (110 mph), the Indian Meteorological Department said. It's projected to make landfall on Sunday evening in an area between between Cox's Bazar in Bangladesh and Kyaukpyu in Myanmar.
Bangladesh, with more than 160 million people, has prepared more than 1,500 cyclone shelters. More than 1 million Rohingya refugees who fled persecution in Myanmar are on the cyclone's path in sprawling camps in Cox's Bazar, where local authorities and the United Nations were preparing for the storm's impact.
Bangladesh, which is prone to natural disasters such as floods and cyclones, issued the highest danger signal for Cox's Bazar district. The Bangladesh Meteorological Department warned the cyclone could cause severe damage to the lives and properties in eight coastal districts.
Mizanur Rahman, director general of the Department of the Disaster Management, said they asked the local authorities in 20 districts and sub-districts to make preparations. He said they were particularly concerned about a small coral island called Saint Martins Island in the Bay of Bengal, where efforts were underway to protect thousands of inhabitants.
According to the Flood Forecasting and Warning Center in Dhaka, severe flash floods could affect the coastal region.
Myanmar said in its weather bulletin that the cyclone was moving toward the coast of Rakhine state near Sittwe. It also raised its highest alert.
In May 2008, Cyclone Nargis hit Myanmar with a storm surge that devastated populated areas around the Irrawaddy River Delta. At least 138,000 people died and tens of thousands of homes and other buildings were washed away.
Roxy Mathew Koll, a climate scientist at the Indian Institute of Tropical Meteorology in Pune city, said cyclones in the Bay of Bengal are becoming more intense more quickly, in part because of climate change.
The state-run Global New Light of Myanmar newspaper reported on Friday that thousands of people living along the western coast of Rakhine state were evacuated.
Both Indian and Bangladesh authorities said they were expecting heavy to very heavy rainfall in Andaman and Nicobar Islands in the Andaman Sea, parts of India's remote northeast, and across Bangladesh from Saturday night.
Climate scientists say cyclones can now retain their energy for many days, such as Cyclone Amphan in eastern India in 2020, which continued to travel over land as a strong cyclone and caused extensive devastation. "As long as oceans are warm and winds are favorable, cyclones will retain their intensity for a longer period," Koll said.
Cyclones are among the most devastating natural disasters in the world, especially if they affect densely populated coastal regions in South Asia.
___
Associated Press climate and environmental coverage receives support from several private foundations. See more about AP's climate initiative at https://www.ap.org/press-releases/2022/ap-announces-sweeping-climate-journalism-initiative. The AP is solely responsible for all content.