Meet Neri Oxman: Professor and architect whose 3D designs attracted the attention of Brad Pitt and Bjork
A star of MIT's Media Lab working in "material ecology," she has intrigued Björk, Brad Pitt and the Cooper Hewitt
Friday 12 October 2018 17:33 Comments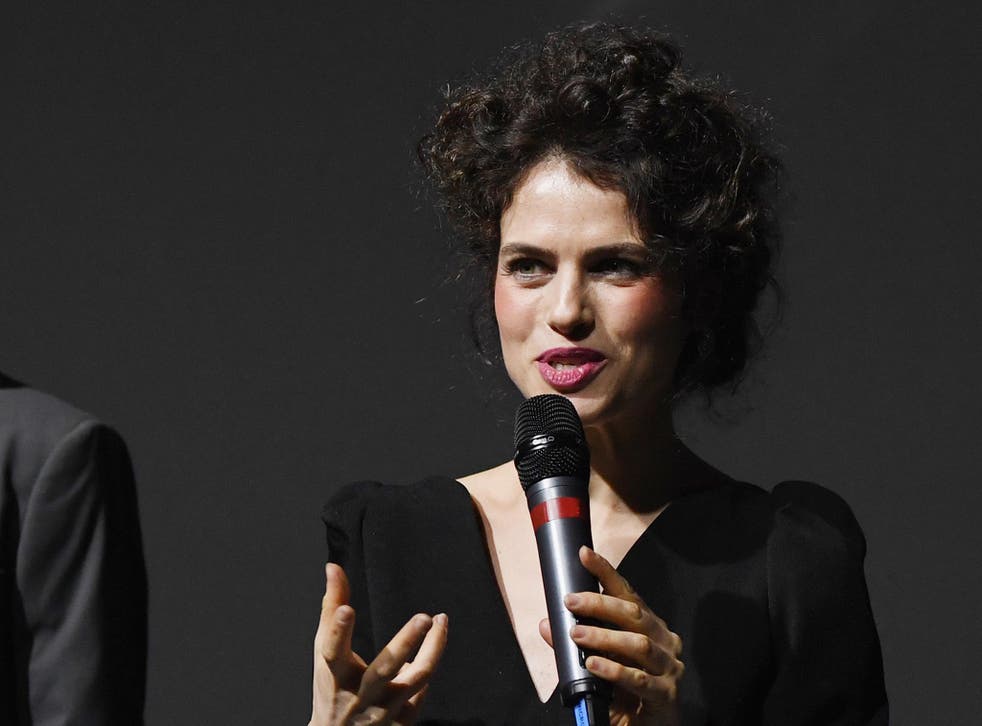 One hot day in early September, Neri Oxman, a tenured professor at the Massachusetts Institute of Technology's Media Lab, was on her way to lunch when it hit her. "Form follows pheromones!'" she remembers exclaiming. "I was thinking, as I was devouring my meatball sandwich, about how we could use robotic arms to spit out pheromones guiding bees to template honeycombs in the absence of queens. The robots, you see, could master the hive."
"We are sending bees to outer space," she adds, "we've got a little cell on Jeff Bezos' Blue Origin mission." (Bezos has his eye on a lunar landing.) Bees, I learned later, use pheromones to communicate, a complex endocrine language through which the queen, for example, tells her drones to step up their work on the honeycomb. Hence Oxman's aperçu.
Bees in outer space are just one of the many aspirations and provocations of Oxman, a 42-year-old Israeli-born architect, computational designer and artist who is the recipient of this year's Cooper Hewitt Design award for interaction design. Though as Jenny Lam, a noted tech designer and one of the award's jurors, says, Oxman could just as easily have been nominated for fashion or architecture or product design. (The award ceremony and gala will be held on 18 October in New York.)
Oxman is the founder of a discipline she calls material ecology, which marries the technological advances of computational design, synthetic biology and digital fabrication (otherwise known as 3D printing) to produce compostable structures, glass objects that vary their optical and structural properties, and garments made from a single piece of silk fabric.
Her team can do crazy things with moss, mushrooms and apple pectin. They are outliers even for the Media Lab, a playground of cutting-edge technology with a social conscience.
Oxman and her students are an eclectic bunch: a biomedical engineer, a glass blower, a material scientist, a computer scientist whose speciality is wet artificial intelligence (which has something to do with programming bacteria), an architect, a marine biologist and, yes, a beekeeper, among other specialists.
Oxman likes to play Noah with would-be applicants. "You have to have two of everything, so they can procreate intellectually if not biologically," she says. (There have been material ecology love affairs, five marriages and three babies.) The team has been collaborating, as they say, with natural organisms like slime molds, monarchs and silkworms, to make extraordinary objects and structures that do all sorts of extraordinary things.
Bubbling winged wearables, to use a material ecology term, look like muscle fibres or bacterial colonies. A fluffy Buckminster Fuller-ish dome was made by silkworms that spun their fibres over a carapace made by robots. Ghostly masks shaped by the patterns of human breath were inspired by indigenous death masks and pigmented with bioengineered E coli cells.
Glistening sheets of a honey-coloured material were made from a paste of ground-up shrimp shells that varies from opaque to translucent and is embedded with bacteria that has been engineered to capture carbon and turn it into sugar. The stuff also biodegrades on command.
"We treat design more like a gardening practice," Oxman says.
'Aiming for Biological Goth'
Preternaturally beautiful, these startling-looking objects have appeared on fashion runways and design fairs, and live in the permanent collections of museums of both art and science, including the Museum of Modern Art and the Smithsonian. And they have made Oxman, who is rather startling looking herself, a star.
Lam, the software designer, describes Oxman as a contemporary Leonardo da Vinci. John Maeda, the head of computational design at Automattic, a web development company, who also was once a MIT Media Lab darling, says, "If I was the Terminator, Neri is Terminator 2. I was crappy titanium parts, but she's like liquid metal."
What makes Oxman, the scientist, so unusual, said Paola Antonelli, the senior curator of architecture and design at MoMA, is her aesthetic sense. "She's not afraid of formal elegance," Antonelli says. "The reason why she is a gift to the field of architecture and design is that her science works, her aesthetics work, and her theory works. It's been interesting to see scientists respond. They welcome the collaboration because they know the research they develop with her team is going to be accepted by their peers and it might even show up in a museum. That it might be beautiful. I'm not afraid to use that word, by the way."
Oxman is on sabbatical this year, but she was in the lab this sweltering day to explain her practice, gulping green tea and gently chastising me for a Diet Coke habit. "I used to be a Coke enthusiast," she says, "but now I'm addicted to E coli."
That bacteria, she says, is known as the workhorse of synthetic biology, which basically means you can make it do anything. Charismatic and epigrammatic, Oxman speaks as if in capital letters and long, enticing, musical paragraphs.
"What does it mean to design a living object?" she says. "How do we accommodate for dimensional mismatches between environmental constraints, light, load, da, da, da and the material? How can you have a single material system that is multifunctional, that is not made of parts and that can vary over space and time for different conditions? Can you make architecture that behaves like a tree."
Yes, it turns out, as Oxman explains with characteristic charm in her 2015 TED Talk, which now has more than 2 million views.
The following year, Björk came calling. The two women discussed heartache and art, the Icelandic pop star recalled by email, after which Oxman's team made the singer a mask to perform based on Björk's own facial tissue. It looks like a snarl of hair and muscle, and it transformed her into a furry, scary post-nuclear human on stage.
"I sang a song called 'Quicksand', which is about a nihilist goth-like person," Björk wrote in her email, "so we aimed for biological goth. I remember looking at Mexican death masks but mostly talking about love, to be honest."
This past spring, Brad Pitt also reached out, in a visit to the Media Lab that inflamed the internet. They are not dating, Oxman says emphatically – her real-world boyfriend is William A Ackman, the contrarian hedge funder who famously paid over $90m for a penthouse in one of New York City's supertall buildings — but she would love to do a project with Pitt in the future, she says.
To remind, Pitt's interests include architecture, furniture design and urban planning. Oxman described him "as the last of the Mohicans in post-Netflix Hollywood. He brings together the timely and the timeless," she says, "which is what cinema is all about." (Oxman is a Fellini and Ingmar Bergman fan.)
She also had some fun with the paparazzi staked out in front of the Media Lab. As she left work during that Pitt period, she made sure to brandish a copy of the Feynman Lectures (a famous physics textbook) and of the Golden Record, the audio time capsule (in the form of an LP, otherwise known as an album or record) that went to Mars in 1977, in a subversive plug for Team Science.
"The Golden Record beats the Caviar quilted flap bag on any given day," she says. "Toting the ultimate message to moon was my message in a bottle to the paparazzi. The Feynman Lectures followed."
'Maintaining Ideological Purity'
A "coy" piano player who was a first lieutenant in the Israeli air force, Oxman dropped out of medical school to pursue architecture, and then earned her doctorate in design computation at MIT. Her heroes are Leonard Bernstein, Buckminster Fuller and her grandmother Miriam, a Sabra, an educator and a gardener.
Her parents, both professors, are architectural royalty in Israel. Her father, Robert Oxman, is a theory guy. Her mother, Rivka Oxman, was an early pioneer and booster of artificial intelligence in architectural design.
Oxman is spending part of her sabbatical working on a project for Antonelli, who is curating the XXII Triennale di Milano international exhibition next March. The theme is "Broken Nature", an appropriately thorny topic for the times.
In response, Oxman and her group have been experimenting with melanin, the natural pigment found in all six of what biologists call "the kingdoms of life" (plants, minerals, animals, bacteria and fungi); melanin is also a biomarker of evolution because it has been around since the time of the dinosaurs.
Today, Oxman says, it is 10 times more valuable than gold, if you buy it for research purposes. "In this era of global warming," she says, "melanin is the new gold."
What does it mean to engineer melanin? There are obvious boons for tissue repair and sun protection, but what are the implications, she continues, "philosophically, practically, ethically, humanely, socially and anthropologically for doing such a thing? Up until now, our work has been culturally agnostic. This project takes us further into charged territories."
Practically speaking, she says, her group is imagining a "biological building," for Antonelli's show. "Could it act as structure and skin, varying its concentration as a function of a site-specific sun path diagram?"
It is Oxman's grand ambition, says Moshe Safdie, the Israeli-Canadian architect and urban planner who is a friend and mentor, "to transform the methodology of building. Today we have materials that are translucent and we have materials that are load bearing and she is hoping we would reach the day when we have materials that could behave in multiple ways. Release light and store energy."
"It is such a grand ambition, I don't think it will be fulfilled in my life," says Safdie, now 80. "I might be wrong."
"Because she is a gifted artist," he continues, "what comes out through whatever processes she uses are beautiful objects. People are fascinated by these lovely objects. From my perspective, from a wish that her grand ambitions are fulfilled, this is like a sideshow, but it's a sideshow that gets a lot of attention."
Oxman would adamantly agree.
"Look, we haven't gone this far to sell glass-printed light fixtures on Amazon," she says. "We are here and remain committed because we are able to design an architectural 'skin' as an optical lens, thereby opening up possibilities for harnessing solar energy on urban scales. These technologies should not be trivialised for entertainment purposes alone, though potentially profitable solutions such as a biodegradable Pellegrino bottle may well help us cut out plastic. One has to start somewhere without compromising soul."
When the lab figured out how to 3D-print glass, which has all sorts of applications for building facades, Oxman was wooed by a Chinese billionaire in the fragrance business.
"He said, I'll give you this amount of millions of dollars if you can produce perfume diffusers by Christmas," she recalls. "I thought, I'll take your money, but you won't see any perfume diffusers. The challenge for me is to scale while maintaining ideological purity. It would be to easy to start a line of melanin makeup. Easy! Vitamin-infused melanin for sun-protection-slash-makeup. Easy! That's a billion-dollar industry. But why not have an architect enter the race to cure cancer?"
© New York Times
Register for free to continue reading
Registration is a free and easy way to support our truly independent journalism
By registering, you will also enjoy limited access to Premium articles, exclusive newsletters, commenting, and virtual events with our leading journalists
Already have an account? sign in
Join our new commenting forum
Join thought-provoking conversations, follow other Independent readers and see their replies