New York could tackle growing homelessness crisis with 3D-printed sleeping pods
The US's biggest city has seen its homeless population rise 40 per cent since 2012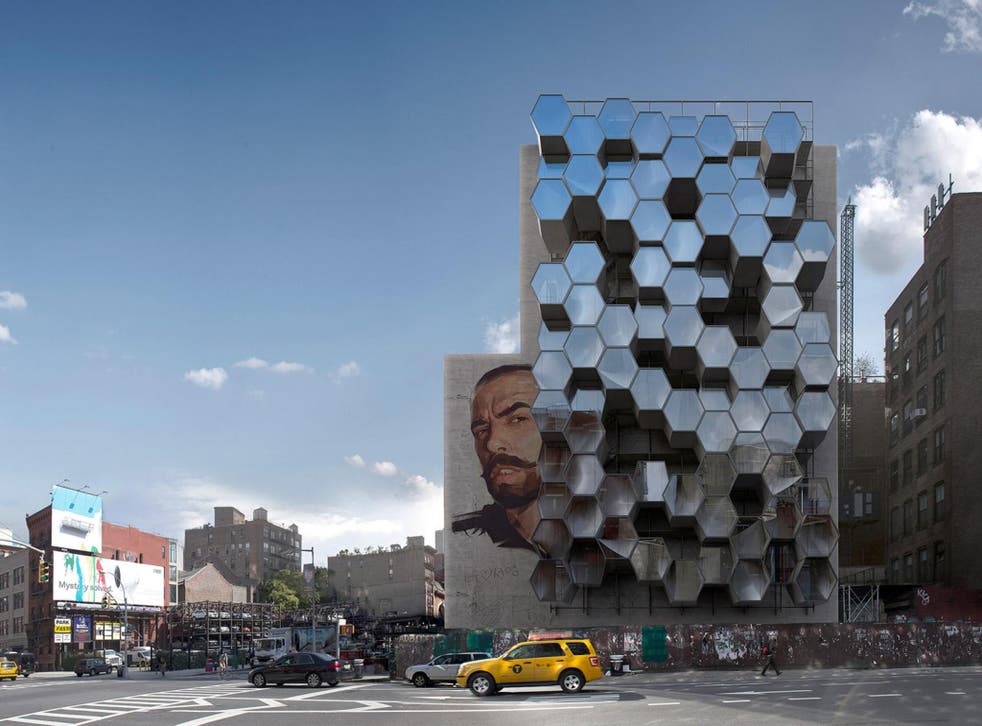 Oslo-based architecture firm Framlab have forwarded a project, known as Homed, which aims to cover the empty walls of New York City's tower blocks with 3D-printed steel hexagonal pods, in an attempt to tackle the cities growing homelessness problem.
While the exact figure of people sleeping on the city's streets is hard to calculate, the problem is understood to be at its worst since the Great Depression. But NYC-based organisation, Coalition for the Homeless, estimate that 61,000 people currently sleep in the cities already over-capacity shelters every night, and thousands more sleep on the streets.
The problem is believed to have been exacerbated by increasingly expensive housing and rent costs, cut-backs on government housing assistance and New York states weakening rent regulation laws.
Framlab are faced with the issues of trying to create a space for homeless shelters and competing against the city's gargantuan real-estate sector is to create safe, temporary accommodation while using as little land space as possible.
Taking advantage of unused "vertical lots" – the blank sides of buildings that emerge as developments come and go in the area – Framlab aim to create scaffolding that sits on the side, containing rows of hexagonal housing modules, creating not a building but a temporary layer on the side of the "host" building.
Designed to be easy to erected and disassemble, the pods will be made from steel to provide an all-weather shelter, while the interiors wil be furnished with 3D printed plastic and laminated wood, meaning that the pods can have multiple uses.
"As the interior modules are printed, an endless amount of spatial and functional needs can be met," says Framlab. "We can integrate cabinets, equipment, furnishing into the structure – minimising the need for additional accessories," it added.
Homed, New York City

Show all 11
The architects even believe that with smart-glass windows at the front of the pods, there is the possibility to project digital content onto them and raise advertising revenue, or artwork to decorate the existing empty wall.
Framlab reiterated that the project wasn't in place of solving the housing crisis, but rather a form of temporary accommodation. "The project is intended to be an instrument that plays part in the solution, the massive extent of the complexity of the situation requires work on a broad regulatory and policy-making level.
"But, it is critical that the design community is part of the process," it added.
Join our new commenting forum
Join thought-provoking conversations, follow other Independent readers and see their replies