NHS chiefs consider mandatory three-month wait for non-urgent operations to save stretched funds
Cataracts, hip replacements and varicose veins would only be treated within 12 to 18 weeks as funds are targeted to urgent care
Alex Matthews-King
Health Correspondent
Friday 17 November 2017 17:45 Comments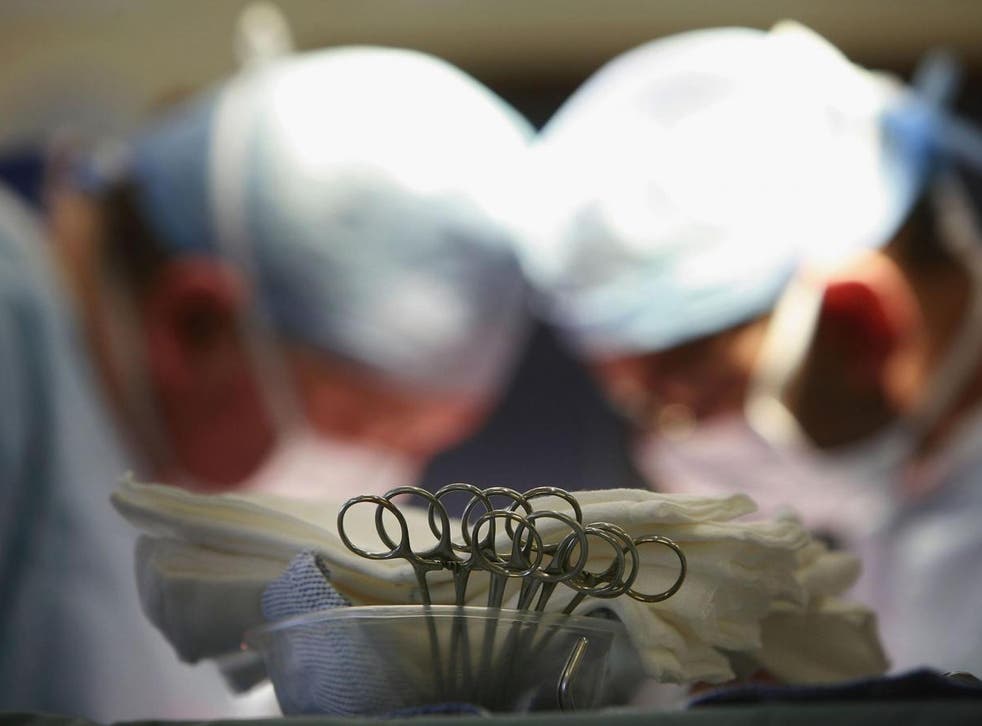 Mandatory minimum three month waits are being considered for all patients undergoing "non-urgent" surgeries such as hip replacements.
NHS clinical commissioning groups (CCGs) said they were considering the move to ensure capacity for urgent care. They added that they wanted to make sure that stretched funds are spent "efficiently and effectively".
This comes as a letter, sent today by the president and vice-presidents of the Royal College of Surgeons, asked members to prioritise emergency work and return to elective care "in the spring".
Joint replacements are one common form of elective surgery, with patients on waiting lists often living with limited mobility or pain. Cataract operations, and treatment for varicose veins would also be delayed.
The move is being considered by four CCGs in Lincolnshire, as well as Trafford CCG in Greater Manchester, according to the Health Service Journal.
The plan would not necessarily fall foul of the NHS's, currently unenforced,18-week standard for patients to receive treatment and NHS England did not condemn the move. They said local areas face "difficult choices" with limited funds.
A spokesperson for Lincolnshire CCGs also said "some conditions do get better over time" so NHS resources could be spent elsewhere.
A ruling in 2011 banned the introduction of minimum waiting times, but as CCGs did not exist at this time it is not currently applicable to them.
Everyone the Government blames for the NHS crisis – except themselves

Show all 6
Surgeon leaders said this loophole should be closed.
Royal College of Surgeons president Sue Hill said patients in Trafford already wait 7.2 weeks for treatment and under this policy that "would double".
Ms Hill said: "Under the coalition government minimum waiting times were banned and we urge the present government to reinstate that policy and not force patients to wait a minimum of three months for routine surgery."
But in a letter to surgeons today, Ms Hill and the college's vice-presidents asked members to focus on emergency care, with elective care having to wait this winter.
"We, the surgical community, must continue to do everything we can to help manage pressures this winter," the letter says.
"By giving proportionally more of our time to support the front door of the hospital we will give ourselves and our patients the best chance of returning elective care to a more reliable footing in the spring."
This comes after Cambridgeshire and Peterborough CCG implemented its own minimum waiting times as part of a wide-ranging "cost management process" in September. They then scrapped it this month.
A spokesperson for the Lincolnshire CCGs said: "The NHS has a responsibility to ensure public money is spent effectively and efficiently. There is evidence that some conditions do get better over time and that, in some cases, surgery may be unnecessary."
In Trafford, the HSJ reports the plan is under review but a spokesperson said the region is "facing a real financial challenege".
An NHS England spokesperson said: "CCGs face difficult choices about what can be afforded within the funds Parliament has made available, recognising the priority being accorded to emergency care, mental health, cancer and GP services.
Register for free to continue reading
Registration is a free and easy way to support our truly independent journalism
By registering, you will also enjoy limited access to Premium articles, exclusive newsletters, commenting, and virtual events with our leading journalists
Already have an account? sign in
Join our new commenting forum
Join thought-provoking conversations, follow other Independent readers and see their replies