NHS staff suffer pay cuts in real terms as salaries rise by one per cent
Pay increase, which comes into force from 1 April, called 'derisory' by unions
Katie Forster
Tuesday 28 March 2017 15:05 Comments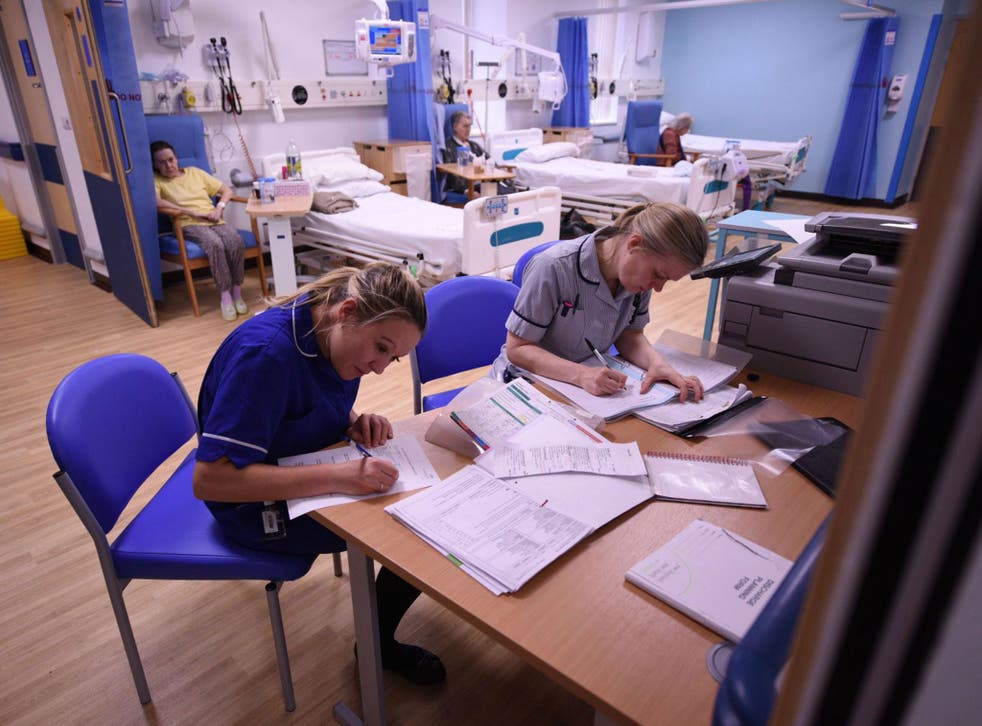 NHS staff are to receive a pay rise of one per cent, the Government has confirmed – however this amounts to a pay cut in real terms, as inflation is at 2.3 per cent.
The rise, which unions have called "derisory", will apply from 1 April for all health workers including doctors, dentists, nurses and midwives as well as porters and cleaning staff.
A report on NHS pay delivered to Parliament today said the change was being made in the context of "significant affordability pressures facing the NHS across the UK".
"Increasing demand for healthcare [is] being accommodated within budgets that are broadly flat in real terms," it said.
Midwives have seen their pay drop in value by over £6,000 since 2010 due to below-inflation increases, according to the Royal College of Midwives, who said low pay was contributing to a midwife shortage.
And the Royal College of Nurses, calling the decision a "bitter blow" to nursing staff, said it would also deter people from becoming nurses at a time when record numbers were quitting, especially nurses from the EU.
"This deal amounts to less than five pounds a week for most midwives, nurses, cleaners, paramedics, radiographers and other healthcare staff," said Christina McAnea, NHS spokesperson for Unison.
"It's a derisory amount in the face of soaring fuel bills, rising food prices and increasing transport costs."
Everyone the Government blames for the NHS crisis – except themselves

Show all 6
The Government said it had accepted recommendations from Pay Review Bodies (PRB) for increases in the coming year.
But Rehana Azam, of the GMB union, called the decision "miserly and cruel".
"Public sector workers desperately need a real pay rise, not the miserly and cruel decision being imposed on them by the Government," she said.
"Dedicated professionals are hurting and the quality of services is deteriorating for everyone else.
"Theresa May talks about helping those who are 'just about managing', but it's clear that she doesn't include over five million public sector workers.
"Imposing a 1 per cent settlement is an insult to our selfless NHS staff and other public sector workers - who keep us safe day in, day out."
Dave Prentis, general secretary of Unison, added that "endless pay freezes and wage caps" have left NHS staff feeling "taken for granted".
Jon Skewes, of the Royal College of Midwives, said: "It is extremely disappointing that the Government is continuing with its disastrous policy of pay restraint for a seventh year.
"While we welcome that both the Scottish and Welsh Governments will give a slightly higher award to lower paid staff, we want to see an inflationary increase given to all staff.
"As a result of below-inflation increases for the past seven years, midwives have seen their pay drop in value by over £6,000 since 2010. It is unsustainable for this to continue."
Philip Hammond claims the Tories are 'the party of the NHS' during Budget 2017
Janet Davies, Chief Executive and General Secretary of the RCN, said: "This deals a bitter blow to nursing staff across England. The nursing profession is rightly held in high regard but kind words don't pay the bills.
"With this announcement, the Government will deter new people from joining the nursing profession at the very moment it is failing to retain staff and European colleagues in particular head for the door.
"It amounts to another real-terms cut to pay packets – the Government is still refusing to keep nursing wages in line with inflation. The Government has already cut nursing pay by 14 per cent in real-terms – leaving too many struggling and turning to foodbanks and hardship grants.
"Many nurses rely on working extra hours for the NHS as agency staff but, from next week, they will be forced to work through a 'bank' and accept lower rates of pay than they get in their normal NHS job.
"We do not support this agency ban – nurses should not work for less than they are worth and they have a right to work in whatever way is best for them."
Register for free to continue reading
Registration is a free and easy way to support our truly independent journalism
By registering, you will also enjoy limited access to Premium articles, exclusive newsletters, commenting, and virtual events with our leading journalists
Already have an account? sign in
Join our new commenting forum
Join thought-provoking conversations, follow other Independent readers and see their replies