Nicola Sturgeon pulls out of BBC-hosted Steve Bannon event
Giving controversial figure a platform could normalise 'far right, racist views,' warns Scotland's political leader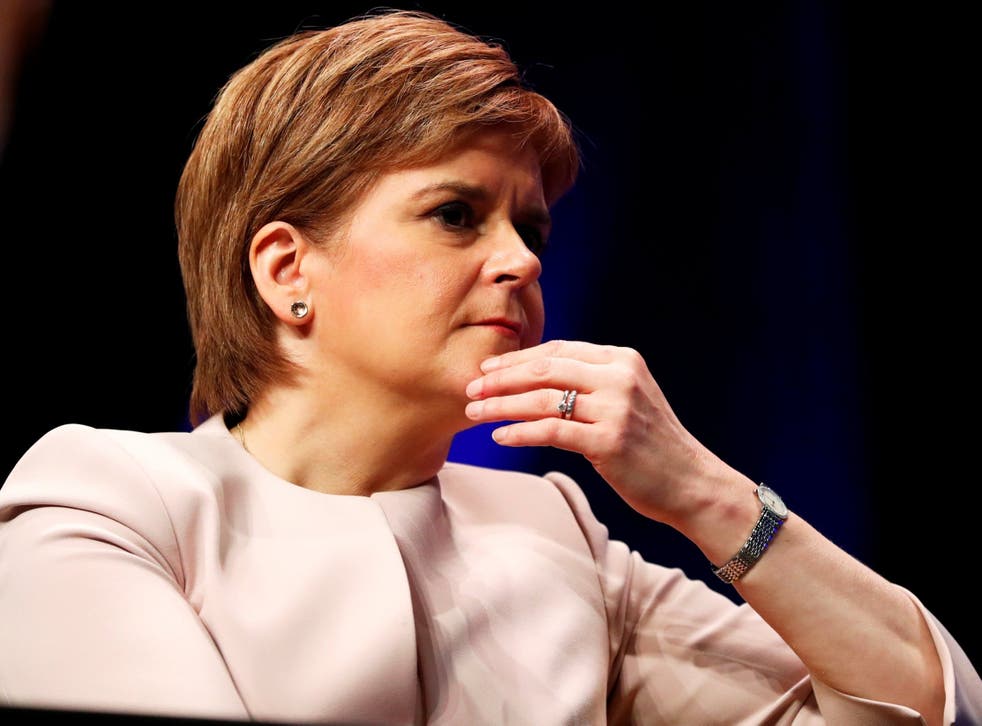 Scotland's first minister Nicola Sturgeon has been widely praised for refusing to take part in a BBC-hosted event after learning former White House strategist Steve Bannon was set to speak at the conference.
Nicola Sturgeon was scheduled to attend News Xchange 2018 in Edinburgh next month, but said she "would not be part of any process that risks legitimising or normalising far right, racist views".
Mr Bannon, who worked on Donald Trump's election campaign, has championed far-right nationalist parties across Europe since exiting the White House in August 2017.
He has been a strong supporter of English Defence League (EDL) founder Tommy Robinson and told activists for France's National Front to wear the label "racist" as a "badge of honour".
Ms Sturgeon tweeted: "The email the BBC sent to my office justifying Bannon's inclusion described him as a 'powerful and influential figure ... promoting an anti-elite movement.'
"This kind of language to describe views that many would describe as fascist does seem to me to run the risk of normalisation."
The SNP leader added: "I believe passionately in free speech but as Scotland's first minister I have to make balanced judgements – and I will not be part of any process that risks legitimising or normalising far right, racist views."
Support free-thinking journalism and attend Independent events
Patrick Harvie, co-convenor of the Scottish Green Party, said Ms Sturgeon was right to criticise the BBC for giving "extremists" like Mr Bannon a platform.
Mr Harvie said: "When the rise of fascism threatens so many people across the world, there must be a clear line drawn between democratic politics and extremism and the BBC must recognise that line."
The journalist and author Paul Mason, who used to work on BBC's Newsnight programme, also applauded the first minister's decision. He said the BBC was "the worst broadcaster in the UK on basic antifascism".
Organisers said Mr Bannon would still be attending the event in Scotland next month. He is scheduled to be interviewed by BBC's Sarah Smith at the News Xchange event.
BBC News and BBC Scotland are listed as host partners of the event at Edinburgh International Conference Centre from 14 to 15 November. Ms Sturgeon is believed to have been scheduled to speak at the opening reception on 13 November.
UK news in pictures

Show all 50
A spokesperson for the event organisers described Mr Bannon as "a key influencer in the rise of populism – one of the dominant political trends of our times".
"He has been invited to speak at News Xchange this year because his views are relevant to today's society at large and therefore to the media industry," the organisers said in a statement.
"We also consider it our journalistic responsibility to share and scrutinise a range of relevant viewpoints within the framework of a balanced debate."
A BBC spokeswoman said Mr Bannon was invited on behalf of the European Broadcasting Union's News Xchange committee.
"Journalism is about asking tough questions and understanding what is happening in the world and why. A conference designed to analyse the big issues impacting that world isn't an endorsement of anyone or anything – it is a function of what journalism is."
Register for free to continue reading
Registration is a free and easy way to support our truly independent journalism
By registering, you will also enjoy limited access to Premium articles, exclusive newsletters, commenting, and virtual events with our leading journalists
Already have an account? sign in
Register for free to continue reading
Registration is a free and easy way to support our truly independent journalism
By registering, you will also enjoy limited access to Premium articles, exclusive newsletters, commenting, and virtual events with our leading journalists
Already have an account? sign in
Join our new commenting forum
Join thought-provoking conversations, follow other Independent readers and see their replies