North Korea uses fake weapons in military parades, claims defence expert
Guns used in Day of the Sun festivities are 'laughable', according to former US military officer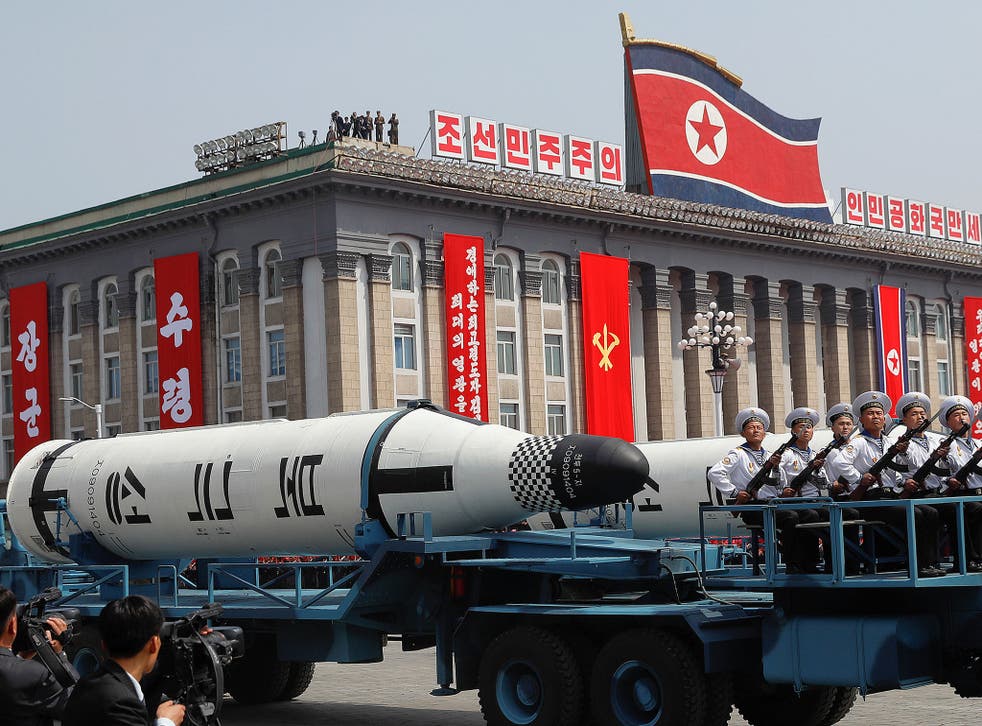 Most of the weapons carried by North Korean soldiers in a recent military parade were fake, a US defence expert has claimed.
Michael Pregend, a former intelligence officer, told Fox News that the the replicas were "laughable" after he examined pictures taken in Pyongyang last month.
Much of the equipment was unfit for combat situations, he said, adding: "This was more about sending a message than being combat effective".
What appeared to be AK-47 assault rifles with attached grenade-launchers were really 'helical magazines', a rifle notorious for jamming, he said.
In pictures: North Korea marks the Day of the Sun

Show all 16
Even the sunglasses worn by soldiers were not fit for purpose, he added.
"Military glasses are wraparound and would also protect your eyes," he said, adding that the glasses worn by the North Korean soldiers were a flat-face frame.
The pictures were taken during North Korea's biggest public Holiday, the Day of the Sun, which commemorates the birthday of Kim Il-sung, the founder of the secretive Communist state.
In celebration of the 105th anniversary of his birth, his grandson Kim Jong-Un unveiled what appeared to be new long-range missiles.
However, other weapons experts were less confident that North Korean weapons were dummies.
David S Maxwell, a retired US army special forces colonel who served in Korea and Japan, told The Independent that the parade was "a show but most of the equipment shown historically has not been fake."
He added: "Most of the time they show things still being developed and tested."
North Korea releases footage of simulated White House attack
Shannon Kile, a nuclear specialist at the Stockholm International Peace Research Institute (SIPRI) also said it was probably going to far to say they weapons were all fake, "but we shouldn't rule it out."
He said: "It is possible that the North Koreans are hoodwinking us. We don't know that these are actual operational systems. We've been deceived in the past by what turned out to be missile mock-ups."
"Sometimes they change how they're painted or how they're held on the trucks and it makes it difficult to see what's happening."
Join our new commenting forum
Join thought-provoking conversations, follow other Independent readers and see their replies