Admiral Sir William O'Brien: Naval officer who served at D-Day and in the Arctic convoys, and saw action during the Suez crisis
O'Brien became Captain of the aircraft carrier HMS Hermes and on exercises with the US Navy became convinced that carrier commanders should have knowledge of anti-submarine warfare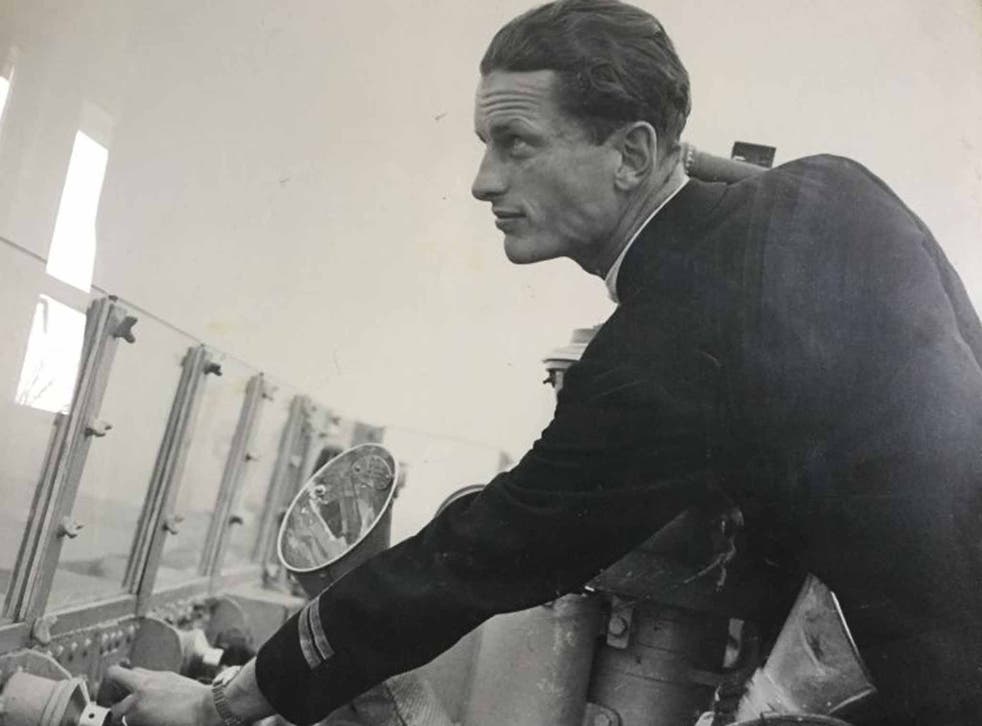 In May 1940 Lieutenant William O'Brien of the Royal Navy, destined to be C-in-C Western Fleet and Vice-Admiral of the United Kingdom, found that his ship was France's Maginot Line and his ocean, the River Rhine. This "very curious naval operation", based on land in the days before France fell, was Operation Royal Marine – the laying of floating river-mines, a ploy enthusiastically espoused by Winston Churchill with the aim of disrupting German river traffic.
O'Brien was put in charge of a train loaded with 6,000 mines, which travelled from Fécamp in Normandy to Alsace, where the designer of the mines, Rear Admiral John Penrose Fitzgerald, and his colleague, Commander (later Rear Admiral) Roger Wellby, leading the British Naval Expeditionary Force, shared a command post inside the Maginot fortifications with the French 23e Regiment d'Infanterie de Forteresse at Soufflenheim.
The job, delayed by more than two months by opposition from the French government and General Staff, who feared reprisals, or the mines going off in Dutch waters, began only on the day the Germans invaded, 10 May 1940. O'Brien and his men rowed or waded out under sniper fire or wriggled on their stomachs with bullets pinging off trees around them, to get the spherical mines, each containing up to 25lb of TNT, into the fastest-flowing part of the river. There was disruption, and a bridge burned down when a mine blew up a tanker that was crossing it, but, O'Brien acknowledged, these successes were " a pinprick".
As German aircraft strafed fleeing refugees and roads and railways grew gridlocked, the British naval contingent, ordered west, made a last-ditch effort on the Sein at a contested bend near the town of Dreux, north of Le Mans, by throwing mines over a 30ft weir. From Le Mans they escaped to St Malo, where they commandeered the destroyer Cutty Sark – in peacetime the Duke of Westminster's private yacht – and sailed to Southampton.
When war had broken out O'Brien had already had five years' seagoing experience since passing out from Britannia Royal Naval College Dartmouth in 1933, including time as a junior officer in the destroyer HMS Garland, which made prisoner exchanges during the Spanish Civil War. He had grown up in Kent, his father killed in the First World War six months before his birth; his mother was Maltese. He had two brothers and a sister, and before going to Dartmouth attended a Catholic preparatory school in Eastbourne. He would marry another Maltese girl, Rita Micallef; they fell in love on renewing old acquaintance after she was widowed with a small daughter by the sinking of the carrier HMS Glorious in 1940.
O'Brien was awarded the DSC in 1942, having served in the Arctic convoys to Murmansk, including the ill-fated PQ17 that July, whose escort was ordered to scatter for fear of German attack. Of 35 ships, U-boats and aircraft sank 24. O'Brien was in the destroyer HMS Offa. He was given command of the destroyer HMS Cottesmore in 1943, a few months before his wedding at the Brompton Oratory. The couple had another daughter and a son, their marriage lasting until Rita's death in 2012.
HMS Cottesmore took part in D-Day, setting off from England at 1am to accompany minesweepers to Gold Beach in Normandy. She fired her 4in guns from 3,000 yards with the aim of breaking up the beach wall to let tanks through. Going closer in, she took out an enemy 88mm gun enfilading the beach.
In November 1944 O'Brien was posted to India, to assist in planning the recapture from the Japanese of Akyab – now Sittwe – in Burma. The occupiers abandoned it, however, on surrendering in August 1945, O'Brien witnessing the ceremony at which Japanese officers gave up their swords on the Padang at Singapore.
He returned to command the navy training college at HMS Royal Arthur, Corsham, Wiltshire, sharing an office with his Lieutenant, the future Prince Philip, whose wedding to Princess Elizabeth in 1947 he attended.
O'Brien's next ship, in the Mediterranean, was the destroyer HMS Venus, and he was promoted Commander in 1949, for the next two years serving on the Admiral's Staff in Malta. He was selected to attend the RAF College at Camberley in 1951, then joined the light cruiser HMS Ceylon at Karachi as executive officer .
Two years followed at the Admiralty in London as Appointments Commander, a job he was suited to: "People were my interest," he recalled. He was made Captain in 1955 and became Captain (D) of the 8th Destroyer Squadron in HMS Cheviot, based in Singapore.
In November 1956, as Chief Staff Officer to Admiral Sir Deric Holland-Martin, Flag Officer Flotillas, Mediterranean, based on Malta, O'Brien was in HMS Nigeria off Port Said during the Suez bombardment in November 1956. "I hated the whole operation" he said. "I thought at the time it was wrong... At the beginning I thought we had some excuse to go in, but we didn't go in quickly."
He recalled that the Commander-in-Chief, Mediterranean Station, at the time, Admiral Sir Guy Grantham, told him later he had had officially no idea where his fleet was sailing to when it left Malta – "he knew, but officially not, such was the secrecy, and the planning kept away from him. It wasn't good at all, any of it."
In 1961 O'Brien became Captain of the aircraft carrier HMS Hermes, and on exercises with the US Navy became convinced that carrier commanders should have knowledge of anti-submarine warfare. He was promoted Rear-Admiral in 1964, and was Naval Secretary until 1966. Appointed Flag Officer, Carriers, that year, in charge of Britain's five aircraft-carriers, he had to use them to mount the Beira Patrol, a blockade on oil imports by Rhodesia through the port of Beira in Mozambique.
As the third-last Commander, from 1967 until 1969, of the Far East Fleet – it would end in 1971 – O'Brien oversaw the run-down of the naval base at Singapore. He was raised to full Admiral in 1969, and took up his last posting, Commander in Chief Western Fleet, in 1970, retiring the following year. He was Vice-Admiral of the United Kingdom and Lieutenant of the Admiralty between 1984 and 1986. In retirement he also served as Chairman of the Kennet and Avon Canal Trust.
William Donough O'Brien, naval officer: born Faversham, Kent 13 November 1916; DSC 1942, CB 1966, KCB 1969; married 1943 Rita Micallef (died 2012, two daughters, one son); died 19 February 2016.
Join our new commenting forum
Join thought-provoking conversations, follow other Independent readers and see their replies