Adolfo Suarez: Spain's first democratically elected Prime Minister who oversaw the transition from the country's Franco years
Alasdair Fotheringham
Monday 24 March 2014 14:05 Comments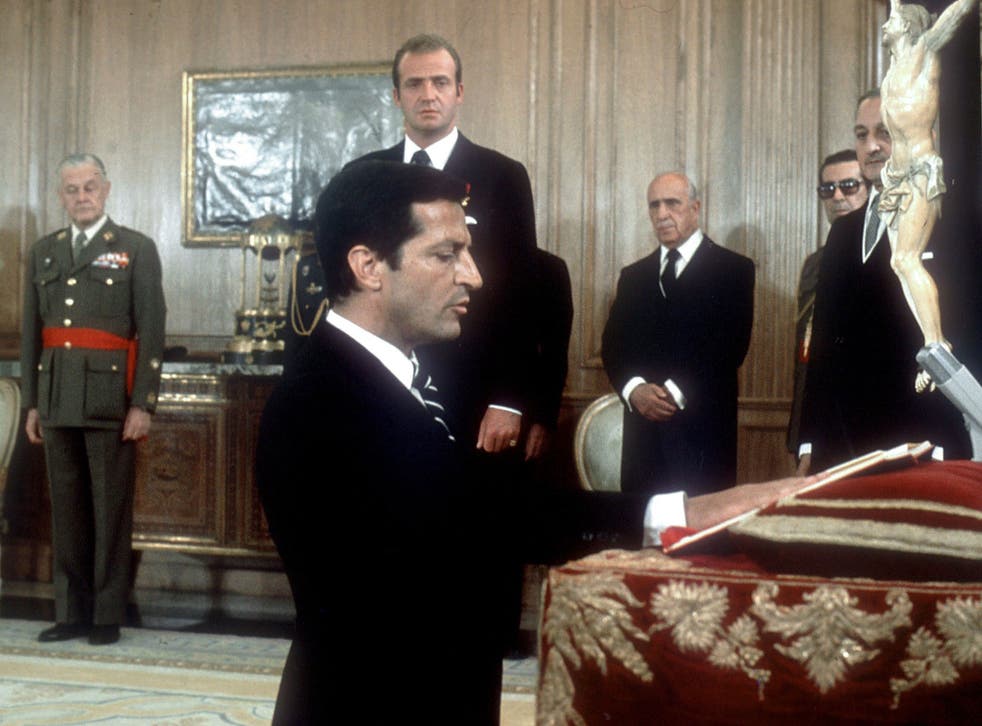 When Adolfo Suarez resigned as Prime Minister of Spain in January 1981 after five years in office he pointed out in his farewell speech that no other person in the previous 150 years had democratically ruled Spain for so long. But considerable though that achievement was, others – such as being the co-founder of modern Spanish democracy itself – were more important.
Suarez masterminded Spain's first democratic elections in nearly 50 years, legalised the Communist Party and oversaw the creation of the 1978 Constitution, one of the longest-lasting in the country's history. In the process known as la transición [the transition], Spain's political life mutated from a semi-military dictatorship to fully-fledged democracy.
Used as a model by a number of Eastern bloc countries following the fall of the Berlin Wall, some would say la transición's greatest failing was, and perhaps remains, the 1976 Law of Amnesty, which indirectly allowed crimes committed by members of Franco's regime to remain uninvestigated. But much of the credit for what was an overwhelmingly and surprisingly peaceful change of political system in Spain has to go to Súarez. He was described as he was dying by his former press officer, Santiago Gonzalez, as "probably the most important politician we've had in recent times."
Suarez was born in Cebreros, a small town in Avila, and graduated in law in 1954. He became secretary to the governor of Avila, Herrero Tejedor, and when Tejedor was made vice-secretary of the Movimiento – the dictatorship's one permitted political party – in 1961, Suarez became his chef de cabinet. In 1968 he became governor of Segovia and the following year director-general of the TVE television network; his inside knowledge of the workings of the Spanish media was to be invaluable.
After Franco's death in November 1975, the paradox faced by those in favour of reform – most notably King Juan Carlos – was that Franco had left so many political checks and balances in place that only someone steeped in the culture of a decades-old dictatorship apparatus would be able to oversee the changes necessary to bring about democracy.
Speed and a cool head were needed. Rising pressure from the still-illegal political opposition for an all-out ruptura, or break with the past, looked set to lead to a vicious circle of violence, repression and authoritarianism in the worst style of Latin American dictatorships. Nobody wanted another Civil War but it seemed impossible to rule out.
For the King room for maneouvre was limited. Thanks to Franco's laws he could only choose a prime minister from a list presented by the Council of the Realm containing 17 diehard Francoists. Following seven months of fumbling by Franco's final choice of prime minister, Carlos Arias Navarro, the King's selection of Suarez as Spain's next premier, in July 1976, was greeted with bafflement and dismay by the reformists. That Suarez was the youngest member of the outgoing Cabinet at 43 hardly seemed relevant: his 15 years close to the leadership of El Movimiento made him seem just another of Franco's faithful followers.
Instead Suarez began to move in a wholly unexpected direction. With lightning speed and deftness he began to dismantle Franco's authoritarian legacy. Three months after being sworn in he presented a bill that permitted universal suffrage and a new, two-chamber parliament. It passed by a huge majority, 425 votes to 59, and a month later was endorsed in a referendum, with 94.2 per cent voting in favour.
Both Francoists and the opposition parties were on the back foot, and he exploited that to ensure that the next series of reforms came even faster. Between February and April 1977 the Socialists and Communists were legalised, trade unions and their right to strike were recognised and the Movimiento abolished. Then on 15 June, in the first free elections since 1936, Suarez became the country's first democratically elected Prime Minister, at the head of a new centrist political party, the UCD.
Suarez oversaw the creation of a new Constitution to consolidate his reforms. It recognised Spain as a constitutional monarchy, abolished the death penalty and ensured that there was no official state religion. Finally, in a clear attempt to reduce separatist tensions which had partly underpinned the 1936-39 Civil War, the potential power of regional governments, or so-called autonomous communities, was increased.
The consitution was endorsed in a second referendum in December 1978, and the following year Suarez was re-elected. But his second term, as the Autonomous Communities – 17 of them, each with their own flag, capital and government – gained in strength, the traditional institutions, particularly the army, made increasingly vocal protests against what they viewed as the country's dismemberment. The UCD became increasingly fractured over questions such as the introduction of a divorce law – which Suarez favoured – and when the King appeared to withdraw his support, he quit.
Shortly after Suarez's resignation on 23 February 1981 an attempted coup saw most of Spain's top politicians held hostage overnight in parliament by a machine gun-wielding Guardia Civil officer, Antonio Tejero, and his troops. Although the coup failed, the UCD's role overseeing democratisation was clearly drawing to an end, and Suarez's importance with it.
Suarez' great strength during the transition – and what made him the ideal nexus between different political forces for one of the most dramatic changes of direction of any European country in the late 20th century – was that although he was convinced that democracy was preferable to dictatorship, he had few political axes to grind. But as soon as democracy was established and with no clear manifesto, he was arguably no longer needed as a catalyst.
In the 1982 elections the Socialists under Felipe Gonzalez swept into power while Suarez's breakaway party for the UCD, the CDS, gained just two seats. He remained in parliament for another nine years then quit for good in 1991. He had been suffering from Alzheimer's since 2003, and had been in hospital for a week pneumonia. His family said he had long forgotten that he was Prime Minister, but memories of what he achieved and his huge political legacy will take far longer to disappear.
Adolfo Suarez, politician: born Cebreros, Spain 25 September 1932; married 1961 Maria Amparo Illiana (five children); died Madrid 23 March 2014.2014.
Register for free to continue reading
Registration is a free and easy way to support our truly independent journalism
By registering, you will also enjoy limited access to Premium articles, exclusive newsletters, commenting, and virtual events with our leading journalists
Already have an account? sign in
Join our new commenting forum
Join thought-provoking conversations, follow other Independent readers and see their replies