Aharon Appelfeld remembered: Israeli novelist hailed by Philip Roth as 'fiction's foremost chronicler of the Holocaust'
Where novelists dramatise reality, Appelfeld's experiences as a teenager escaping the Nazis meant he had to show restraint: 'If I remained true to the facts, no one would believe me'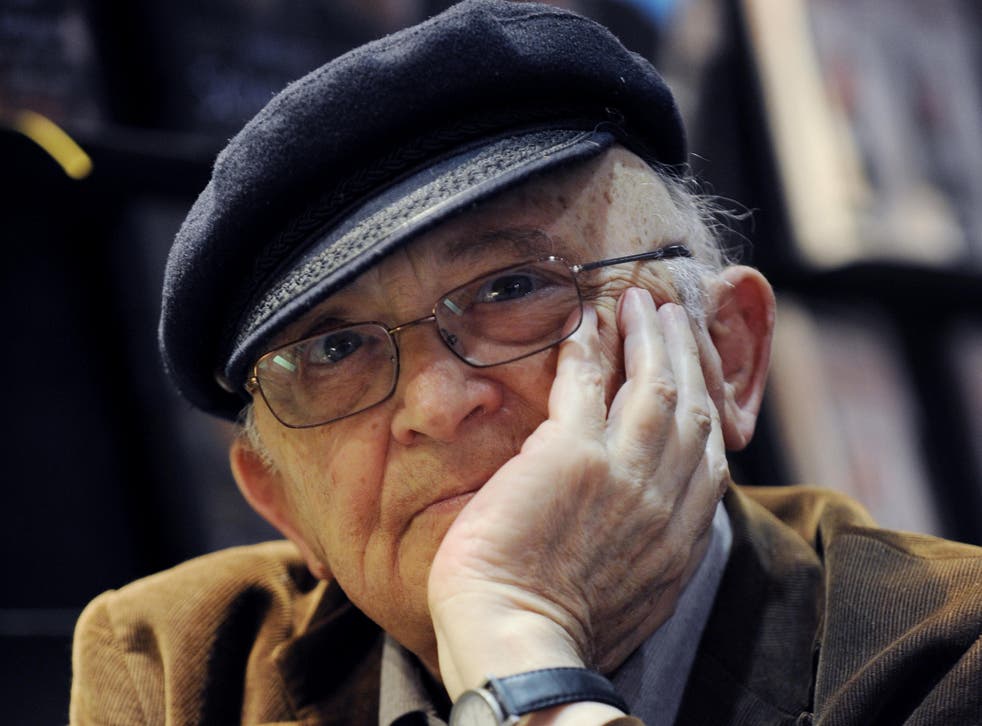 "In the forest a group of criminals adopted me," Aharon Appelfeld told The Independent in 2012. "So I was living for two years with this group of Ukrainian criminals. They didn't know that I was Jewish. I was a poor animal, a poor slave, doing what they ordered me to do."
By the time he was 14, Appelfeld had leapt out of a window to escape Nazi bullets, found refuge with a sex worker and was "adopted" by that gang. He later drew on his childhood experiences to craft lean, dreamlike novels that made him one of Israel's most acclaimed writers.
​Appelfeld, who has died aged 85, was born into a wealthy Jewish family in Romania and wrote more than 40 books in Hebrew, a language he taught himself by copying out parts of the Bible as a teenager in the Israeli army.
"It was a struggle to gain the language," he told the Independent. "I used the dictionary, and I copied out parts of the Bible... I started with Genesis, and I went from chapter to chapter, book to book... I wanted to affiliate myself to the Hebrew language".
Speaking to Boyd Tonkin, The Independent's former books editor, he described what prompted him to take to storytelling. "It was the middle of the 1950s. I was alone, in the fields of the Judaean Hills. I thought, is this my landscape? Is this my language? This was a moment of despair."
Nearly all his novels, stories and essays concerned the Holocaust, although Appelfeld preferred to say that his focus was far broader: Jewish loneliness, immigration and (as he once joked to The New York Times) "trivialities" – the depiction of "small, ordinary, unheroic people".
Unlike Primo Levi or Elie Wiesel, fellow chroniclers of the Holocaust, Appelfeld rarely ventured into historical analysis or first-person anecdote. Instead, the murder of six million European Jews hung ominously in the background of his books, addressed obliquely through the presence of dirtied trains, curls of smoke and characters with disabilities or missing limbs.
"The reality of the Holocaust surpassed any imagination," Appelfeld told novelist and admirer Philip Roth in a 1988 interview, explaining why he had not yet written a memoir about his experiences. "If I remained true to the facts, no one would believe me."
Appelfeld did eventually write his memoir – The Story of a Life was translated into English in 2004 – but he had already drawn from memory in novellas such as Tzili (1982), about a Jewish girl who is left to fend for herself after German forces invade her hometown, and Badenheim 1939, which introduced him to Western readers when it was translated into English in 1980, two years after its original publication.
Considered a classic of Holocaust literature, the book depicted a Jewish resort near Vienna at the onset of World War Two. Nazis are not mentioned by name, but Appelfeld's idyllic, bourgeois world is slowly turned into a nightmare, as the town's Jewish residents are forced to register in a "Golden Book," barred from leaving the community and then, at the novella's close, ushered onto "four filthy freight cars" without realising their final destination.
"If the coaches are so dirty," one character says, "it must mean that we have not far to go."
American critics embraced the book, with New York Times reviewer Irving Howe praising Badenheim as a "minor masterpiece," and the novella appeared to mark a turning point for Appelfeld even in Israel, where in the 1960s his earliest works had been dismissed or ignored.
Appelfeld received many of his country's highest literary honours, but Israeli critics had initially urged him to become more political, to write about Zionism rather than focusing more broadly on Judaism. Better yet, some said, he ought to avoid the Holocaust altogether and look forward rather than back.
"Everywhere the slogan was 'Forget'," Appelfeld once told Israel's Haaretz newspaper, "but I wanted to remember. To be close to people who went through experiences similar to mine. Even later on, I did not want Israeli 'localism'. I wanted to be me. A stubborn child."
Ervin Appelfeld was born in a village near Czernowitz, Romania (now part of Ukraine). The son of a mill owner, he spoke German as a child and picked up bits of Ukrainian, Russian, Yiddish and Romanian, encountering the Hebrew alphabet through grandparents who maintained a synagogue on their farm.
"My parents thought of themselves as Europeans, not particularly Jewish. But my grandparents were very observant Jews," he told The Independent. He recalled their farm in the Carpathians and the synagogue there: "My grandfather used to show me his prayer book. It was miraculous for me, to see the Hebrew letters ... It was magical for me to see people coming to the little wooden synagogue and praying."
It was there, sick with the mumps, aged nine, that Ervin heard the gunshots that killed his mother and grandmother. The Soviets had annexed the surrounding region of Bukovina the previous year, and allied German and Romanian forces had come to retake it, slaughtering many of the region's Jewish residents in the process.
In Appelfeld's telling, the Nazi gunfire led him to jump out of a window of his grandparents' home. Landing in a cornfield, he soon connected with his father and fled to Czernowitz, where they stayed in the Jewish ghetto before being taken east to forced-labour camps in Transnistria.
Ervin and his father were separated, and Appelfeld said that he soon managed to escape from the camp, fleeing into the Ukrainian forest. He was adopted by a group of Ukrainian criminals – he said they treated him like a slave but, not knowing he was Jewish, kept him alive – and went on to find refuge with a village prostitute, an experience that he fictionalised in his novel Blooms of Darkness (2006).
"She was a very capricious person, and I could never trust her fully," he told The Independent. "I left because, one night, one of her clients said to me: 'What are you doing here, bloody Jew?'"
He went on to work as a cook for the Soviet army and eventually made his way from Romania to Italy, travelling to Palestine in 1946.
There, Appelfeld was given a new name: Aharon. He didn't like the name, he later told The Paris Review, but "became used to it" and kept the moniker Ervin (sometimes spelled Erwin) alive by giving it to several of his books' characters.
Appelfeld worked on kibbutz after serving in the Israeli military during the country's war of independence – also known as the Palestine war – and studied at the Hebrew University of Jerusalem. He received a master's degree in Hebrew and Yiddish literature, according to Haaretz, and later became a Hebrew literature professor at Ben-Gurion University of the Negev.
Around 1960, shortly before he published his first story collections, he discovered his father's name on a list of Holocaust survivors, and found him working at an orchard in Israel. They maintained a difficult relationship for two decades until his father's death, Appelfeld said. "After losing me when I was a child he continued to treat me as a child all his life," he told Haaretz.
Survivors include his wife of more than 50 years, Judith Appelfeld, an Argentine immigrant with whom he lived in Givatayim, Israel; three children, Meir Appelfeld, Yitzak Appelfeld and Batya Appelfeld, all of Givatayim; and three grandchildren.
For decades, Appelfeld worked mainly in Jerusalem cafes, scrawling notes on napkins and loose-leaf pages that he later stashed in drawers. Like wine, he allowed the writing to age, and after several years would pull out his manuscripts and prepare them for publication.
Writing, he said, proved a stabilising force in his life, giving literal shape to his memories and to the family members he had lost as a boy. "I had nothing," after arriving in Israel, he told the The Paris Review, recalling a pivotal day when he wrote down the names of his family members and scrawled a simple declaratory sentence: "I was born in Czernowitz and my mother was killed."
"This list gave me a ground I understood," he continued. "I was not alone. I still had my family. They exist in me. I made myself a family on paper. I wrote it down, and they became real.
"Most of the Hebrew writers were born in Israel. I'm actually the only one who adopted Hebrew as my language... my task was to combine the Hebrew language with my horrible experience."
Philp Roth has hailed him "fiction's foremost chronicler of the Holocaust" and praised his "profound understanding of loss, pain, cruelty and grief".
Ahararon Appelfeld, born 16 February 1932, died 4 January 2018
© The Washington Post
Join our new commenting forum
Join thought-provoking conversations, follow other Independent readers and see their replies