Alan Howard: Classical actor whose distinctive voice and mellifluous way with Shakespeare's language made him an icon at the RSC
Simon Farquhar
Friday 20 February 2015 19:36 Comments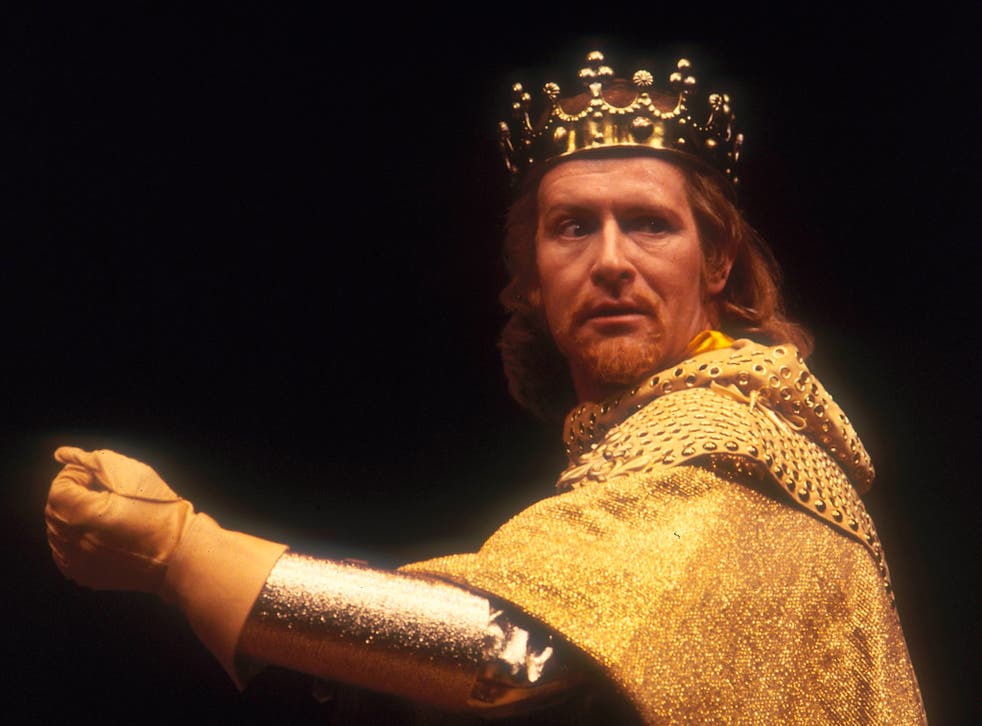 A classical actor in the heroic tradition, the knightly Alan Howard's sword and lance were his remarkable, multifarious voice and his lean, imposing stature.
He was one of a kingly breed of Shakespearean performers who ruled at Stratford through the Sixties and Seventies; indeed, his epic reign at the RSC sits at the centre of his life and career like an apple in a dumpling, a joyous coming together of all his talents in a marathon run of performances. By the end of his career he had played every British monarch in the Shakespearean canon except King John.
He spilled a sense of danger on to the stage in performances such as his feted, deific Coriolanus for the RSC in 1977, while always bringing with him a sense of continuity with an older, loftier type of player, which in classical performances made for a heady brew. This can surely be attributed to the wealth of theatrical blood he ran on. He was the son of comic actor Arthur Howard, his uncle was the Gone with the Wind star Leslie Howard – and his great-great grandfather had produced Henry Irving's plays at the Lyceum in the late 19th century.
His mother's side of the family boasted five generations of actors and producers, including his great-uncle, the novelist Sir Compton Mackenzie – whose house on the Isle of Barra, where Mackenzie had written Whisky Galore, Howard inherited and spent much of his time at between roles. It was a telling predilection: Howard loved, even demanded, open spaces in his work, and disapproved of passing fads for intimate, television-imitating stagings of Shakespeare.
The stage was where most of the significant moments of his career were played out. He had one surprising and gutsy conquest on the big-screen, as Helen Mirren's lover in Peter Greenaway's resplendent and shamelessly icky The Cook, The Thief, His Wife and Her Lover (1989), a part he took because after reading the script he was "shaking with horror and excitement".
Born in London in 1937, Howard was educated at Ardingly College in Haywards Heath, West Sussex, and after National Service in Germany, without any theatrical training, joined the Belgrade Theatre in Coventry. He began as a stage-hand, but after a performance in Arsenic and Old Lace (1959) the Leamington Spa Courier urged its readers to "keep an eye on Alan Howard. His expressions as the bewildered and horrified Mortimer Brewster are a wow!"
The Royal Court decided to road test Arnold Wesker's work in the provinces at the end of the Fifties, which gave Howard a glorious break. The Wesker Trilogy turned out to be the theatrical event of the year – and when it arrived triumphantly at the Court in 1959, half the cast came with it for its legendary run there, and then for its transfer to the Duke of York's.
In 1962 he joined Laurence Olivier's Chichester Festival Company, and followed this with a season at the Nottingham Playhouse, before joining the RSC in 1966. His debut performance there was as Orsino, and inevitably he bewitched the critics with his vocal prowess, in his opening speech "dealing out the syllables and showing a Renaissance delight in luxury and artifice" in The Spectator's opinion.
In a very different key, as the Duke's son, Lussurioso, in The Revenger's Tragedy, Plays and Players termed him "an airy, blond popinjay who does a brilliant job in steering clear both of caricature and self-congratulatory villainy". The dazzling run had begun: his Jacques in As You Like It (1967) prompted Ronald Bryden, writing in The Observer, to describe him as "a white-faced, haunted apparition of walking pain. He reminds you that the part is Shakespeare's signature to the play".
As Achilles in John Barton's production of Troilus and Cressida in 1969, Harold Hobson in The Sunday Times described him as "at least as grand as he is hateful. He towers balefully... the effect is tremendous."
Peter Brook's sparse, boxed-up A Midsummer Night's Dream (1970) saw him reclining with dignity on a swing; by contrast he was a valiant Henry V in 1975 for Terry Hands, the director he had the longest and richest partnership with. Peter Hall saw him as Prince Hal in both parts of Henry IV (1975), Hall's favourite play, and wrote in his diary that "the revelation was Alan Howard. The future beckons him to Leontes, Macbeth and Othello without any question whatsoever."
He found time for a revival of Milton's enchanting, Arcadian masque Comus at the University Theatre, Newcastle in 1976, but was back for a revival of John O'Keefe's 18th-century comedy Wild Oats (1976), clearly enjoying every minute of it as the hero, all dash and swagger. He followed this with a multi-award winning Coriolanus (1977-78), a performance thankfully preserved in 1984 for the BBC Television Shakespeare, Howard's voice by turns a scornful vibrato, and as relentless and frightening as a circular saw.
He came out of the RSC's badly-received Antony and Cleopatra (1978) well, and as a yobbish Richard III (1980), he was snakish, fast-speaking, almost gibbering but somehow always precise, dealing out the verse like a croupier.
He delved into television more in the Eighties, where his work was always solid, but also delivered one truly beautiful enterprise. The BBC play Poppyland (1985), by William Humble, was the wholehearted story of Victorian critic Clement Scott, who fell in love with an unspoilt corner of Norfolk and its unspoilt personification, played by Phoebe Nicholls. It's a film that needs no excuse, and has no successor.
His film career may have been paltry, but his powerful voice was prolific on radio – his readings of Christopher Logue's adaptation of The Iliad in 1981 were especially noteworthy.
Returning to the stage in 1992, he and Frances Barber made a terrific pairing as Higgins and Eliza in Pygmalion at the National. He made a devastating Lear at the Old Vic in 1997, and by now wheelchair-bound but spry as ever, was hilarious as Sir Peter Teazle in Sheridan's The School for Scandal (Barbican, 2011).
He was once asked to choose a favourite role, and replied, "I always like best the part I'm playing now. That makes me forget what I liked about other parts." Anyone privileged enough to witness him on stage probably never found forgetting so easy.
Alan Mackenzie Howard, actor: born London 5 August 1937; married firstly Stephanie Hinchcliffe Davies (divorced 1976), 2004 Sally Beauman (one son); died London 14 February 2015.
Register for free to continue reading
Registration is a free and easy way to support our truly independent journalism
By registering, you will also enjoy limited access to Premium articles, exclusive newsletters, commenting, and virtual events with our leading journalists
Already have an account? sign in
Join our new commenting forum
Join thought-provoking conversations, follow other Independent readers and see their replies