Alan Oakman: England first-class cricketer who helped beat Australia at Old Trafford in the Fifties
He was at his best on hard wickets against medium or fast-medium bowling when, using his immense reach, he would unleash a stream of majestic drives
Kenneth Shenton
Thursday 11 October 2018 13:37 Comments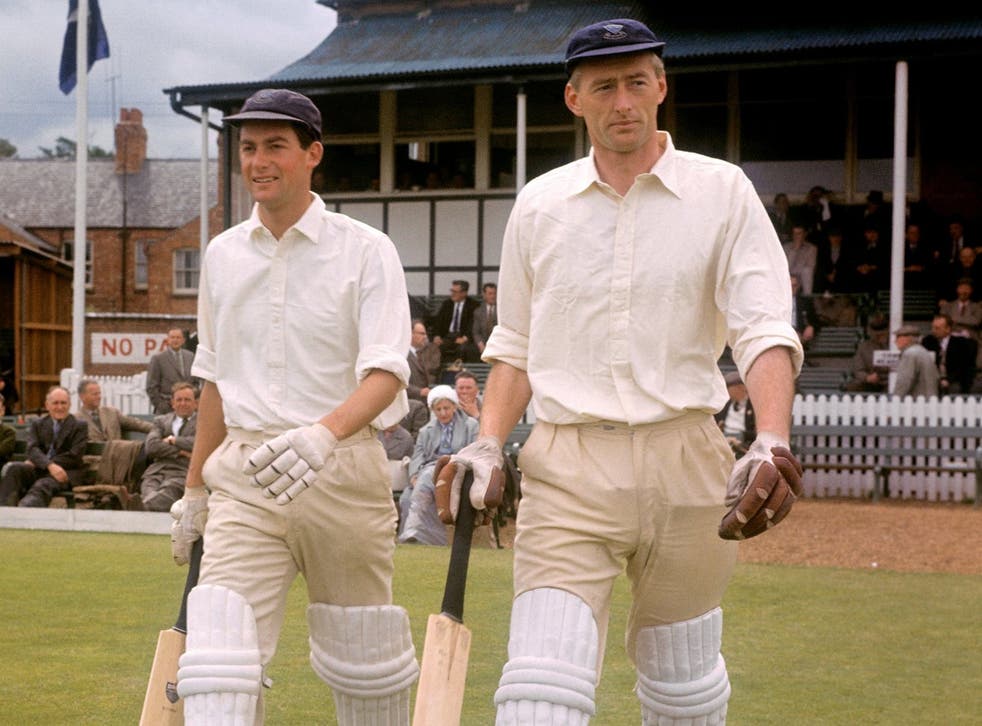 The cricketer, Alan Oakman, who has died aged 88, was the last surviving member of the England Test team that so decisively beat Australia at Old Trafford in July 1956. Famously losing by an innings and 170 runs, the tourists were totally torn apart by the flight and spin of Jim Laker, whose talents brought him 19 wickets in the match.
Five of those wickets were catches taken by Alan Oakman, fielding, as usual, close to the wicket, in this case at short square leg. Laker himself was never in any doubt that Oakman's expertise contributed greatly to his record-breaking success.
Born in Hastings and educated at the local grammar school, Alan Stanley Myles Oakman first had a trial with Sussex, aged 16, in September, 1946. Joining the county six months later, he made his first-class debut at Wantage Road in May 1947 as Sussex beat Northants by nine wickets.
Throughout the next 21 years he became an integral part of the team. In the meantime, serving in the Grenadier Guards during his national service, he won representative honours with both the army and Combined Services. Winters were spent in goal for Hastings Town in the Southern League.
Exceptionally tall and gangling, 6ft 6in, and with a lazy, loping walk, the fair-haired Oakman was a right-handed attacking middle order or opening batsman, off-spin bowler, occasional captain and outstanding close-to-the-wicket fielder, whether in the slips, gully or short leg.
He was at his best on hard wickets against medium or fast-medium bowling when, using his immense reach, he would unleash a stream of majestic drives. Initially signed as an off-spinner with batting ability, his height meant that he was always capable of extracting that little bit of extra bounce from the wicket.
Capped in 1951, the following year Oakman topped 1,000 runs for the season for the first time. By now, seamlessly integrated into the middle order of a rapidly maturing side, he soon found himself propelled up the batting order, eventually forming prolific opening partnerships, first with Don Smith and later with Ken Suttle.
However, while both his batting and bowling initially prospered, the appointment of spinner Robin Marlar to succeed Hubert Doggart as Sussex captain from 1955 onwards meant that, during this period, Oakman's bowling would become a rather underused asset.
Among the five centuries he made during the early part of 1956 was a fine 178 against Glamorgan. An impressive 80 for MCC against the Australians saw him win his first England cap in the second Test at Headingley.
Initially replaced by David Sheppard for the next encounter at Old Trafford, with Tom Graveney still unfit, Oakman was swiftly recalled. Doing little with bat or ball, he was not retained, but instead was selected for the MCC's forthcoming winter tour of South Africa. Unfortunately a serious back injury meant he played little, not appearing the following season until the end of July.
His first double hundred, 229 not out, came against Nottinghamshire in 1961, the year he topped 2,000 runs for the season.
By now, with Ted Dexter as captain, he was again able to contribute more with the ball and, in 1963, topped the county's bowling averages. That year also he was a member of the Sussex side that won the inaugural Gillette Cup at Lord's, beating Worcestershire by 14 runs.
Proving highly effective with both bat and ball in all forms of the game, he made his final first-class appearance five years later as Sussex lost the Gillette Cup final to Warwickshire by 4 runs.
While totalling only 14 runs during his two Test appearances and taking no wickets with his bowling, a serious spinal injury and then a broken wrist undoubtedly ruled him out of further international recognition. In 538 appearances for Sussex, Oakman scored 21,800 runs, including 22 centuries, at an average of 26.71. Passing 1,000 runs for the season nine times, his highest score remained that 229 not out made against Notts at Shirebrook. While he paid five more visits to Nottinghamshire in later years, the runs never flowed either as freely or as sweetly as they did on that particular day.
As a bowler Oakman claimed 736 wickets at an average of 27.63, including a hat-trick at Hove against Glamorgan in 1952. That same year, despite a fine return of 7-97 against Leicestershire at Worthing, he found himself on the losing side.
Against Glamorgan at Eastbourne two years later, his best return of 7-39, did indeed bring a comfortable victory by an innings and 97 runs. Never less than a wholehearted and committed team player, he also had a remarkable 594 catches to his name. The seven he took against Glamorgan at Worthing in 1958 remains yet another individual Sussex record.
Having retired from playing, Oakman spent the 1969 season as a first-class umpire. Four years later he was famously called into action once again during the 1973 Edgbaston Test against the West Indies.
The appointed official, Arthur Fagg, initially refused to appear on the third morning of the match, upset by the reaction of the West Indies side, and particularly their captain, Rohan Kanhai, when he had earlier turned down an appeal for a caught behind against England opener Geoffrey Boycott. Oakman stood at square leg for one over before Fagg appeared to resume his role.
By then, having spent countless winters both playing and coaching in South Africa, Oakman had succeeded Tom Dollery as Warwickshire's chief coach. He also continued to play occasionally for both Warwickshire over-50s and Old England. Always innovative, he was an early enthusiast in the use of film to aid his work, in addition publishing two complementary handbooks, the invaluable Games For Cricket Coaching and How I Became A Cricketer. Subsequently changing roles to become the county's assistant secretary (cricket) in 1987, he stepped down 10 years later.
Alan Oakman, cricketer and coach, born 30 April 1930, died 6 September 2018
Register for free to continue reading
Registration is a free and easy way to support our truly independent journalism
By registering, you will also enjoy limited access to Premium articles, exclusive newsletters, commenting, and virtual events with our leading journalists
Already have an account? sign in
Join our new commenting forum
Join thought-provoking conversations, follow other Independent readers and see their replies