Alene B Duerk: Trailblazer who became the US Navy's first female rear admiral
She said checking released WWII PoWs for 'lice and diseases and taking requests for ice cream, scrambled eggs and ham' was 'probably the most exciting experience of my whole career'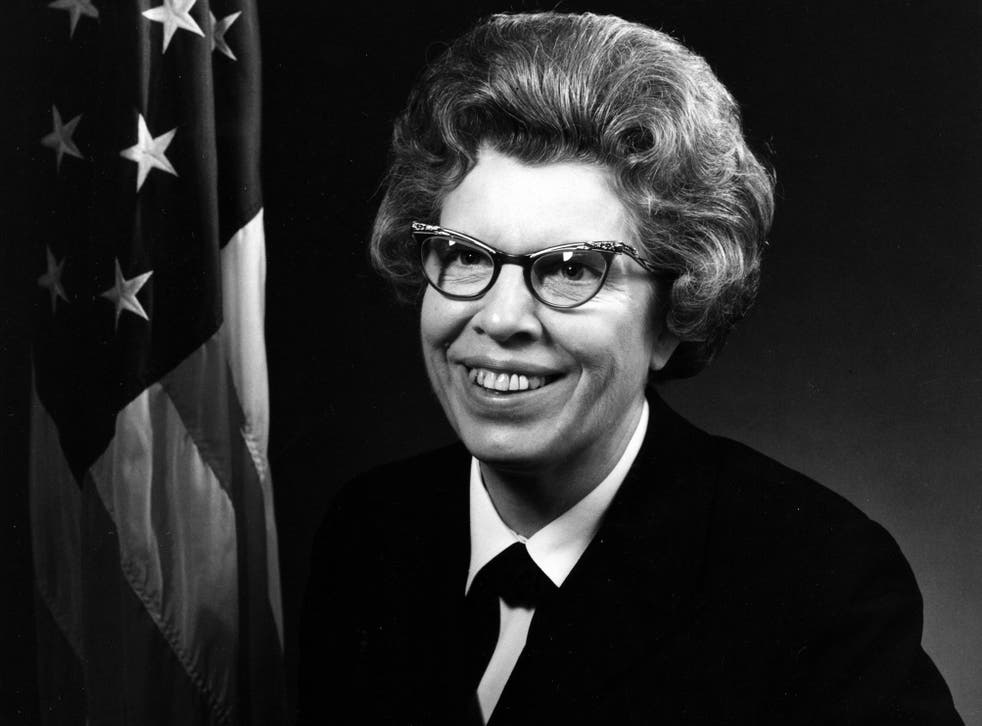 When Alene B Duerk left her job in a department store to enlist in the US navy nurse corps, at the height of Second World War, she envisioned a few months' service to her country followed by a swift return to civilian life.
Yet after treating scores of wounded sailors and prisoners of war, working alongside other smart, ambitious women in the corps, she found that the navy provided a sense of mission and camaraderie that she felt was missing from her workaday life back home in Toledo.
She went on to military career of nearly 30 years as a ward manager, surgical nurse, recruiter, educator and barrier-breaking administrator, serving in the early 1970s as the navy's top nurse and first female admiral.
Admiral Duerk, who died in Florida aged 98, oversaw a broad expansion of the nurse corps and came to represent the dawning of a new, more equitable era for women in the navy.
Duerk was promoted from captain to rear admiral on 1 June 1972, at a ceremony that culminated with Admiral Elmo Zumwalt, the reform-minded chief of naval operations, offering her a congratulatory kiss on the lips.
She would have been legally barred from the rank – the equivalent of an army major general – just five years earlier, under rules that blocked women from becoming general or flag officers in the armed forces. But those restrictions were removed under President Lyndon B Johnson, and in 1970, Anna Mae Hays, chief of the army nurse corps, became America's first female general.
With her promotion, Duerk became the de facto media spokesperson for women in the navy, including the 2,300 nurses in her charge as well as women in the supply corps and female enlistees known by their Second World War-era acronym, Waves: Women accepted for volunteer emergency services.
"Being the first of anything has its responsibilities," Duerk said in 1972. "I'm more than an officer. I'm a symbol, for women in the navy and the military. Women thinking of careers like mine can know that the ultimate is possible."
Her main priority remained the nurse corps and its 39 hospitals, which she had directed since 1970.
In a recent story for The Sextant, a navy blog, medical historian André Sobocinski wrote that Duerk "provided astute and forward-thinking direction for the nurse corps, scrapping outmoded policies negatively affecting navy medicine, expanding the sphere of nursing into ambulatory care, anaesthesia, paediatrics and obstetrics/gynaecology, emphasising the value of the individual officer and increasing educational opportunities for nurses".
Pay and promotion opportunities for nurses increased, he added, and "the retention rate more than doubled".
Duerk was born in Defiance, Ohio, in 1920. When she was very young, the family home was frequented by nurses tending to her father, who had faced a mustard gas attack while serving in the Second World War. He died when Alene was four and her mother struggled to care for her and a younger sister.
"She raised us to be independent and have a career so that the same thing wouldn't happen to us that happened to her when my father died," Duerk said. "She felt too dependent and helpless."
Duerk graduated from the Toledo Hospital School of Nursing in Ohio in 1941. Two years later, she enlisted in the navy nurse corps at the suggestion of recruiters with the Red Cross. (Her sister, by then also a nurse, joined the army nurse corps instead.) Her first posting was at the naval hospital in Portsmouth, Virginia.
Interviewed for Vietnam War Nurses, a book published in 2013, Duerk recalled that antibiotics were rare and penicillin was still a novel treatment. When she administered the drug for the first time, she and her colleagues "sat there and counted the drops" in an IV, slowly delivering 5,000 units to a patient because they "really didn't know what was going to happen".
At Portsmouth in Maine she also received a lesson in the workings of military bureaucracy. "The most important thing, as far as the navy was concerned, was that I learn how to fill out all the right forms," she said. "That hasn't changed. I was a quick learner."
In 1945, Duerk was assigned to the Benevolence, a hospital ship that travelled to the Marshall Islands, between Hawaii and the Philippines, in preparation for an allied assault on Japan. It was sailing towards Tokyo when atomic bombs were dropped on Hiroshima and Nagasaki, ending the war and leading Japan to turn over prisoners of war to ships like the Benevolence.
Working 36 hours straight, Duerk and her fellow nurses took in about 750 newly freed prisoners, checking them for lice and diseases and taking requests for ice cream, scrambled eggs and ham. "That was probably the most exciting experience of my whole career," she later recalled.
Duerk returned to civilian life briefly, receiving a bachelor's degree in advanced nursing in Cleveland before joining the naval reserve. She was called up to active duty with the onset of the Korean War, working as a nurse and instructor at Portsmouth.
She later developed education programmes in Philadelphia, served as a navy recruiter in Chicago and held top nursing positions at hospitals in the Philippines, Japan and San Diego. She worked at the Pentagon, helping recruit military nurses for Vietnam, before being named head of the navy nurse corps.
"I travelled a lot and made extensive trips, both here and overseas," she said, which awarded her an honorary doctorate after she was promoted to rear admiral. "And whenever I visited naval hospitals and naval facilities, I tried to speak with the women serving in the navy, and not just the nurses."
"It was a nice distinction to have, and to be recognised as the first," she explained, "but I wanted to make certain that I used that notoriety to do as much positive as I could," including inspiring others to attain senior positions in the navy. (The first woman to become a four-star admiral, Michelle Howard, attained the rank in 2014.)
After retiring from the navy in 1975, Duerk taught English to Vietnamese immigrants and volunteered with groups including Meals on Wheels. She leaves no immediate survivors.
"I never mapped it out like this. I didn't go into the navy for a lifetime – I went in for six months," she said in 2016. "But I had an amazing career and have a lot of good memories. I hope I did my duty."
Alene Bertha Deurk, born 29 March 1920, died 21 July 2018
© Washington Post
Join our new commenting forum
Join thought-provoking conversations, follow other Independent readers and see their replies