Alexander McQueen: Fashion designer who brought shock and drama to the catwalk
Friday 12 February 2010 01:00 GMT
Comments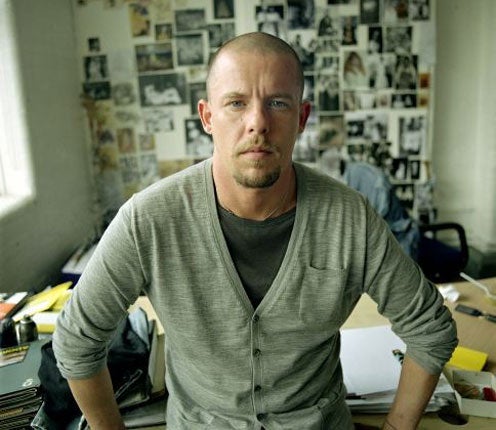 Supreme self-publicist and maestro of the sartorial shock, Alexander McQueen was couture's equivalent of artist Damien Hirst. Brash, blunt and a feminist's nightmare, he became the darling of the front row with his spectacular shows and ability to create jaw-dropping fashion moments. These included women's mouths encased in savage steel mouthpieces and the image of a starving Ethiopian printed on a jacket. One of his earliest collections was called "Highland Rape".
Son of a London cabbie, Lee McQueen – rechristened Alexander, as in "Alexander the Great", by his patron and mentor the late Isabella Blow – started his career working as a trainee tailor at Anderson & Sheppard, then Gieves & Hawkes on Savile Row. Royalty were among the clientele, and McQueen later claimed that he had sewed a few choice words into the inside lining of the Prince of Wales's lapel while constructing one of his jackets in the workroom.
McQueen then moved to Koji Tatsuno, a designer who specialised in re-working antique fabrics into contemporary collections, as a pattern cutter. When the company downsized and McQueen found himself redundant, he decided to try his luck in Milan. He briefly secured a position with Romeo Gigli before returning to London.
McQueen started work at Central Saint Martins, initially as a technician and then as a student studying for a masters degree. This was the turning point in McQueen's life. He might have sunk without trace as yet another St Martin's hopeful, but sitting at his graduation show in 1992 was Isabella Blow, then working as a contributing fashion stylist at British Vogue.
Blow was totally taken with McQueen: she loved his accent, his attitude, his training and their equal irreverence towards a business which thrives on high drama but adheres strictly to an unspoken hierarchy. He had a magnetic fascination for the fashion insiders, particularly PRs and editors, who were used to new designers kowtowing to their every whim. With McQueen enquirers were told in no uncertain terms to "Fuck off". "She's like me" McQueen was to say of Blow later, "She doesn't care."
Together, they were fashion dynamite. Although a veteran of the fashion scene, Blow's star was, at that time, static. McQueen was yet to make his mark. As their partnership progressed, they blew everyone away with their instinctive ability to generate publicity and their mutual love of causing a stir.
McQueen's first claim to fame, missed by many, was staged by Blow. She wore McQueen's graduate collection for a self-styled fashion shoot at her family home, the Arts and Crafts house Hilles in Gloucestershire, that appeared in Vogue in November 1992; it was exposure unheard of for such a recent graduate.
Following on from his Vogue spread, McQueen started to make capsule collections, inadvertently creating a minor sensation when he had an unlikely hit: bumster trousers which exposed the upper part of the posterior. This was a look then, and now, more prevalent on building sites than catwalks, but it is testament to McQueen that he sold his unlikely idea as a feasible fashion statement. To his credit, it actually took off. Within a couple of seasons it had worked its way down to the high street. More than that, the style had a lasting impact. McQueen had moved the waistline. Even today, more than a decade on, trousers sitting on the waist are a rarity, not the norm.
McQueen received the British Designer of the Year award in 1996. When John Galliano made a sideways move from Givenchy to Christian Dior, McQueen became the name on everyone's lips as the natural successor. Riding on the crest of virtually overnight success, McQueen became not only adept at the art of sartorial shock but master of the put-down. He slated everyone in his orbit, including Vivienne Westwood, John Galliano and Hubert de Givenchy. Givenchy, responsible for founding the couture house and formulating the wardrobe of Audrey Hepburn was dismissed by McQueen as "irrelevant".
Ironically, McQueen's Givenchy debut was panned by both press and buyers. There was a feeling that the new boy on the block was all smoke and mirrors. But McQueen again took the fashion world by surprise; in keeping with his disarming manner, he owned up to it "I know it was crap". He told American Vogue in October 1997, vowing to move on with the next collection.
Isabella Blow was instrumental in McQueen's next career move. Sitting next to Tom Ford at an industry dinner, she planted the seed of a possible deal with Gucci. When this came to fruition, Blow was not part of the package. It was effectively a parting of the ways. McQueen, with the backing of the Gucci corporation, became a brand. He transformed from a St Martin's fashion-wannabe to an international powerhouse. In 2003, he was awarded the CBE.
At the core of McQueen's signature look was the tailoring and ability to cut cloth in a flattering formulation, but, as with all world-class designers, he moved on to licensing deals. Fragrance, luggage, accessories, were all infused with the McQueen take on the world. Often these products came with off-the-wall detailing; his moulded suitcases, for example, resembled a ribcage.
Financially, as McQueen became a multi-millionaire, Blow struggled to survive. Socially, the distance between the two grew. When Blow committed suicide in May 2007 the distance between the two was already palpable. Despite struggling with depression for years, she had continued to support, praise and wear the creations of her discovery. McQueen attended her funeral in Gloucestershire but not the memorial service in London. Inextricably linked through their past, McQueen dedicated a collection to her in spring 2008. He joined forces with Blow's friend, the milliner Philip Treacy, and the show went ahead with her signature fragrance, Fracas, hanging in the air.
In the history of fashion McQueen will be famous for his statements, his Englishness, in some quarters his misogynist tendencies. Chris Moore, the eminence grise of catwalk photography has stated many times that McQueen's shows are some of the most spectacular he has ever witnessed. It is perhaps fitting that McQueen will not be remembered for his clothes alone.
Linda Watson
Lee ("Alexander") McQueen, fashion designer: born London 17 March 1969; died London 11 February 2010.
Join our commenting forum
Join thought-provoking conversations, follow other Independent readers and see their replies