Alfie Biggs, Footballer known as 'The Baron'
Despite his love of nightlife, he would advise the young players to go home even as he eyed his next port of call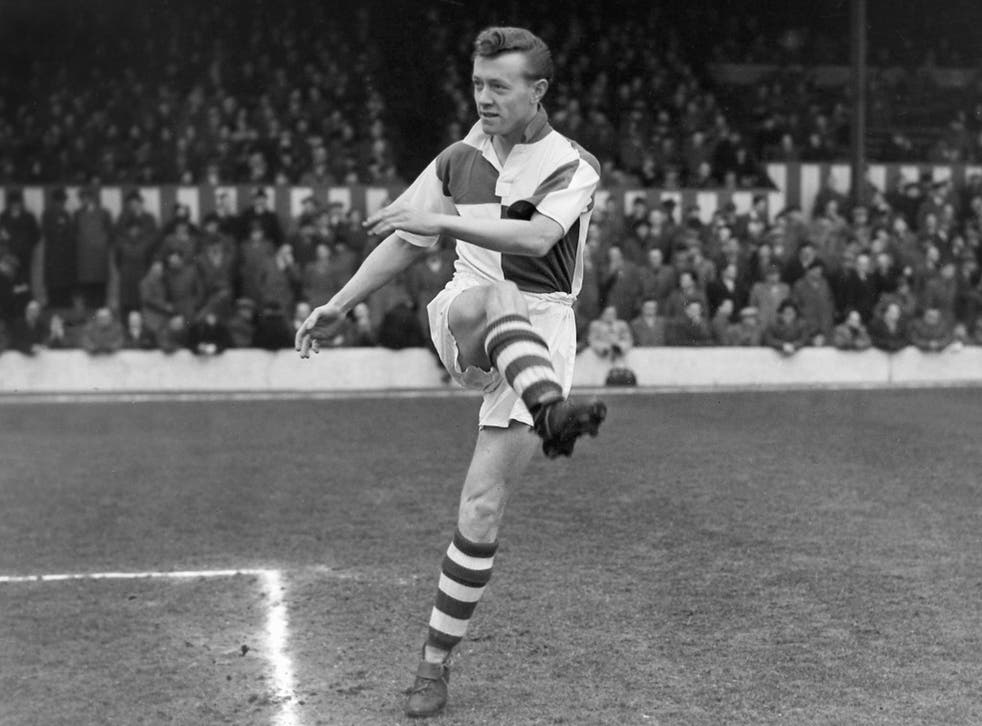 He was known as "The Baron" and he once described his footballing domain of Eastville, now sadly obliterated by a sprawling furniture store, as "some kind of paradise". In the Bristol of the 1950s and '60s, Alfie Biggs, local hero and celebrated man about town, was in his element.
He played for the Rovers, styled as the homelier, more down-to-earth of the two clubs struggling for supremacy in the West Country. Without being disrespectful to City, always wealthier and in some intangible way a trifle more up-market, it was a fair assessment.
Tall, blond and dashingly handsome, Biggs was a free-scoring forward – his final Rovers tally was 197 goals in 463 appearances – and he was blessed with almost every attribute required to scale the loftiest peaks of the English game. He was quick, courageous and bullishly powerful, and his aerial work was majestic, but where he differed vividly from so many contemporary front-men was in the sheer variety of his gifts. His touch on the ball with both feet was smooth and assured; his shooting could be savage or subtle, and his distribution was deft, perceptive and usually precise.
But if such was the Biggs cocktail, then why did he spend the whole of his lengthy career outside the top flight? The answer is to be found in his character. Though locally he was a famous socialiser, certainly relishing bar and betting shop, dance floor and snooker hall, he was never seriously attracted to the bright lights of any city but the one in which he was born. Biggs was a Bristolian to his core, and if he lacked the professional ruthlessness and single-mindedness which might have secured stardom on a more glittering stage, Rovers fans rejoiced in their easygoing marksman's contentment.
Indeed, he was an engagingly modest individual with no delusions of grandeur, who earned his high-falutin' nickname partly through the sharpness of his dress sense at the dawn of the rock'n'roll era, but also because he played the game with a buccaneering, stylish flourish which chimed with his club's nickname, the Pirates.
Crucially, too, though he never disguised his appetite for nightlife, it was not his way to lead team-mates astray, and often he advised impressionable youngsters to head home to their beds even as he was eyeing his next entertaining port of call. He was an impeccable trainer, frequently amazing more abstemious team-mates by running them into the ground the morning after an evening of enthusiastic indulgence.
Thus Biggs became revered as one of the most colourful characters in Rovers history, though he might have made his name in the red shirt of Bristol City, rather than the Pirates' blue and white quarters. Hailing from the City heartland of Knowle West, he was courted assiduously by the Robins as a promising teenager, but when he turned up at Ashton Gate to sign a contract he was kept waiting so long that he hopped on a bus and joined Rovers instead. It was a snap decision he was never to regret.
After making his first-team entrance in a friendly against Manchester United in 1953, Biggs carved a niche as a deep-lying inside forward, scoring a few goals but mainly foraging to create opportunities for spearheads such as Barrie Meyer and Geoff Bradford. In 1955-56 he claimed a regular berth with the Second Division side, and during that season, when still 19, he experienced what he described as the pinnacle of his career. Once again Manchester United provided the opposition.
In January 1956 Matt Busby's brilliant Babes were champions-elect, and descended on Bristol to complete the formality of victory in the third round of the FA Cup. But despite fielding all their best players except the injured Duncan Edwards, the young leviathan of English football, they met their match in the Eastville mud. The Rovers team had been assembled by manager Bert Tann for £110 – the price of 11 signing-on fees – and when they humbled United 4-0 it was greeted as the sporting upset of the age. Biggs, who contributed two memorable goals, had announced his credentials as a rookie attacker with limitless potential.
Elimination by Doncaster Rovers followed in the next round, but Biggs continued to shine as Tann's men finished sixth in the division, only four points short of the promotion places. For the remainder of the decade he was hugely influential, excelling with fellow marksmen Bradford and Dai Ward, and the exhilarating wingers George Petherbridge and Peter Hooper.
There was another sixth-place finish in 1958-59 and Rovers were never out of the table's top half, but money remained short and when Preston North End offered £18,000 for "The Baron" in July 1961, Tann could not afford to refuse. The experienced Deepdale manager Jimmy Milne was cock-a-hoop, describing his capture as the best player he had ever bought, and no less an authority than Stan Cullis, the iron hand at the helm of then-mighty Wolverhampton Wanderers, called the deal the transfer coup of the season.
However, although Biggs thrived on the field in far-off Lancashire, scoring a creditable 22 goals in 48 League games for Second Division North End, he pined for Bristol. He missed the familiar smell of the gasholders which loomed, grimly but somehow hospitably, over Eastville; he missed the flowerbeds which adorned either end of the pitch; and he missed his mates.
So he was delighted when Tann paid £12,000 to take him home to captain the newly relegated Pirates in October 1962. Now 26 and in his pomp, Biggs moved to centre-forward, and though he never led his charges to promotion from the third flight he became even more prolific. His most fruitful season was 1963-64, during which he scored 37 goals and linked beautifully with fellow raider Ian Hamilton, and as he entered the veteran stage it seemed a given that he would complete his playing days as a Pirate. But a £10,000 bid from Third Division Walsall in the spring of 1968 produced a surprise move to the Midlands, where he sojourned only briefly before ending his career with an even more fleeting stint for Swansea Town of the Fourth Division.
After retirement in 1969 he returned to Bristol, initially to work as a carsalesman while playing non-League football for Taunton Town. There followed jobs as a postman, a baker, a delivery man and a security officer but, before a late-in-life move to Poole in Dorset, he retained close links to Rovers, being a faithful patron of the Eastville Club, the watering hole which continued to sit rather forlornly in the corner of the car park after the stadium was demolished. In there, as he held court in a swirl of cigarette smoke and recalled his Pirates pomp, Alfie Biggs was "The Baron" again.
Alfred George Biggs, footballer: born Bristol 8 February 1936; played for Bristol Rovers 1952-61 and 1962-68, Preston North End 1961-62, Walsall 1968, Swansea Town 1968-69; married (one son, two daughters); died Poole, Dorset 20 April 2012.
Join our new commenting forum
Join thought-provoking conversations, follow other Independent readers and see their replies