Allen Klein: Notorious business manager for the Beatles and the Rolling Stones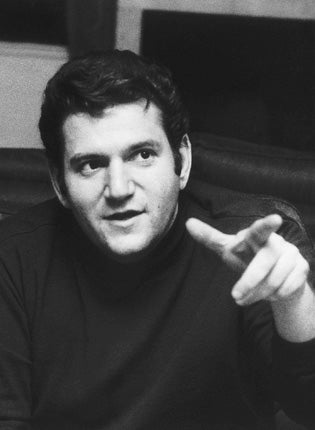 The most infamous manager of the rock and pop era, Allen Klein looked after the affairs of the Rolling Stones and the Beatles in the Sixties and early seventies. A notoriously brash character and tough negotiator, Klein invented the role of business manager but his stance as the outsider siding with the artists, the enemy of the record companies, would have had a lot more credence if he hadn't succeeded in negotiating excellent, many would say extortionate, terms when he parted company with his clients.
Indeed, ABKCO, the company he founded with his wife Betty – the acronym of Allen & Betty Klein Company – still controls the lucrative Sixties catalogue of the Stones. Klein's involvement with Mick Jagger and co undoubtedly contributed to the band's decision to become tax exiles in the Seventies and their subsequent reluctance to appoint a full-time manager.
His tenure with the Beatles did help to sort out the financial mess of their ill-fated Apple venture and steadied the ship after the death of original manager Brian Epstein in 1967 but the tensions it created also contributed to the break-up of the group. Klein was incredibly litigious and justified it. "Nobody sues a failure, they only sue a success," he stated. Stocky and rather blunt, he relished his reputation as "the biggest bastard in the valley", used colourful, earthy language, and declared "Artists fuck groupies. According to my reputation, I fuck the artists." He was famously lampooned in The Rutles: All You Need is Cash, Eric Idle's 1978 Beatles mockumentary.
Klein's ruthlessness probably had its roots in his troubled childhood. His mother died when he was less than a year old and he spent three years with his maternal grandmother before his father, a butcher who had emigrated to the US from Hungary at the turn of the 20th century, sent him and two older sisters to Newark's Hebrew Orphanage and Sheltering Home for six years. The young Klein only saw his father again in 1941 when he was introduced to his stepmother. He lived with grandparents in Newark while attending high school and joined the US army for a couple of years. He subsequently worked odd jobs and attended evening classes, making the most of his natural gift for figures and graduating from Upsala College in East Orange, New Jersey, with an accounting degree in 1956.
He joined the Harry Fox Agency, a licensing organisation specialising in the collection of royalties, before setting up his own accounting firm with a loan from his father-in-law. Klein developed a keen eye for the small print and the intricacies of music publishing contracts and helped Buddy Knox and Jimmy Bowen recover royalties from Roulette, the label owned by the Mafia-connected Morris Levy. Standing up to a record boss with ties to the mob helped make Klein's name and he performed similar audits for Bobby Darin, Lloyd Price and Bobby Vinton before getting involved in managing Sam Cooke. "I sat up there and heard him sing, and he was fucking magic," he told Peter Guralnick, the author of the biography Dream Boogie: The Triumph Of Sam Cooke.
In 1963, Klein renegotiated Cooke's deal with RCA, after serving papers on the label requesting an audit on royalties. Having secured $110,000 as back payment on royalties owed, on which he earned a "finder's fee" of 25 per cent Klein set up Tracey as a separate label licensing Cooke's masters to RCA, thus guaranteeing the soul singer artistic control. Klein also convinced Cooke to perform the epochal "A Change Is Gonna Come", a song which would come to define the civil rights era and became a hit after the singer's death.
"Sometimes, I don't know how I was able to get certain things done. I certainly am persistent," Klein said. "I try to have all the facts so that when I make a decision, it's with the inclusion of everything that I know. And there is no short-term thing. I'm not going to make a deal that is based on just one day or one record. Can't do it. It has to be based on belief. I hate the word, everybody uses it, but it's a vision."
In March 1964, Klein had his first encounter with the Beatles entourage when he offered Epstein the opportunity to sign to RCA in the US for $2m but this was turned down. However, Klein made the most of his visit to the UK and became the conduit into the lucrative American market for several British Invasion acts. First, he struck a deal with The Dave Clark Five and then he signed an agreement with the producer Mickie Most to promote the careers of The Animals, Donovan, Herman's Hermits and the Nashville Teens in the US. In 1967, the canny Klein took over Cameo-Parkway, the Philadelphia label which had launched teen idol Bobby Rydell and Chubby Checker's twist craze but struggled despite licensing releases by The Kinks and the Ivy League in the US.
After Cooke was shot dead in 1964, Klein dealt with the aftermath, advising Cooke's widow Barbara not to sell the singer's assets and her share in his publishing interests, but eventually buying everyone out for $350,000 in 1968. By then, Klein had been managing the Stones' business for three years after coming on board in August 1965 at the behest of their original Svengali Andrew Loog Oldham, just as the group's career was taking off in the US where "(I Can't Get No) Satisfaction" had topped the charts for four weeks. Jagger, who had studied at the London School of Economics in the early Sixties, felt the bolshie Klein could help the Stones generate income commensurate with their standing as the only serious rivals to the Beatles.
At first, the singer's hunch proved correct as Klein instantly renegotiated their contract with Decca, the band's label, and secured a huge advance payment, supposedly in order for the Stones to make films. The manager's slight of hand in depositing the £1.7m in his account in the US rather than the Stones' account in the UK, combined with other small-print trickery was one of the reasons their relationship soured.
In September 1967, Klein took over as sole manager after buying out Oldham. Klein oversaw the most tumultuous period in the group's history with the fall-out from Jagger and Keith Richards' drug-bust earlier that year and Brian Jones' death in July 1969. A year later, with their Decca contract at an end, the group decided to make a clean break and oust Klein, who had grown increasingly incommunicative, and to start their own label with distribution from Ahmet Ertegun's Atlantic Records.
In 1971, the Stones launched various lawsuits against Klein and his companies, accusing him of "false or fraudulent" representations. At some point, Jagger famously confronted Klein in a hotel corridor, asking him: "Where is my fucking money?" In May 1972, a final settlement was thrashed out between the Stones and their former manager during a 24-hour session (supposedly captured on film on Jagger's orders).
Klein and ABKCO kept the rights to all past Stones recordings and the administration of their Sixties publishing while the band were supposed to deliver one more album for their former manager and to receive $1m. "The settlement means that Allen Klein never has anything else to do with us," commented Jagger at the time, a statement that would come back to haunt him. The Stones' former business manager maintained a tight grip on the band's catalogue and insisted the group couldn't release a live album containing Sixties material until 1977.
He kept issuing compilation albums – Milestones, Rock'n'Rolling Stones, No Stone Unturned, Hot Rocks – and occasionally ended up in court when he dragged his feet over royalty payments. In the summer of 1975, as the band embarked on their first tour with guitarist Ronnie Wood, ABKCO released Metamorphosis, an album of out-takes and alternative tracks from the Sixties, while the Stones countered with their own Made In The Shade collection.
In 2002, a new agreement enabled the group to issue the 40 Licks double CD career overview. At the end of 2007, Klein proved how adept he was at the small print when Rolled Gold +, the extended version of Rolled Gold, the best-selling Stones compilation from the mid-Seventies, appeared with "Brown Sugar" and "Wild Horses" from their classic 1971 album Sticky Fingers because these tracks had been recorded while they were still technically under contract to Klein.
Before the rot set in, Jagger had been impressed enough to recommend Klein to John Lennon who met the New Yorker in December 1968 during the recording of the TV special Rolling Stones Rock'n'Roll Circus. The Beatles' ship had been rudderless since the death of Epstein in August 1967 and Apple, their idealistic, ill-conceived organisation was haemorrhaging money. As Klein told staff journalist Craig Vetter in an interview published in the November 1971 issue of Playboy magazine, at first Lennon was unsure about him. "He knew I'd said years before that I was going to have the Beatles one day. That scared him. It was like I was clairvoyant. I was driving across a bridge out of New York and I heard on the radio that Epstein had died and I said to myself, "I got 'em." Who else was there? I called John. He had made a statement saying that if the Beatles didn't do something soon, Apple would be broke in six months. That was my opening."
In January 1969, Lennon hired Klein to be his financial manager and George Harrison and Ringo Starr also signed a management contract with him the following month. Paul McCartney only posed for photos with the others at the Dorchester Hotel in London and never put pen to paper, preferring to rely on the advice of Lee and John Eastman, his wife Linda's father and brother, which created further tensions. Klein claimed he allowed the Beatles to concentrate on what they did best, playing music, and that, once he came on board, they were happier about their prospects. Lennon was certainly taken in, telling Playboy: "Allen's really beautiful. He handles everything, and I can trust him. Before he came along, I was going mad with all that stuff."
Klein certainly steadied Apple's finances. He put an end to ventures such as the Apple Boutique and got rid of the charlatans and hangers-on. However, axing Neil Aspinall proved a mistake and the Beatles' trusty lieutenant was reinstated.
Klein did try to get control of Northern Songs, the Beatles publishing company, on behalf of the group. "All John and Paul had was 15 per cent each. Dick James owned 35 per cent and most of the rest was held by the public. We finally just sold our shares to ATV [Lew Grade's company]. We made a lot of money, but it wasn't the best we could have done," he said. Klein also renegotiated their contract with EMI and Capitol, securing them the highest royalty rate at the time – 25 per cent on US sales. Klein also made sure Let It Be was released as a motion picture rather than a TV film, therefore fulfilling the group's contractual obligations with United Artists. Klein tried to instill new confidence into Lennon by reminding him of how many supposedly solo McCartney compositions he'd contributed to. He later claimed he'd had input into "How Do You Sleep?", on the Imagine album "There's a line that goes: 'The only thing you did was yesterday'. And the line that followed was: 'And you probably pinched that bitch anyway'. I thought it was too strong, not worthy of him, so I suggested: 'Since you've gone you're just another day'. He loved it."
Klein considered his tenure as business manager for the Beatles had been a success and that he'd earned his 20 per cent. "Under Epstein – by the way, he took 25 per cent – when they were touring, selling millions of records, making movies, they made £6.5m in six years. With me, they've earned £9m in 19 months. They've also put out more albums than they did in those previous years. That's productivity, and it comes from freedom. Artistic freedom," he boasted in 1971, conveniently adding up all the solo releases. He also alienated people such as singer-songwriter James Taylor, who left Apple for Warner Brothers in 1970, only for his manager Peter Asher to be threatened with a lawsuit.
Matters began to unravel at the end of 1970 when, in order to get rid of Klein, McCartney had to sue not only him, but also the three other Beatles in the High Court. The group eventually paid Klein an estimated $4m when all litigation between Apple and ABKCO was finally settled in January 1977. After the manager's contract with Lennon, Harrison and Starr expired in March 1973, they opted not to renew it. Klein was the subject of veiled references in the Harrison song "Beware Of Darkness" – from 1971's triple set All Things Must Pass – and the Lennon composition "Steel And Glass" – on 1974's Walls And Bridges album. The Who's Pete Townshend also had dealings with Klein and wrote the title track of the Who Are You album after a lengthy argument with the manager about publishing royalties. "In my personal opinion, Klein is the awesome rock leech-godfather," he said.
Klein held on to the proceeds from the Concert for Bangladesh, the charity event he organised with Harrison at New York's Madison Square Garden in 1971, delaying the release of the funds to Unicef for years, and was investigated by the US authorities. A previous investigation had found that in 1960 ABKCO had failed to file tax returns. In 1979, Klein was sentenced to two months in jail for tax evasion after helping himself to the proceeds from the sale of promotional copies of the Concert For Bangladesh triple album. The manager was involved in many controversial lawsuits, but his acquisition of Bright Tunes, the music publishing company which owned the rights to "He's So Fine", The Chiffons' 1962 hit, and was suing Harrison for plagiarising the song with "My Sweet Lord" in 1970, topped the lot. This was resolved when Harrison bought Bright Tunes, and Klein, unusually, lost out.
He also dabbled in film production and distribution. In 1971, he produced Blindman, a Spaghetti Western starring Ringo Starr, in which Klein had a cameo as a fat rifleman. On the advice of Lennon, he acquired the rights to Fando Y Lis and El Topo by cult director Alejandro Jodorowsky, and financed his next film, The Holy Mountain, in 1973. Klein fell out with Jodorowsky over a projected version of Histoire D'O/The Story Of O and withdrew prints of his films, forcing the director to introduce pirated copies of his own work at retrospectives.
Until the onset of Alzheimer's disease a few years ago, Klein remained a bellowing voice at the end of the telephone, barking orders to PolyGram and then Universal Music employees as they tried to deal with the eventual appearance of the Stones' Sixties albums on CD, and then the release of the Rolling Stones Rock'n'Roll Circus, Michael Lindsay-Hogg's film from 1968, on video, CD and DVD in 1996. In 1997, Klein secured 100 per cent of the publishing on The Verve's "Bittersweet Symphony" which sampled an instrumental version of the Jagger-Richards composition "The Last Time" by the Andrew Loog Oldham Orchestra. The publisher rubbed salt into Richard Ashcroft's wounds by leasing The Verve track for use in Nike and Vauxhall commercials. ABKCO's luxurious New York offices on Broadway, garnered with hundreds of gold and platinum records, showed what Klein had achieved, more for himself than for his former clients. Klein was estranged from his wife Betty and lived with his companion Iris Keitel. His son Jody was the driving force behind the recent raft of Stones, Sam Cooke, Cameo-Parkway and Jodorowsky rereleases.
In 1971, Klein was asked how he could possibly follow-up managing the Beatles and the Stones. His infamous reply was: "Ringo suggested that maybe I ought to manage America."
Pierre Perrone
Allen Klein, business manager, music publisher: born Newark, New Jersey, 18 December 1931; married (one son, two daughters); died 4 July 2009.
Join our commenting forum
Join thought-provoking conversations, follow other Independent readers and see their replies