Andrei Voznesensky: Poet who fought against artistic censorship in the Soviet Union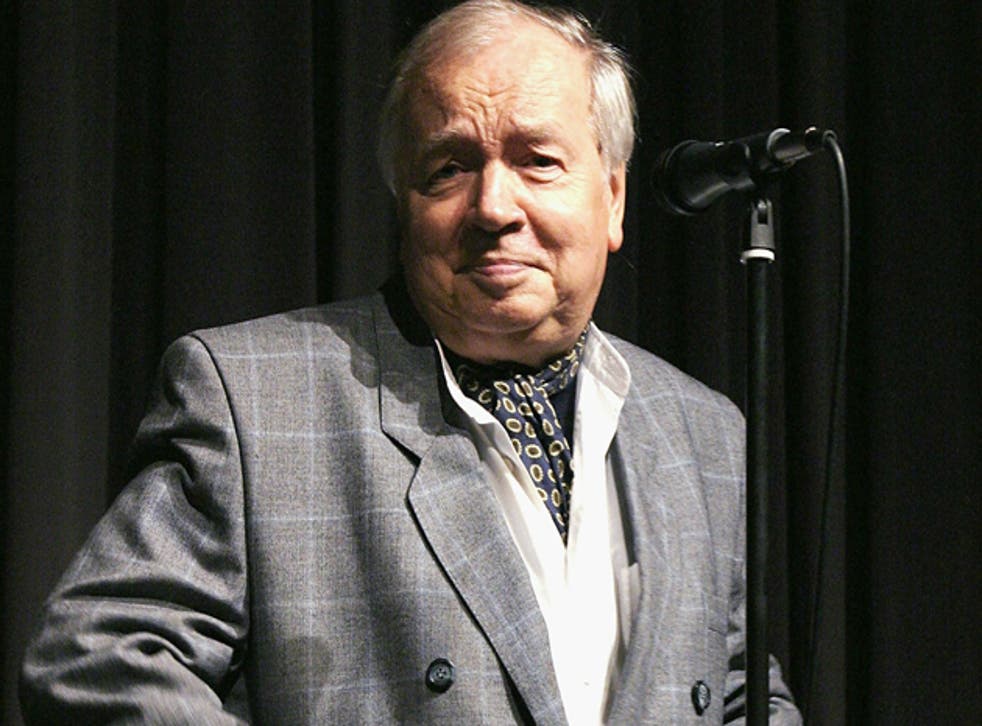 Andrei Voznesensky was a poet who gained recognition during the Khrushchev Thaw period of the 1950s and '60s in the Soviet Union which followed Stalin's death in March 1953.
This was an era when Voznesensky and his poet contemporaries, including Bella Akhmadulina and Yevgeny Yevtushenko, were seen as literary superstars, capable of filling sports stadia with poetry-loving audiences.
He was born in Moscow in 1933, the son of Andrei Voznesensky, a prominent hydro-electric engineer. By the age of 14, and encouraged by his mother, he was already composing poetry. Upon sending examples of his work to Boris Pasternak, the great poet wrote in reply, "Your entrance into literature was swift and turbulent. I'm glad I've lived to see it." A lifelong friendship followed.
Voznesensky studied architecture at the Moscow Architectural Institute from 1952 to 1957. After a fire at the Institute destroyed his final-year academic work, and following Pasternak's advice, he decided to embark on writing poetry full-time. His first collections, Mosaic and Parabola, were published in 1960. When Pasternak died that same year, he and others recited the banned poem Hamlet at his funeral. By 1962 he was reading in public and took part in a poetry festival before an audience of 14,000 at the Luzhniki Stadium in Moscow.
Despite the Thaw, there was still considerable tension between the Communist Party and artistic intellectuals, to the extent that in December 1962 Khrushchev criticised Voznesensky as an agent of capitalism and threatened to exile him. The following year the Soviet leader denounced him as a "bourgeois formalist" and the official press set upon him, alleging that he had "one foot in Gorky Street and the other on Broadway".
His response to Khrushchev's criticism, published in Pravda in March 1963, included the statement: "I shall not forget not only these severe words but also the advice, which Nikita Sergeyevich gave me. He said: 'Work'. I do not justify myself now. I simply wish to say that for me now the main thing is to work, work, work. What my attitude is to my country, to communism, what I myself am, this work will show." Following Khrushchev's removal from power in October 1964, Voznesensky was one of the many writers and artists who continued their campaign in the USSR for an end to censorship of the arts.
By the mid-1960s Voznesensky was in considerable demand for readings at home, in Western Europe and the US, acting as a kind of unofficial cultural ambassador. He met the American Beat poet, Allen Ginsberg, in April 1965 and the two became friends, reading together at events around the US and abroad.
On 11 June 1965 Voznesensky's poems were read at the Albert Hall during the International Poetry Incarnation, with a 7000-strong audience, including Voznesensky himself, who was not permitted to read, for reasons that are explained by Michael Horovitz below.
In 1966 WH Auden wrote admiringly of Voznesensky in the New York Review of Books, observing that, "As a fellow maker, I am struck first and foremost by his craftsmanship. Here, at least, is a poet who knows that, whatever else it may be, a poem is a verbal artefact which must be as skilfully and solidly constructed as a table or a motor-bicycle."
Voznesensky collaborated with the composer Aleksei Rybnikov on the successful rock opera Juno and Avos (1979), about the life of the explorer Nikolai Rezanov, and wrote the lyrics for the pop song A Million Scarlet Roses (1984), sung by Alla Pugachova. This piece was based on the true story of the painter Niko Pirosmani, who fell love with a French actress and filled the square outside her hotel with flowers. In 1983 he was honoured in the Soviet Union with the production of a three-volume set of collected poems, followed in 2000 by a five-volume collection.
Voznesensky's poems are striking in their use of direct language and imagery – the short poem War for example, first published in English in the anthology Nostalgia for the Present (1978):
With the open eyes of their dead fathers
Toward other worlds they gaze ahead –
Children who, wide-eyed, become
Periscopes of the buried dead
During recent years Voznesensky had worked on the creation of a Pasternak museum at Peredelkino and developed what he called Videoms. These minimalist visual poems, combining words and images on canvas or paper, have been seen at the Pushkin Museum of Fine Arts and at galleries in New York, Berlin and Paris.
The American poet Robert Lowell said of Voznesensky that he: "... came to us with the carefree vitality of the '20s and Apollinaire, surrealism trickles down his fingers. He is full of novelty, humor, it dawns up on him. He is a Master who has the courage and inspiration to be himself".
Andrei visited England in mid-May 1965 and came to Oxford with our mutual friend Camilla Gray for the opening of an international exhibition of concrete and visual poetry, writes Michael Horovitz. The sound poets extraordinaires, Bob Cobbing and Ernst Jandl, had been booked, along with myself, to perform some experimental pieces. As soon as Camilla had introduced us all to Voznesensky, I got the agreement of the organisers to invite him to read from his works, which he proceeded to do brilliantly. This included some tentative spontaneous translations into broken but perfectly understandable English.
When, a couple of weeks later, Ginsberg, Ferlinghetti, Alex Trocchi, Adrian Mitchell, myself and another dozen poets from nine countries had booked Albert Hall for the ground-breaking megagig, it came naturally to us to want Andrei also to read at it. But the USSR commissars' orders were apparently that their already heavily constrained poetic ambassador was not to be seen aligned onstage with voices assumed by the Soviets to represent Western capitalism at its presumed decadent extremes. Andrei did take part to great acclaim in the Poetry Olympics SuperJam at Albert Hall in July 1996, however, with translations by Richard McKane and myself read by McKane.
Andrei Voznesenky, poet: born Moscow 12 May 1933; married Zoya Boguslavskaya (one son); died Moscow 1 June 2010.
Register for free to continue reading
Registration is a free and easy way to support our truly independent journalism
By registering, you will also enjoy limited access to Premium articles, exclusive newsletters, commenting, and virtual events with our leading journalists
Already have an account? sign in
Register for free to continue reading
Registration is a free and easy way to support our truly independent journalism
By registering, you will also enjoy limited access to Premium articles, exclusive newsletters, commenting, and virtual events with our leading journalists
Already have an account? sign in
Join our new commenting forum
Join thought-provoking conversations, follow other Independent readers and see their replies